As an iOS user, you might have noticed that it's quite complex to connect your iPhone to iPad so you can share video, music, photo, book etc. Here you can get some tips about:
Part 1: How to connect iPhone 5 to iPad via Bluetooth
Bluetooth? Well, it's not actually possible for you to connect iPad to iPhone via Bluetooth (unless you do something more). But Apple released a chart detailing iOS Supported Bluetooth profiles which says it's can indeed connect iPhone to iPad - though miilions of iOS users have failed. Anyway, if you really wanna connect iPhone to iPad through bluetooth, there's a solution which is faster and more efficient: photoshare, but this is only for sharing pictures and contacts between the two devices. (Some users said that it works for sharing text/documents if you paste your text into the 'notes' section of a contact then share it just like sharing pictures and contacts.)
On the downside this application occasionally drops which may annoy you a bit. And someone also pointed out that it's easy to transfer photos between iPhone and iPad, but it's tedious for transfering contacts: only one contact can be transferred at a time. On the plus side, the application is free.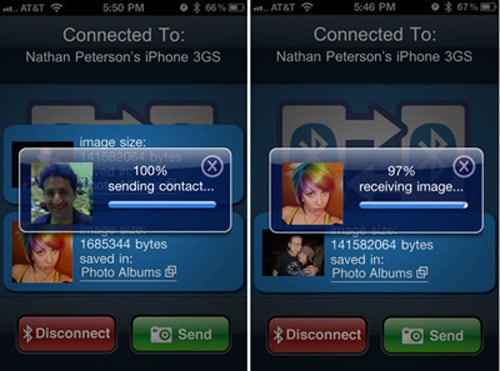 Part 2: How to connect iPhone 5 to iPad via iCloud
maybe Apple's most exciting breakthrough so far, iCloud gives you:
"...access to your music, apps, latest photos, and more from whatever device you happen to be using. And it keeps your email, contacts, and calendars up to date across all your devices."
iCloud is built into every new iOS device and every new Mac, which is the easiest way to manage your iPhone or iPad contents and lets you easily access to your contents like contacts, documents, photos and more. When set up iCloud to your iPhone 5, you have to make sure your device is running the latest iOS version: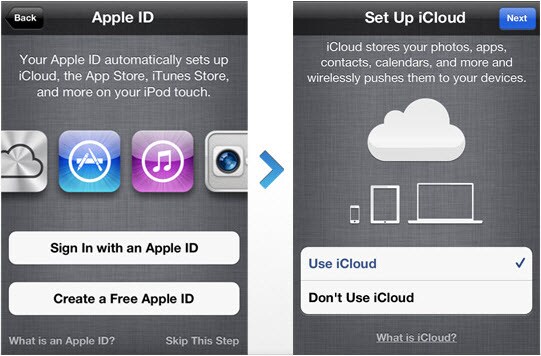 Note::You are required to use the same Apple ID to set up the iCoud on iPhone and iPad.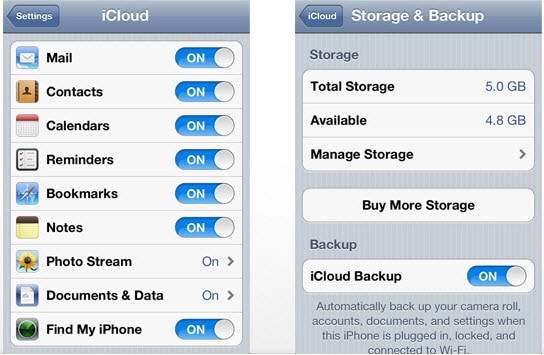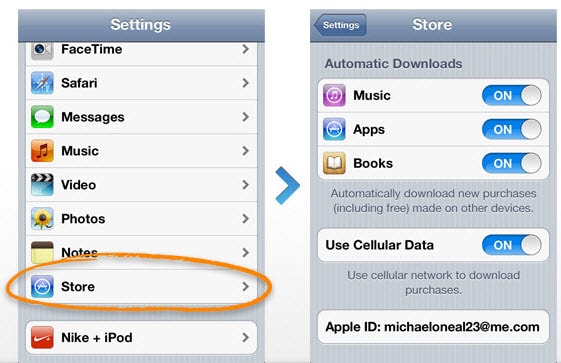 Set up iCloud on your iPhone 5 and iPad:


After completing the update to new version iOS on your iPhone 5 or iPad, follow up prompts to activate your device and set up iCloud. If you have got the new version iOS, go to "Settings" on the main screen and tap iCloud, then enter your Apple account to turn on iCloud.

Customize your settings for sharing contents between your iPhone and iPad


Tap "Settings" on the main screen and select iCloud. Turn On your contents like Contacts, Calendars, Photos, etc. You are able to activate iCloud Backup. To do so, tap "Storage & Backup" option, turn on iCloud Backup.

Enable your iCloud automatic downloads.


Tap "Settings" and select iTunes & App Store option, then turn on Music, Apps and Books to enable iCloud automatic downloads.
Attention:
The above method is only for sharing contents between devices that use the same Apple ID. If you want to share music, books, photos and more on your own iPhone with your friend's new iPad, you need to using iSkysoft TunesOver running on Mac for help. This app allows you to connect multiple iOS devices at one time to share music, ebooks, video, photos, playlists and more with ease. Here are some detailed tips: iPhone 5 to iPad.
Have fun.