The biggest social networking website is Facebook. It helps you to communicate with your friends through videos, photos, words, etc. Till date, iPad is among the best devices for the Internet browsing, checking emails, watching movies, and much more. For making Facebook and iPad experience more exciting, ISkysoft has some helpful tricks and tips for you. The article is divided into 2 parts. This page is the part 2, mainly talking about how to upload video from iPad to Facebook.
Part 2: How to upload iPad video to Facebook
Without any doubt, you're able to upload their iPad videos to Facebook through Facebook app. To do so, log into your Facebook account, head to the status bar and use the upload option to send videos and images directly to Facebook. The difficult task arises when your video is very large, then you require considerable time for uploading. So how can users split their videos or upload only some portion of the video much quickly and easily? 2 methods are available.
Method 1: Trim and Edit Video for Facebook
Using a video editor for Mac to optimize your video before uploading to Facebook. iSkysoft Video Editor for Mac is a Mac video editing tool which enables you to split, trim, crop, rotate your video, and apply fantastic effects in clicks. You can then export it to a Facebook friendly format for uploading. Below are the detailed steps.
1. Transfer your iPad video back to your Mac
In case the video on iPad has been recorded through iPad camera one can simply transfer that video to Mac using iPhoto. So first connect iPad to Mac with a USB cable, then start iPhoto application if it doesn't run. In iPhoto you'll see videos and photos after clicking on the device name presents at left sidebar of iPhoto. Afterwards, choose the target video, move towards top right corner of iPhoto interface and you'll see the Import Selected button. Click on this button and your video will appear on the Last Import section. Then right click on the imported video and select Copy. Finally right click on desktop and choose Paste to put iPad video on desktop.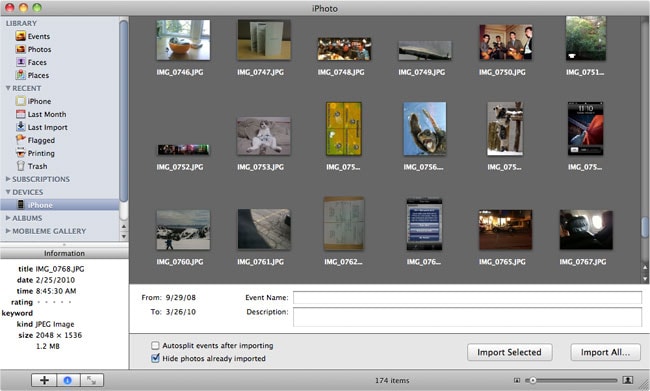 2. Open video editor for Mac and shorten the iPad video
After starting iSkysoft video editor, drag and drop iPad video from desktop to the program. You'll find the video on the timeline. Then highlight it and click the Cut button above the timeline. In the cutting dialog, drag the slider to the frame you want trim the clip, and then click the "Done" button to trim it. For more features, go to User Guide of Video Editor for Mac.

Method 2: Trim and Edit Facebook Video with iMovie
Most Mac computers usually have a native video editing tool named iMovie for you to split your video. Here is how to edit video for Facebook using iMovie '11:
Plug your iPad into your Mac.
Open iMovie.
Go to File > Import from camera in the top menu bar.
You will see all captured videos on your new iPad, select those you want to import to iMovie,
At bottom of iMovie interface, move the mouse cursor to the point where you wanna it to be beginning of the video click it and then move the cursor to the point where is the end of the iPad video which would be uploaded.
After the selection, drag and drop to the top left area.
Select part you don't want by dragging.
Go to Edit > Cut.
Now you have shortened the iPad video. To share to Facebook, go to Share menu and select Facebook,
Login Facebook with your ID and password.
Click OK.
Done.