Many of us would like to download videos from video-sharing sites like YouTube, Google Video, Myspace, Vimeo etc. and enjoy them anywhere any time. But the videos downloaded from these sites are known as streaming videos. Thus you have to adopt some applications to download streaming videos. Following is useful guide on how to get videos from YouTube or other sites for free.
Note: If you are using Mac OS, see how to download YouTube videos and limewire music, videos on Mac? If you want to get videos from YouTube for free, you can use the free YouTube Downloader for Mac to do so, and for more websites, you can update the free downloader to iTube Studio for Mac below, the professional version assisting you to download any video on popular video-sharing sites including Google, Facebook, YouTube, MySpace, Dailymotion etc.
How to capture/download Videos from web?
1

Install Firefox.

Firefox (latest version 3.0) is a free and powerful web browser. Download and install it. Here is the free download link: http://www.mozilla.com/firefox/
2

Install the Fast Video Download.

This is a plug-in for firefox. It enables you get videos from YouTube or other websites. Here is the free download link:
https://addons.mozilla.org/en-US/firefox/addon/3590
3

Download video.

After installing Fast Video Download, restart firefox. In the bottom right, you'll see the icon. Go to the page of the video you want to download, click that icon.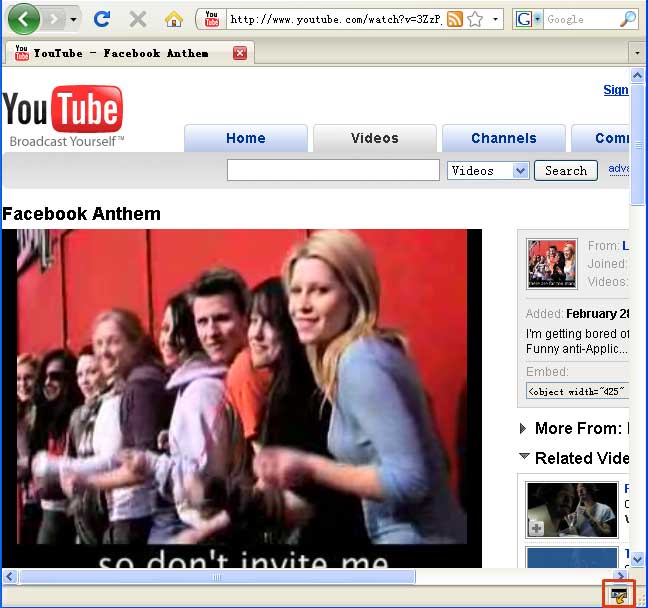 Most videos will probably be in .flv format. If you want to put downloaded YouTube FLV videos to iPod (iPod nano ,iPod touch), iPhone, iPad, Xbox 360, PS3 and more, you need a good video converter to convert the YouTube video. Please choose the best video converter for Mac to help you do a decent job.
Free Web services to get videos from YouTube or more video-sharing sites
| | |
| --- | --- |
| | This site enables you to get videos from Metacafe, YouTube, etc. Just simply copy and paste the URL to download web videos. It will provide a link for you to download video files to your iPhone, iPod, iPad, or other brand media player and your computer. For YouTube videos, you are recommended to use an FLV player. With this site, you can achieve downloading web videos quickly and easily. |
| | |
| | Zamzar is a web application to convert files online totally free. It can convert videos without Internet connection to MOV, 3GP, AVI, MP4, MPEG, etc. It also can achieve conversion between audios, document formats and images. To convert the file, just simply paste the URL into Step1 then start conversion. |
| | |
| | Vixy.net offers convenience for downloading and converting web videos. You can download any web video and convert video to MOV, MP4, 3GP, AVI or MP3 (supports extracting audio from the video). With the help of Vixy.net, you are free to enjoy any web video with any format.(with similar function as Zamzar) |
| | |
| | KeepVid comes with a Top Videos option, which allows you to download many kinds of popular web videos quickly and easily. |
| | |
| | Similar to vixy.net and ZamZar, the difference of Media Converter is that you need an account. What's more, only YouTube videos are available to download and convert. If you have downloaded its video download application, you can get 5 supported sites. |
| | |
| | Hey! Watch is a Web service for online video encoding. It can quickly encode videos into many kinds of formats, as well as HD. It comes with nice graphical interface and offers multiple features and options. You are able to directly upload any video you like from the web to online storage or an FTP server. |
| | |
| | YouTubeX enables you to get videos from YouTube. Though it can only support YouTube, it still comes with many other features: search popular videos and play videos on the site. |
| | |
| | VideoRonk works on searching many kinds of video-sharing sites like Google Video, YouTube, MetaCafe and DailyMotion and helps you to find many popular videos from the sites. You can enjoy the videos on VideoRonk directly. Or if you like, you can download the videos to your computer. |
| | |
| | VidDownloader supports around 10 popular sites. You can get video files in format of DivX AVI. You can handle the site easily. By selecting "Just Audio" option on the download page, you can extract the audio from the video. |
| | |
| | This site supports about 98 video sites like iFilm, MySpace, CollegeHumor, etc. When downloading from YouTube, do rename the downloaded videos with the .flv extension. |
| | |
| | This is a foreign site. It supports almost all major sites and can be easily used. It provides Free FLV player on the site and you can download it for playing videos from YouTube. |
| | |
| | DownThisVideo comes with a nice tag cloud on top. You can directly click it to find your lovely videos. In my experience, this site is mostly used in Japanese since most of the popular videos are Anime. While you can still use it to get any video from YouTube. |