Contents
1. FLV Converter

2. Convert from FLV

3. Convert to FLV

4. Play FLV
Flash Video (FLV) is the name of a file format used to deliver video over the Internet using Adobe Flash Player. The most recent public release of Flash Player supports H.264 video and HE-AAC audio. Flash Video content may also be embedded within SWF files. Notable websites of the Flash Video format include YouTube, Google Video, Yahoo! Video, Reuters.com, Hulu.com, etc.
How to Convert FLV Videos to MOV, MP4, or M4V on Mac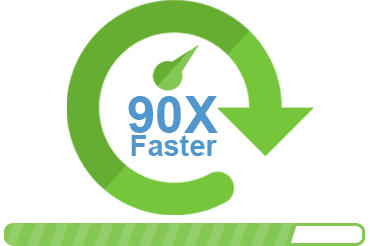 So what can you do if you want to play the downloaded FLV clips on portable player such as iPod, iPad, iPhone or PSP, to edit FLV video in iMovie, or simply don't like to view it with FLV Player? An FLV converter Mac and/or downloader is what you only want. Here iSkysoft Video Converter for Mac is highly recommended. It's not only an FLV converter Mac, but also an easy-to-use FLV downloader. Only a few clicks are required to download or convert FLV videos on Mac. This article will show you how to convert downloaded FLV video on Mac. If necessary, also follow first step to download online FLV video if you have not yet.

Follow the step-by-step tutorial to convert FLV Videos to MOV, MP4, or M4V format on Mac OSX.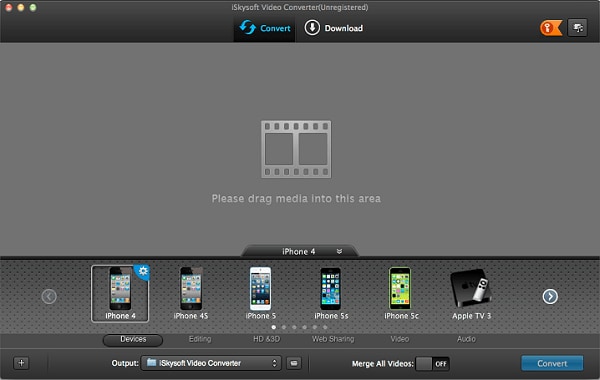 Step 1. Download FLV video with FLV converter on Mac (Optional)
Download and install iSkysoft Video Converter. It will add a Download button to FLV video on sites like YouTube (over 100 sites supported) so you can save FLV video to Mac in one click.
iSkysoft Video Converter can also convert FLV and MP4 video files to all regular video format another perfectly. Compared with other FLV converters, this Mac FLV Converter provides you with loss-less output quality, more helpful, advanced functions and higher conversion speed, it also has more friendly and easy-to-use interface. There are even some detailed guide about specific FLV conversions on Mac and Windows, you can check them out here: convert FLV to MPG on Mac, convert FLV to MP4 on Mac, convert FLV to AVI on Mac, convert FLV to WMV on Mac, convert FLV to 3GP on Mac, convert FLV to M4V on Mac etc. In these articles, iSkysoft Video Converter is recommended.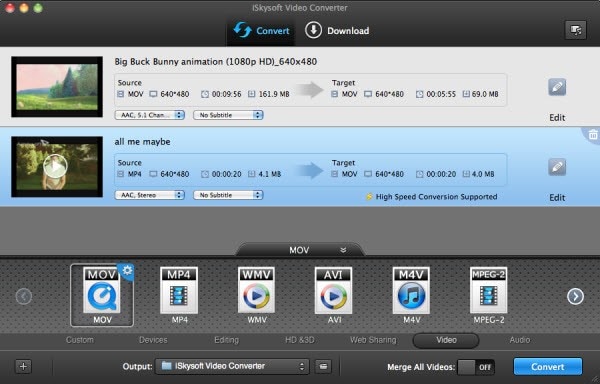 Step 2. Load the FLV files you want to convert
First locate your FLV files in the Finder and directly drag and drop to the program window (Switch to Convert on top if not). To import FLV downloaded in the above step, open Media Browser by clicking the button at the top right corner and switch to Download tab in Media Browser. Find the downloaded FLV file and drag and drop to the item tray in Convert tab. iSkysoft Video Converter allows you to load and convert several FLV files at one time.
Step 3. Choose an output format
Next, choose a format in the Video category of format tray at bottom, e.g. MOV. To make settings, click the Gear button. You can just select the format according to the device name. No settings required. For example, you can select 'iPod' when you want to convert FLV to iPod touch on Mac.
Or you can select 'iPhone' when you want to convert FLV files to iPhone 5 or iPhone 4S on Mac. The default setting works well.
Tip: If you only need a FLV to iPad Mac conversion/FLV to iPod Mac conversion/FLV to iPhone Mac conversion, you can click the links to get some step by step guides in specialty.
Step 4. Start FLV conversion
iSkysoft Video Converter will convert all the imported FLV video to the selected format. Just click the Convert button to start the FLV conversion. If the "Export to iTunes" option in the previous step is selected, the converted file will be added to iTunes library automatically so you can sync to device right away.
Note: Apart from converting FLV to all sorts of popular video and audio formats, iSkysoft Video Converter for Mac can also convert MP4 to FLV format. Just download this FLV Converter Mac and enjoy your colorful multimedia life!
Also see the video tutorial about Convert FLV to MOV, MP4, M4V on Mac OS X (Mavericks, Mountain Lion, Lion):
How to Play FLV files on Mac without FLV Converter Mac
FLV is not natively supported by Mac apps like QuickTime, iMovie, iDVD, etc. nor Apple devices like iPhone, iPad. So if you want to play FLV (Flash Video) files on Mac (Mavericks and Mountain Lion included), you then need to use a player that can handle FLV files, or like above, convert FLV to other formats that are supported by Mac.
For FLV player, here are 2 recommendations (both of them are Free):
VLC Media Player features a free, cross-platform media player. The VLC Mac supports a large number of multimedia formats, without additional codecs installed. It can handle FLV, WMV and VOB files to name a few.
QuickTime with Perian installed: Perian for Mac is a free, open source QuickTime component that adds native support for many popular media formats including AVI, MKV, DivX, 3ivX, FLV, FLV1, FSV1, Flash ADPCM and many more. But Perian is currently not supported, see Perian for Mountain Lion solution.
Note: This is only for FLV playback on Mac, if you wanna do more, such as edit FLV in iMovie, manage in iTunes and transfer to iPod, iPhone or iPad, you will have to convert FLV to Mac compatible formats like MOV, M4V or MP4.