There are lots of people who have problems on how to compress a video file. Since you're here, you must be one of them. Your video files take up a lot of storage space in the hard drive, and large files are burdensome and very heavy to transfer; Compress video files so that they can easily upload and transfer files to devices or send by email and you are searching and looking for the best video compressor that is easy to use. Yes, it's a big issue, especially in this digital world, many cameras and phones have high resolution videos that you surely need to compress or convert them.
There are different ways on how to make video files smaller, and the popular ways include re-encoding with an effective video transcoder and using a file compressor. This article will share 2 best ways to compress a video so that you can release free space, compress video for YouTube, transfer to your device or email to others.
Method1. Compress Large Video Files with Video Converter on Mac
Download iSkysoft Video Converter for Mac, which is very suitable to compress video files to play on portable devices because the optimized presets are built-in the program. Install and run the program, operate according to the following steps.
Step1. Add video files you need to compress
Simply drag and drop the video into primary window of the program or click "Files" button on the top left corner of computer, choose "Load Media Files" to select videos.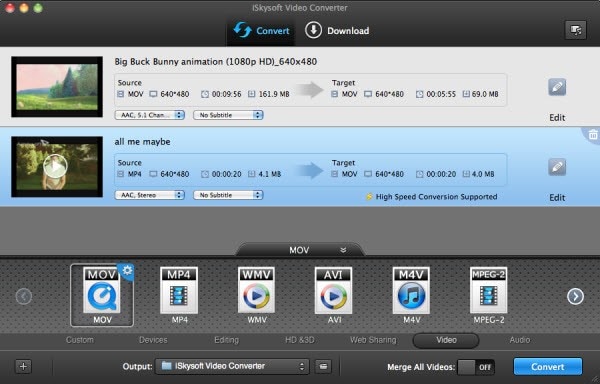 Step2. Options to make a video file smaller
To compress video files on Mac with a video compressor Mac, there are mainly 2 options: Option1 is to convert video to a format with high compression rate; Option2 is to use lower video settings.
Option1: Converting your video files to a format is a fast and easy way to compress a video. Simply select a proper output format to reduce the video size such as MP4, FLV etc, because they are usually smaller than other files due to high compression rate. You can preview the video size on the main window before conversion. But make sure your recipient can play the video in the selected output format. Note that the smaller a video file is, the lower quality you'll get. You may also need to rely on Option2 to make a video file smaller.
Option2: Compress video with lower settings. You can either reduce its resolution (the bigger the resolutions are, the larger the output files will be. It has a significant impact on the video file size), frame rate (frame rate is the number of frames that is displayed per seconds), or even the audio settings (small effects). All these will take effects on your video and turn your large video files into a smaller one.
To do so, after drag and drop the video into the window of program, click "File" on the top left corner, choose "Encode Settings" to open a dialog to set the parameters.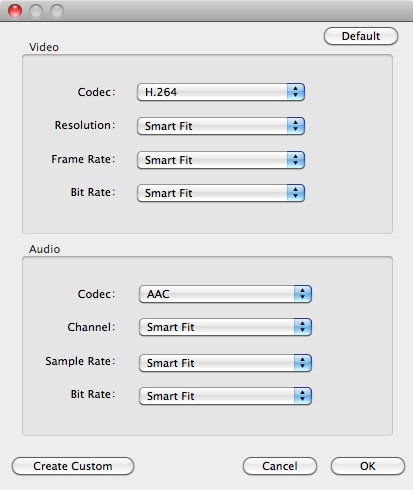 Step3. Start video compression on Mac
When all settings are done, just hit "Convert" button to compress your large video files. Just be patient in compressing your video files, because large size and high quality video files can take minutes or even hours to be compressed.
How to Compress Video Size on Windows
Above, we introduced how to compress video Mac, this part is on how to reduce file size using video compressor for Windows. Steps are almost the same as the above. First download the Windows version compressing software named iSkysoft Video Converter Ultimate.
A minor difference between Mac and Windows is the place of "Settings" button. You can find "Setting" button on the lower right corner of the Windows video compressor software.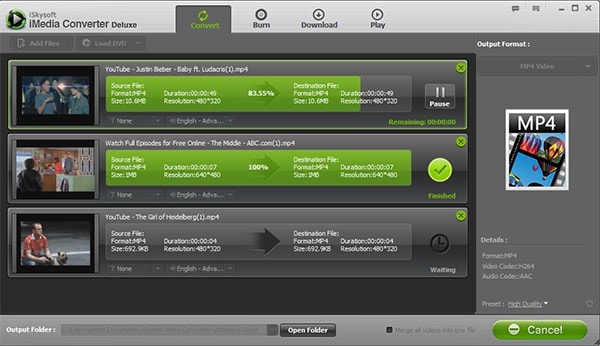 Method2. Using File Compressor to Convert Video into Smaller Size
Another way to compress a big video or movie is using regular file compressors like WinZIP and WinRAR. However, the disadvantages of file compressor are obvious: The higher the compression ratio is used, the slower the video will be compressed. Anyway, you still have the options.
Hope this article will help you compress video with Windows/Mac video compression software or file compressor software like WinZIP or WinRAR.