How to Convert MOV to WMV on Mac (Mountain Lion)
April 24, 2013 4:50 PM / Posted by Ivan Cook to Mac Tips
Follow @IVANJCOOK
If you try to share some interesting movies on Mac with your Windows friends, you will come to know that Windows Media Player cannot play back MOV format. Also,some video sharing sites doesn't accepts MOV files. In these cases, you will need to convert MOV to WMV first. Yes, QuickTime Pro can do conversion of MOV to WMV but you soon find out that only 30 seconds of the converted video is playable. In order to convert MOV to WMV, you will have to get a professional video converter like iSkysoft Video Converter for Mac. the following is a step-by-step example of converting MOV to WMV files on Mac (e.g. Mountain Lion). We will also show you how to play back WMV files on your Mac without convert MOV files.
Easy Solution: QuickTime MOV to WMV Converter Mac
If you are only interested in learning how to play WMV files on Mac, you can skip to next part for detailed instructions. In this part, we will focus on how to use iSkysoft Video Converter for Mac to convert MOV files. iSkysoft Video Converter for Mac is a very powerful video converter with a minimal user interface, which allows even the most inexperenced user to start converting video in no time. Apart from converting from MOV to WMV files, it also has the ability to convert to and from a variety of other popular media formats.
1
Import video files to the Video Converter Mac
You can opt for the manual way of adding files by choosing "FIle" > "Load Media Files". But the easy way is to use the drag-and-drop functionality to import files. Besides, you can add multiple files at a time and convert them in batch.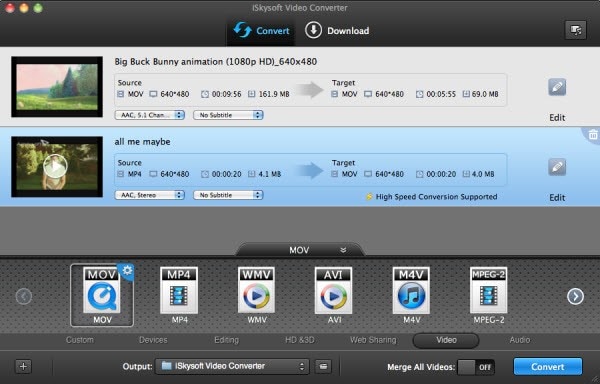 2
Select WMV as Output Format
From the format list, select WMV as the output format. before proceeding to convert the video, you can apply some cool affects to the video. If you want to learn more about the video editing part, please refer to the Guide of Video Converter for Mac
3
Start Converting MOV to WMV Mac
Press the "Convert" button to get the conversion started. in a couple of minutes, the conversion will be completed. If you have added several files to convert, it may take a while before it finishes. But you can set the converter to power off the computer when it is done.
This wonderful Video Converter for Mac is fully compatible with Apple Mac OS X, including Mac OS X Snow Leopard, Mac OS X Lion, Mac OS X Mountain Lion, etc.
Another Method: Play WMV Files on Mac
QuickTime Pro ($29.99) + Filp4 Mac (WMV Studio $49.00)

To to able to play WMV files on Mac, you can install Flip4Mac, a free QuickTime component. This component enables QuickTime to play WMV on Mac. But if you want more advanced feature like video conversion, you will need to pay $49.00 for WMV studio. Compared to which, Video Converter for Mac is obviously a better choice.