Search for a video compression software? This article will show you why iSkysoft Video Converter for Mac is the best Mac video compressor on the market.
All-in-one Video Compressor Software for Mac
Not all video file formats are created to be equal; some of them have its specific file format to different applications and devices for them to be played. That is why many Mac users have to take consideration and concerns when looking and choosing for a Mac video compression software. You must have a software application that can simply compress videos for Mac to numbers of file formats and also includes audio compression, an all-in-one converting application. iSkysoft Video Converter for Mac is exactly what you're searching for. It is the best video compressor that gives users high quality and effective codecs (e.g. H.264, Xvid, Divx, WMV, FLV, etc.) and intuitive customizable compressing options. You'll get the freedom to compress your video for a wide range of purpose. The video editing features (e.g. clip, merge, split, effects, etc.) will make your videos unique and more interesting and fascinating to watch. Free trial is available.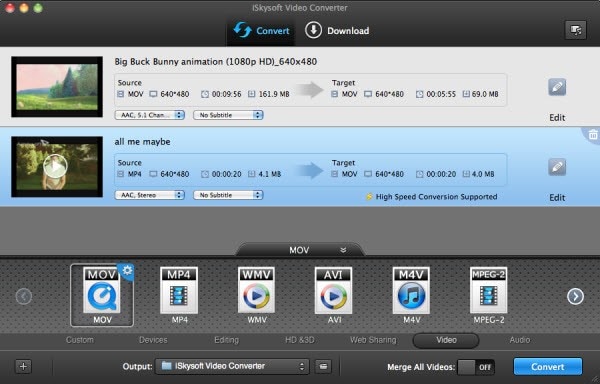 Not Only Video - Broad Format Support
iSkysoft Video Converter for Mac is one of the best-selling video compression software that is available in the market nowadays. It has unique and special kinds of features that can make the user satisfied and happy of the result. For example, you can convert video to almost any format you want, including but not limited to MOV, M4V,MP4, WMV, ASF, MKV, AVI, FLV, F4V, TS, TRP, MPEG, VOB, 3GP, 3G2, SWF, DivX, MP3, etc. Besides video format, you're able to compress video to device-compatible and software-editable format quickly and easily. Plus, you can compress multiple files at the same time. It is a professional video compressor program that will make your work qualified and proficient to the eyes of watchers.

Easy to use Video Compressor
This video compression software comes with a user-friendly interface, which means it is not difficult at all and very easy to use especially to those new users. It provides guidelines and instruction that will make the user more comfortable and at ease. Tutorials, instant message, and online FAQs have been made for the users if you have any questions regarding on how to use the program. To make the converting and compression process be fast and easy, and have not met any problems. See the step-by-step guide now.
Easily Compress HD Video to Small Size
If you have a lot of high definition MOV files and want to compress them into a smaller size, get and try iSkysoft Video Converter for Mac for it will surely meet and see all your expectations. You will never regret in getting one. Share and spread the good news to your family and close friends so that they can also experience the great and best video compressor software in the market, with an affordable price. Try our free trial version so that you will be satisfied.