Contents
2. Top Video Compressor
A number of media files are saved in AVI format. The typical downloaded AVI file will be around 700MB for an average length movie. As you can probably tell, storing such large files on your hard drive will have you running out of space quickly. As such, you may want to consider compressing your AVI files to smaller sizes/formats. General consumer converters will generally trade off quality for compression. Thus, you will get a much smaller media file with poor quality video and/or audio. If you want to retain the current quality of your AVI files after compressing them, then you might want to use iSkysoft Video Converter.
Convert AVI to 3GP or other smaller file formats on Mac OS X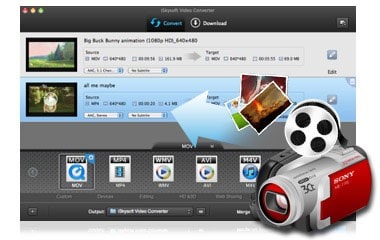 iSkysoft Video Converter is one of the most reliable AVI compressor available to Mac users. It offers conversion to a number of different formats. Moreover, it also allows you to compress your uncompressed AVI files to smaller formats without quality loss. However, you will need to know how to work the program before you can comfortably watch your newly compressed videos. Here's a step-by-step guide on how to compress AVI files using this program.
Download Free Trial Version Here: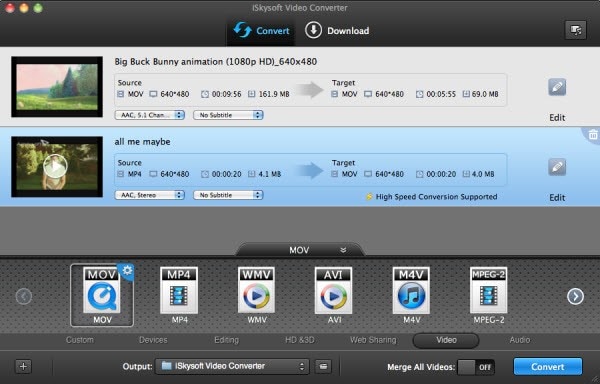 Step 1. Add files to AVI compressor
Launch iSkysoft Video Converter when installation complete, and proceed to drag the AVI files that you would like to compress onto the interface of the program. You can also import AVI video files by File > Load Media Files.

Step 2. Make compressing settings
Next, select the output format that you would like the compressed file to be in. To do so, you will need to understand terms such as" resolution" and" frame rate". The larger the resolution of the video, the larger its expected size will be. As such, reducing the resolution could reduce the file's video size. You might also want to reduce the frame rate which is basically the number of frames that are played per second.
You could choose to lower the resolution while maintaining the Bitrate quality in order to maintain the quality of video while compressing your AVI files. For an extremely smaller size, FLV is recommended, but video quality might be poor because high compression ratio is used.
To do so, click the Format icon on the right of item bar and choose output format from the Format list. Click Option button after format selection to make video setting changes.
Step 3. Start to compress or resize AVI files on Mac
Lastly, click on the" Convert" button to start the conversion and let the program run its course.
Compressing AVI files using this program offers two solutions. First, the quality of the video is not affected in any major way. While FLV may be a great compression option, the quality of the video with this format may be quite poor. Secondly, the program gives you the option to adjust various settings such as the bitrate, resolution and audio channel so as to compress AVI files to much smaller sizes. Learn more about iSkysoft Video Compressor for Mac now.
Also see the video tutorial about compressing AVI Files on Mac (Yosemite, Mavericks, Mountain Lion, Lion)