GIF, short for Graphic Interchange Format, is a bitmap image format that is popular on the Internet due to its cross-platform compatibility. Although it's an image format, it supports animations so GIF is widely used for small animations and low-resolution film clips. For example, you can use it as your Myspace default picture to amuse your friends. Most forums also support GIF as the avatar image. All in all, you can get more out of GIF especially you can convert a video to GIF, for example, MP4 to GIF.
Since GIF is basically an image format, most video converters don't support converting videos in MP4 to GIF format. But it doesn't mean you cannot. There are many free online GIF converters on the Internet. Here we highly recommend Zamzar.com which is a powerful free online file converter that allows you to convert almost any video file (including MP4) to GIF format.
How to Convert MP4 to GIF for Free
Below are the easy steps to show you how to make an animated GIF from .mp4 file on Zamzar.com. In fact, you can also convert AVI to GIF, WMV to GIF, and YouTube to GIF. But keep in mind that Zamzar, as a free MP4 to GIF converter, has at least three limits:
1. You have to provide an email address and wait for the conversion to complete.
2. Your video files have to be smaller than 100 MB in size.
3. You cannot trim the GIF animation if it's too long and thus too large.
So here are the solutions. For number 1, try another GIF converter like Gifninja.com which supports instant download but the file size limit is 20MB. For the rest, you'll need a general video converter to compress the video by using lower resolution or bit rate, or trim the video length. If you don't have a video converter yet, we at iSkysoft highly recommend iSkysoft Video Converter to compress, trim and even crop your video before using Zamzar to make a GIF from MP4 video.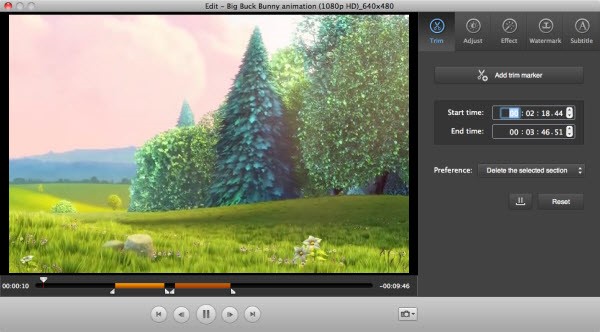 Trim video length for a smaller size.
1
Upload MP4 file to GIF converter online
Zamzar.com enables you to upload local MP4 files by clicking the Choose Files button in the Convert Files tab. For Windows users, you can also drag and drop MP4 files to upload MP4 files to Zamzar, ready for the server to convert MP4 to GIF at the back end. Note that your MP4 files should not exceed 100MB. Otherwise, you need to sign up Zamzar's premium service or use a video converter to compress your video files.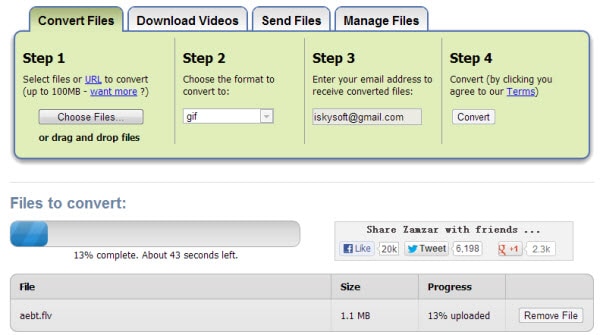 2
Choose GIF format and input email address
The next step is to choose GIF from the list as the target format. Zamzar doesn't provide a GIF file download link immediately. Instead, you need to specify an email address to receive the GIF download link. It may takes sometime for Zamzar server to convert MP4 file to GIF. If your MP4 file size is very small, you will get the download link in your email box in minutes.
3
Check your email box to download GIF animation file
Click the Convert button in your browser, and all the uploaded MP4 files will be uploaded and converted to GIF format on Zamzar's back end server. You'll get a message when the upload is complete. After a while, check your email to download the GIF file.
Note that your converted GIF file will be saved for only 24 hours from the time you receive your email from Zamzar. Don't forget to check your email box after you uploaded your MP4 files for converting from MP4 to GIF format.