WLMP is a project file created with Windows Live Movie Maker, which was later dropped the Live part and became Windows Movie Maker (totally different from the previous Windows Movie Maker) on 2012 Windows 7 and Windows 8.
Convert WLMP to MP4 on Mac OS X
The WLMP file is not a video file so you can't convert WLMP to MP4 with a regular video converter. You have to open it with the software that created WLMP files - Windows (Live) Movie Maker. Generally, you can simply export WLMP to MP4 with Windows (Live) Movie Maker. But if can't find the option, or you want to convert WLMP files to other formats besides MP4, get a common video converter that supported WMV format. Here I humbly recommend iSkysoft Video Converter Ultimate, which can convert WLMP WMV to almost any format you desire.

people have downloaded it
==> Check the features of iSkysoft Video Converter for Mac
How to Convert WLMP to MP4 and Other Video Formats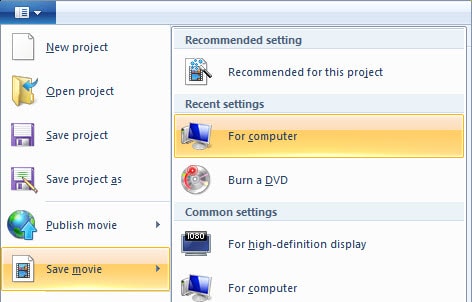 Step 1. Save WLMP to MP4 video
Launch Windows (Live) Movie Maker from the Start Menu and go to File > Open Project to open your WLMP file. Then head to File > Save Movie category to choose an output format. Here choose "For computer" for example. In the open dialog, input a file name and select MPEG-4/H.264 Video File from the Save As Type option. Finally, click the Save button to save WLMP to a MP4 video.
If MP4 suits you need, here is the end. Windows Live Movie Maker is the only software you need to convert WLMP to MP4 format. However, to convert WLMP to AVI, MOV, MPG, FLV or to play on your mobile device, iSkysoft Video Converter Ultimate is recommended. Read on about how to convert the generated MP4 video to other formats.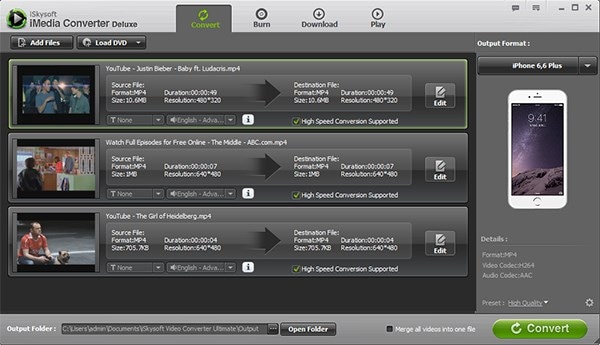 Step 2. Add MP4 files to WLMP converter
After downloaded and installed iSkysoft WLMP converter, launch it and import the existing MP4 files to the program. You can add MP4 files by dragging and dropping them to the main window of the program, or click the Add Files button to locate MP4 files manually.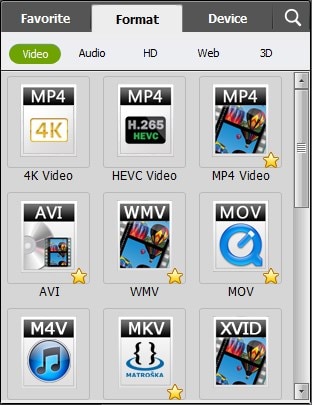 Step 3. Choose an output format
More than 100 formats are supported by this WMLP MP4 video converter. To choose the output format, click the Output Format option at the right and then go to Format > Video to select your favorite format. If you want to change the codec, resolution, frame rate and other settings, click the Settings option at the bottom of the interface.
Step 4. Start to convert WLMP to MP4 or other formats
Next, click the Convert button and all the added MP4 videos will be converted to your selected format. In minutes, there will a message showing up at the bottom right corner of your computer. It means you're done and you can use the video anywhere you want.
WLMP Conversion Questions
See the questions and answers below to learn more about WLMP conversion. You can also ask your own question in the comments.
Where to download Windows Movie Maker?
Windows Movie Maker (2012) is part of Windows Essentials suite. If it isn't included in your Windows 7 or Windows 8 system, download it here. While installing, select Movie Maker only or other items like Photo Gallery, Messenger, Writer, etc.
Can I convert WLMP to MP4 on Mac?
No, you can't convert WLMP to MP4 on Mac. To convert WLMP files, Windows Movie Maker is required, which isn't compatible with Mac. To play WLMP movie on Mac, you have to create a movie from WLMP file and then convert the created video file to MOV format. You can't directly convert WLMP file to MOV with WLMM (Windows Live Movie Maker).
Can I play WLMP with Windows Media Player?
No, you should convert WLMP to WMV video before playing with Windows Media Player.
Can I upload WLMP files to YouTube?
As I described at the beginning, WLMP is actually not a video file so you can upload it to YouTube. To share your WLMP movie, simply open your WLMP file with Windows Live Movie Maker, and then you're able to share your movie on YouTube right from the program. Alternatively, you can export WLMP to a video file that is supported by YouTube and then upload separately.
Why Choose iSkysoft Video Converter for Mac/Windows
| Products | | Free Video Converters | Online Converters |
| --- | --- | --- | --- |
| Support all video formats, such as MP4, MOV, FLV, MKV, etc | | Limited support | Limited support |
| Convert WLMP to MP4 with original quality | | | |
| The conversion speed | Very Fast | Normal | Slow |
| Convert videos to Youtube, Facebook and other sites | | Limited support | Limited support |
| The estimated conversion time display | | | |
| Convert WLMP to portable devices like iPhone,iPad and Android phones directly | | Limited support | Limited support |
| Fetch and Add Movie & TV Show Metadata for your movies | | | |
| Personalize and edit FLV videos before conversion | | Limited support | Limited support |
| Support both Mac/Windows | | Limited support | |
| 24-hour custome support | | Limited support | Limited support |
| Advertisements free | | Limited support | |