Contents
2. Top Video Compressor
Millions of individuals share digital videos by way of uploading on a daily basis. One digital video format that is commonly used is MP4, which is the shortened version of MPEG-4. However, the MPEG-4 format was developed with the purpose of providing DVD quality pictures so it would be sometime too large to upload online or send to others by email. So is there any way to compress MP4 video to smaller size? The answer is yes, and the tutorial below will show you how to make MP4 video smaller.
Compress MP4 Files on Mac with iSkysoft Video Converter for Mac
Here I highly recommend iSkysoft Video Converter for Mac, which will compress MP4 videos to files with smaller size.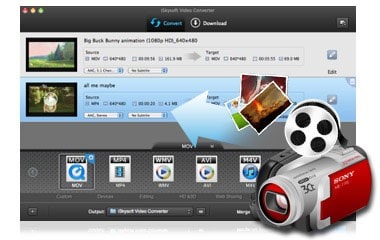 iSkysoft Video Converter for Mac/Windows
Compress MP4 files in an extremelly fast speed (90 seconds for a 100MB video)
Easy to use but comprehensive settings satisfies your MP4 compression requirement
The estimated compression time will be displayed in the screen clearly
Compress MP4 to as many formats, resolutions, codecs and bit rates as you want
Directly compress MP4 to iPhone/iPad/iPod touch playable formats and resolutions
Compress MP4 to web sharing, including YouTube, Vimeo and more
Multi-task support enables you to compress several MP4 videos at a time
Additional edit funtions help you to personalize your MP4 video before compression
Fully compatible with the newest OS X 10.10 Yosemite
people have downloaded it
==> Why choose iSkysoft Video Converter for Mac/Windows
How to Compress Videos with iSkysoft on Mac
iSkysoft MP4 compressor allows you to make changes to regular video settings like resolution, frame rate, bit rate, sample rate, and so on. By decreasing these values, you can make your MP4 files smaller than the original size. Follow steps to compress MP4 video without changing the format.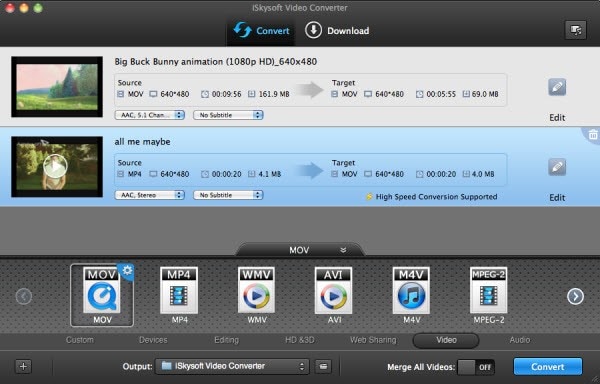 Step 1. Add video files you need to compress
This MP4 compressor Mac supports batch conversions so you are able to compress several files at one time. You can select multiple MP4 files by holding the command key, and then drag and drop them to the primary window.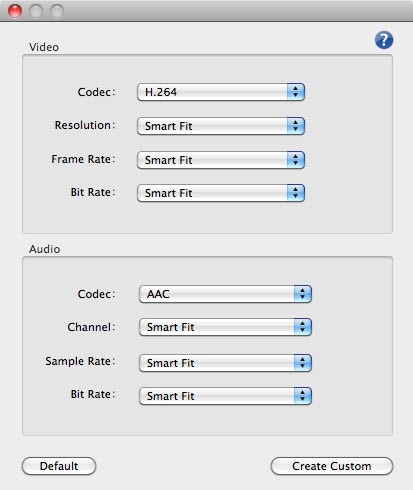 Step 2. Ready to compress MP4 video
In this step, please click "File" > "Encode Settings". In the resulting window, lower the value of resolution (important), bit rate and/or frame rate.
Step 3. Save MP4 video after compression
Check the estimated size and if you're satisfied with it, click the "Convert" button to compress MP4 video to a smaller size.
MP4 Compression Setting Suggestions
Normal Compression:
Most people want normal MP4 compression. It greatly reduce the file size so that you can compress MP4 to email or iPhone/iPad/iPod touch and other devices.
Loseless Compression:
If your aim is not reduci the MP4 video size, loseless compression is the one that suites you. This way keeps the all quality of the original MP4 file.
Actually, due to different requirements, there's no MP4 conversion setting that satisfies everyone. But if you know what kind of settings influnce the file size, it'll be better for you to make the right settings
1. The compressed MP4 file size depends on the following elements: codec, compress bit rate, resolution and the container.
2. In most occasions, H.264 is the best codec for MP4 compression.
3. About the bit rate, the lower bit rate, the smaller video you get. But please don't make it too low, otherwise the image quality can be really bad.
It'll be much easier for you to select the best video compression settings of you know what infuluences the size of compressed MP4 video.
You can directly select iPhone, iPad or iPod touch as output device if you want to compress MP4 to a small size that can be played on them.
Recommended MP4 Compression Settings for Youtube & Vimeo
If you want to compress MP4 videos for Youtube & Vimeo, just follow the table to choose the settings.
| | Video compression settings for Youtube | Video compression settings for Vimeo |
| --- | --- | --- |
| Container | MP4 | MP4 |
| Codec | H.264 | H.264 |
| Frame rate | The same as the original video | 24, 25, or 30 FPS |
| Bit rate | 1000 kbps (360p), 2500 kbps (480p), 5000kbps (720p), 8000kbps (1080p), 10Mbps (1440p), 35-35kbps (2160p) | 2,000 – 5,000 kbit/s (SD) / 5,000 – 10,000 kbit/s (720p HD) / 10,000 – 20,000 kbit/s (1080p HD) |
| Resolutions | 426x240 (240p), 640x360 (360p), 854x480 (480p), 1280x720 (720p), 1920x1080 (1080p), 2560x1440 (1440p), 3840x2160 (2160P) | 640 pixels wide (SD) or 1280 pixels wide (HD) |
Why Choose iSkysoft Video Converter for Mac/Windows
There're many aspects that you need to consider when choosing the video compression tool that satisfies you most, such as the price, the compression quality and speed, ease of use, etc. The following table tells you why iSkysoft Video Converter for Mac is the best one that you should get to compress videos on Mac.
| | |
| --- | --- |
| Supported Formats | iSkysoft is able to compress MP4 videos to FLV, MOV and other foamats. You can also use the presets to directly compress MP4 file to iPhone/iPad/iPod touch and video sites like Youtube and Vimeo |
| Compressing Speed | This software compresses videos in an extremely fast speed, while most tools in the market doesn't . (iSkysoft converts a 100MB videos within 90 seconds) |
| Free Trial | The free trial version provides full functions except watermark on the video. |
| Ease of Use | Though iSkysoft supports full compression settings, it's rather easy-to-use. The presettings almost done everything for you. If you're a professional user, iSkysoft can also satisfy you. Besides, iSkysoft can estimate the need compressing time and display it in the screen. |
| Additional Features | The additional video editor helps you to personalize MP4 files as your wish |
| Customer Support | iSkysoft offers you 24-hour support that solves any minor problem that you might ecounter |
Optional Solution to Compress MP4 Videos for Free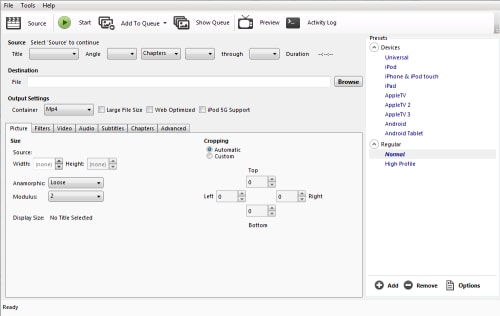 Handbrake is a totally free software for you to compress MP4 on Mac. The operation of the program is like other compressores, except the complicated keys and settings in the screen. Besides, it only support MP4 and MKV as output container, and the MP4 compression settings is not so humanized.
Note: If you want to compress MP4 to FLV or other formats or you need full pre-settings about video quality, resolution and bit rate, which will save you much time, Handbrake is not a good choice for you.
For users who's not skilled and doesn't have much time, iSkysoft MP4 Compressor for Mac can do a great favor.