You might have a TiVo in your living room and want to watch some interesting AVI movies from your Mac. Or you have a big TV and prefer to watch movies on it. So it would be great if you can transfer some of your interesting AVI movies or videos from Mac to TiVo for playback. However, since AVI is not compatible with TiVo, you need to convert AVI to TiVo friendly format on Mac first, which is MPEG-2.
This article shares an easy but professional way to change AVI to TiVo on Mac to get a TiVo compatible format (Snow Leopard, Mountain Lion included), and then upload the videos to your TiVo (TiVo series 3, series 2, series 1 included). First of all, you need to download and install the Video Converter for Mac. It is a professional app to do the video conversion.
This article will include 2 parts:
Part 1: How to convert AVI to TiVo on Mac OS X
1
Add video files to AVI to TiVo converter
You can directly drag and drop AVI files to the application. Or just go to the "File" menu, choose "Load Media Files". This program supports batch conversion, so that you can add several AVI files to this program at one time!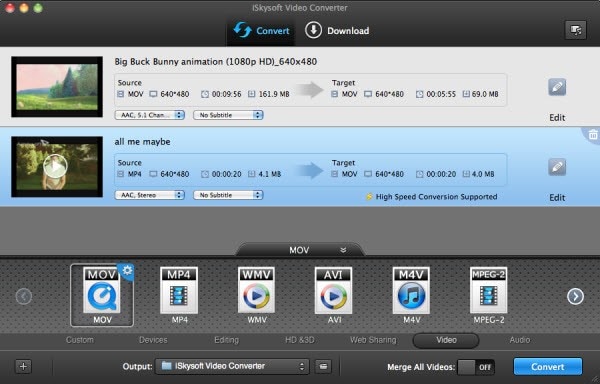 2
Select MPEG 2 as the output format
In the format tray, you need to choose MPEG-2 from Video category to set as the output video format, for MPEG-2 format is fully compatible with TiVo.
3
Start to convert AVI to TiVo Mac
Hit the "Convert" button, let this app finish converting AVI files to TiVo files on Mac for you. The process may take a few minutes depending on the size of your AVI files.
Part 2: How to upload the output videos to TiVo from Mac
Download the TiVo Desktop program and install it on your Mac. The program enables you to stream the iTunes music and iPhoto library to your TiVo. But the TiVo Desktop won't provide any video functionality to you right away, so you're required to allow its hidden feature on video transferring at first.
Now you can click "Stop" in System Preferences > TiVo Desktop. Now go to Applications > Utilities > Terminal > input: defaults write com.tivo.desktop FileVideo -dict-add VideoUIEnabled -bool true
Open again System Preferences > TiVo Desktop, then you will get a Videos tab appeared. Click to choose "Publish my videos" and select MPEG-2 videos from your local Folder.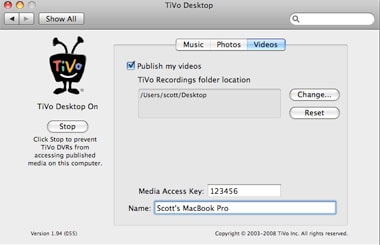 Last, go to Now Playing List of your TiVo and scroll down to the bottom of the list, then you will get your Mac appeared there.Select the videos you would like to transfer, then TiVo would transfer them to your Now Playing List. That's all.
Note: Please make sure your MPEG-2 video files have already been saved in your selected Folder. Then you can click the "Start" button. If you want to add more MPEG-2 videos to the selected Folder, you need to stop TiVo Desktop and start it again so that it can recognize the new videos.