Let's say you've recorded many TV shows with TiVo and want to convert them to AVI format for uploading to PSP, BlackBerry or embedding in PowerPoint. This article discusses an easy way to get TV shows off TiVo and converting them to AVI videos on your Mac.
TiVo Decode Manager is a free program which helps you fetch TiVo recovered shows and even transfers the files to your Mac for enjoyment.
How to transfer TiVo recorded shows to Mac OS X
1
Connect your TiVo to network
Make sure your TiVo on your home network. If it's not, consult your TiVo manual to get it connected. Set up an account at www.tivo.com. Log in and click DVR Preferences in the left navigation bar. Check Allow Transfers and click Save Preferences without logging out.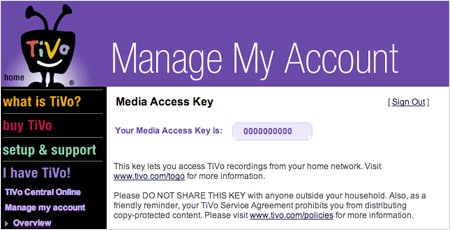 Click Overview in the left navigation bar, then click the Media Access Key (MAK) link on the right side of the window. The page that appears will reveal your MAK. Write it down, or select it and press Command-C on your keyboard. Now you can log out.
2
Make sure your Mac is on your network and launch TiVoDecode Manager.
TiVoDecode Manager (TDM) is a free Applescript Studio interface (i.e. "wrapper") for the tivodecode program that automates the process of downloading of standalone TiVo Series 2 files to your computer and decoding into MPEG-2 or MPEG-4 files. It is not for Series 1 (ever), Series 3, or DirecTiVos (unhacked or hacked).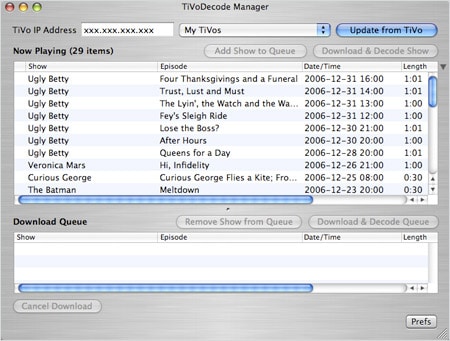 3
Find your TiVo on your network.
Enter your TiVo's IP address in the TiVo IP Address box. Or let the software find it for you by selecting your TiVo from the pull-down menu and clicking the Update From TiVo button.
Next click the Prefs button in the lower-right corner. Fill in the Media Access Key box with the number you recorded in step 1. Click Update From TiVo again.
4
Transfer TiVo shows to Mac
A list of shows on your TiVo will appear in the Now Playing list.
Select the show and click Add Show To Queue. And now click Download Location to customize the place where you want to save your files.
Then Pick a format. At the bottom of the window, click the Download Format pull-down menu to select a format from MPEG-2 (native), QuickTime MPEG-4 (iPod), and custom MPEG-4 format for your downloaded show.

If you want to convert your TV shows recorded from TiVo to other video formats such as AVI, WMV, MOV, MKV,MP3, you can use a video converter for Mac to convert the TV shows. Use Video Converter, you can convert those videos into a format that you can play on a large variety of video players, including the iPod, iPhone, Treo, BlackBerry, Apple TV, and PlayStation 3.