Got VOB files but can't play them on your Mac? This article will share tips on playing VOB files on Mac. See the 3 parts below:
Part 1. How to play VOB files on Mac
VOB is actually an MPEG file with additional data which is used to store movies on a DVD disc. Therefore, a media player with MPEG-2 codec can play VOB files without hassles. If it can't play, simply changing the file extension to .mpg and it probably works.
However, A VOB file is not only a MPEG movie, but has extra information in addition to the MPEG2 files within the container. This is partially because of the file system on the DVD disc. If you have ever browsed the content in a DVD, you'll see lots of IFO and BUP files. VOB files are just video, but DVD has other data besides video. So if you only renamed the VOB files, many video editing software titles can not recognize them or the VOB files can not be played. In such case, you have to convert VOB to MOV, MPG, AVI, MP4, WMV, etc. A video converter like iSkysoft VOB Video Converter for Mac is required. Get it now.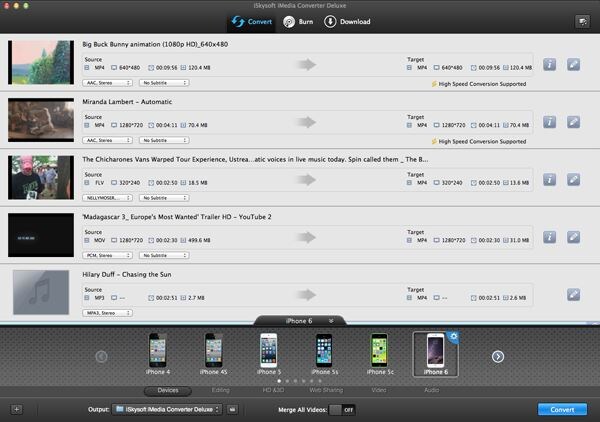 As far as I know, VLC media player and MPlayer can play VOB files effortlessly. In fact, Apple's DVD Player application can also play VOB files in DVD VIDEO_TS folder. Here is how. Open DVD Player from Application folder, go to File > Open DVD Media and navigate to the VIDEO_TS folder with VOB files inside and click Choose.
Part 2. How to convert VOB files on Mac Mavericks and Mountain Lion
Step 1: Launch VOB Converter for Mac and Import VOB Files
To install VOB Converter for Mac (Mavericks and Mountain Lion included), simply double click the downlaoded .dmg file, and copy the application to your Applications folder (or wherever you want it ). Then drag and drop VOB files from Finder to the program. Note that you don't need to import IFO or BUP files, just the VOB files. You'll see all imported VOB video in the item tray.
Alternatively, go to File > Load DVD Files to locate a VOB file or DVD VIDEO_TS folder with your VOB files included and click Open to import. If they are VOB files of an inserted DVD disc, there will be a DVD icon on desktop, just drag and drop it to the program, and the video clips will be imported like the above methods.
Step 2: Convert VOB files to MP4, MOV, FLV, AVI, iMovie, etc. on Mac OS X
Next, select an output format from the output format list that open by click the format icon. If you want to play VOB files on the go, use the optimized presets for iPad, iPod, iPhone, Apple TV, and so on. When everything is ready, click Convert to continue and wait for all tasks complete.

For those who want to extract audio from VOB video to MP3 on Mac, click on Audio tab to choose the audio format you want. As you can see in the above screenshot, you can get more format you want with this iMedia Converter Deluxe for Mac
When the conversion is completed, you can either play your VOB movie on your Mac, or transfer the output file to your iPad, iPod, iPhone to enjoy anytime and anywhere. Also want to edit VOB files in iMovie to creat your own masterpiece? Just import the converted VOB files to iMovie by clicking File > Import after iMovie opens.
Part 3. What is a VOB file?
Are you interested in VOB format? Learn more about it here. VOB, short for Video OBject, is a container format used for DVD-Video media. VOB derives from MPEG-2 program stream format, but with extra limitations and specifications in the private streams because the media companies want to restrict public users's illegal use of DVD disc and for other reasons. VOB files contain Video, Audio, Subtitle, and Menu contents in stream form.
A VOB file is encoded with MPEG-2 codec. This means that it complies 100% with the MPEG-2 system level standard, ISO 13818-1. However, VOB files are a very strict subset of the standard. Thus, while all VOB files are MPEG-2 system compatible, not all MPEG-2 systems support the definition for a VOB file. Other DVD files include IFO and BUP files. iSkysoft VOB Converter for Mac also supports IFO and BUP files.