http://www.youtube.com/watch?feature=player_embedded&v=s2kFNRVFfP0
What's URL? URL means Uniform Resource Locator. URL, like what you see above, is the address through which you can open a page on the Internet. In most web browsers, the URL is displayed on top inside an address bar. So every YouTube video will have a YouTube URL. While you're watching a YouTube video, usually you'll see it on top of your web browser. If you're interested in a YouTube, an idea may come up in your mind: Can I download this video through the YouTube video URL?
Yes. iSkysoft iTube Studio is one of the best YouTube URL downloader applications on the market. It can download YouTube video to all popular video and audio formats like MP3, MP4, MOV, FLV, MPG, AVI, M4A, WMV, etc. iTube Studio comes with an intuitive interface. For those who aren't tech-savvy about YouTube URL downloader, it's also easy to save YouTube video to their computer. Besides YouTube, This YouTube URL downloader can also download video from Flash video sites like Vimeo, MetaCafe, Vevo, and Dailymotion. Now get iSkysoft iTube Studio, and then all you need is a YouTube URL. It will turn YouTube URL to a video or audio file like a magic.
Copy YouTube URL and Paste URL to Start Downloading
Now I'll take the Mac version of iSkysoft iTube Studio for example, showing you how to download video via URL of YouTube video.
1
Open iSkysoft YouTube URL Downloader for Mac
Download and install this YouTube video URL downloader to your computer. And then launch it from the Applications folder or anywhere you've installed this application. Then you're ready to download video via YouTube URL.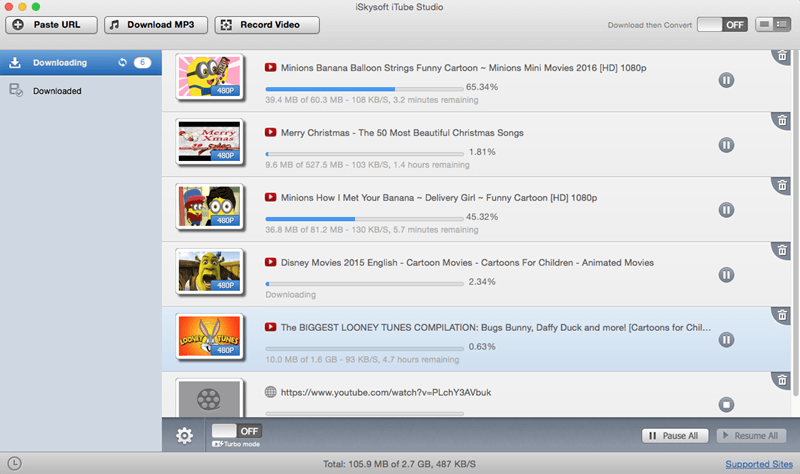 2
Copy YouTube URL and Paste URL to Download Video
Next, go to YouTube.com and find the YouTube video you want to download. Control-click the YouTube URL in the address bar and choose Copy. Now activate iTube Studio and locate the Paste URL button on top. Click it and this YouTube URL downloader will automatically save the video to your Mac.

iTube Studio for Mac also provides another convenient way to download YouTube video via URL: Just Drag and drop the URL icon to the main interface. A download button will also be integrated with your browser so you can download video in one click.
3
Convert video to other formats (Optional)
If the downloaded FLV or MP4 format is not what you want, or you need to play YouTube video on your iPhone/iPod/iPad, you can convert the downloaded video to another format. Here is how: Go to the Downloaded tab, and click the Convert button to the right of each video. In the dialog that appears, choose the format you want.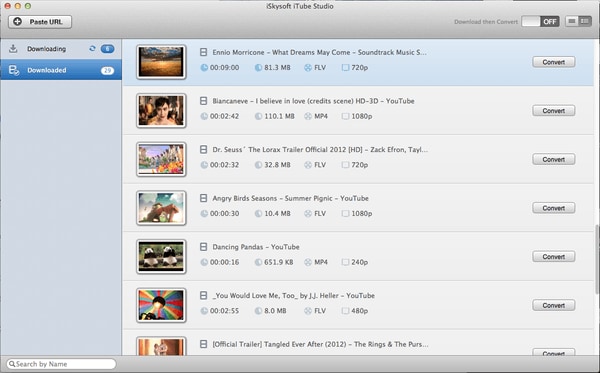 With iSkysoft YouTube URL downloader, all you need is a YouTube URL to save any video from YouTube.com. This is especially useful for music lovers. YouTube's Music channel includes millions of music videos. You can download them to MP3 on your local hard drive. Again, all you need is the YouTube URL. Hurry up before some music videos are removed.