Emptied Trash on Mac but want to get back some files? Or you even removed files by Command+Delete? Never mind. You have a chance to retrieve deleted files by using Empty Trash Mac, if you follow this article.
Why? Here is the reason. When you empty Trash on Mac, you're not really delete the files. It just disappears and isn't under your control from your operating system. The deletion operation only tells your computer: OK, now you can use the disk space occupied by the deleted files. Actually, the deleted files remain physically on your Mac hard drive as long as it has not overwritten by new files. That's why you're highly recommended to stop using your Mac if you want to undo Empty Trash on Mac.
Now, to access the "hidden" files emptied from Trash, you have to rely on data recovery applications like iSkysoft Data Recovery for Mac. It's a safe, fast and easy application to perform Trash recovery on your Mac OS X. It can undo deleted files from Trash Bin to a safe place. iSkysoft Data Recovery for Mac can help you recover deleted photos, videos, songs, archives, documents, and miscellaneous from Mac desktop, MacBook USB stick, mobile phones and other external storage media.
Tips: To protect your lost data, the best solution is to download and install iSkysoft Data Recovery for Mac to an external storage media and undo Empty Trash on the Mac computer you want to recover files from.
How to Undo Empty Trash to Recover Deleted Files on Mac
1
Choose a data recovery mode
Run iSkysoft Data Recovery for Mac from Application folder or any folder you've installed it to. You can choose from Lost Data Recovery, Raw Data Recovery, Partition Recovery and Resume Recovery. Here first try Lost Data Recovery to undo Trash deletion quickly. If it fails, try Raw Data Recovery mode to recover emptied files completely.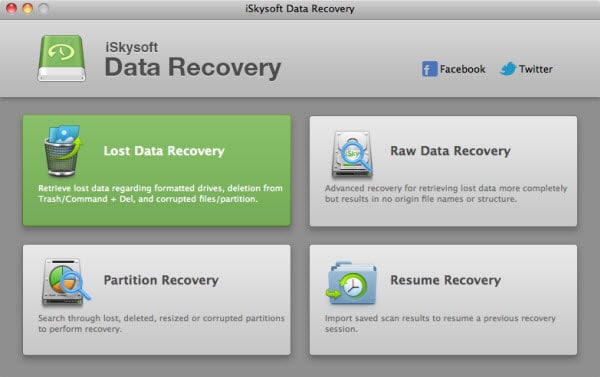 2
Scan lost Trash files
In the "Lost Data Recovery" window, choose the drive of your Mac and click "Scan" on top to search for deleted files from Trash or other folders.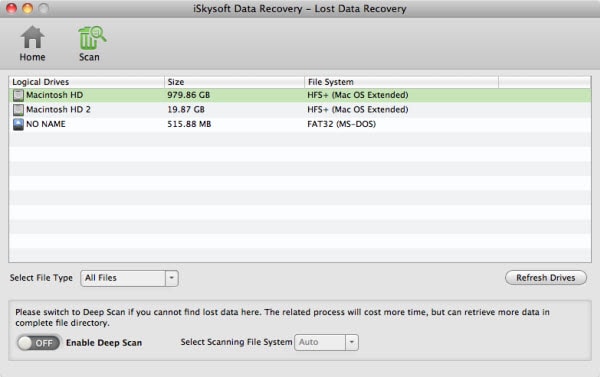 3
Preview and retrieve files emptied from Trash
In a while, all recoverable deleted files will be found. On the left folder tree, you will see a Trash folder. Click it and drill down to find the deleted files you want to recover. With the help of Preview feature, it won't be long to make sure whether the deleted files have been found.
To recover found files deleted by Empty Trash command, check the box before the files and click the Recover button on top. Or right click the selected file and choose Recover item. In the pop up dialog, choose an output folder and click OK to undo Empty Trash operation.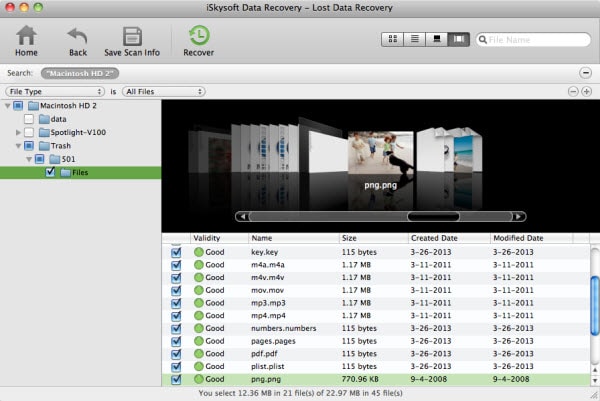 Keep in mind that you can't save found Trash files to its original drive in case the lost files are overwritten. So an external hard drive is preferred, if available.
Tips: 4 general Preview modes are provided: Icons, List, Columns and Cover Flow. The Cover Flow mode is very useful if you don't the file name. Note that most image and document formats are previewable, while only some audio and video formats are supported.
More About Trash (Recycle Bin)
The Trash (also known as Recycle Bin in Windows) is a special folder to save deleted files by the user, but not yet permanently erased from the file system. It provides a chance for the user to undelete files that were deleted accidentally, or delete them permanently (for general users). Many veteran computer users are used to deleting files with Command+Delete on Mac (or Shift+Delete in Windows). This way will delete files without temporarily saving in Trash folder. With iSkysoft Data Recovery for Mac, you can recover either deleted files emptied from Trash or by Command+Delete.