Portable Document Format or PDF is by far the most convenient way for sharing data with people online. Its popularity has increased simply because it can be opened in various programs including operating systems such as Mac (including Snow Leopard, Lion and Mountain Lion), Windows, and Linux. This article will show how to send PDF by email, whatever it's small or large in size.
Part 1. How to Send a PDF
How to send PDF file is so easy that it does not require any special and complicated steps. Users can send PDF to other people by attaching it on their emails. Here are some easy steps on how to send a document in PDF format.
1. Save PDF file on an easily accessible and visible location. By saving it on an easy to find folder in the hard drive, looking for the file while sending can be less time consuming.
2. Log-in to an email application such as Yahoo Mail, Google Mail, or Apple Mail.
3. Go to "compose or create new message" and then fill up the headers including the receiver and subject.
4. Enter your message on the body just like making a conventional email.
5. Click "Attach file" option to send PDF file.
6. Locate file and double click it or click "open" .
7. After attaching the file or files clicking "send" can wrap up the process.
Part 2. How to Send Large PDF Files
A user can send PDF files after attaching it however larger files may take more time to attach depending on internet connectivity. Sending larger files to workmates through email can sometime be daunting. There are techniques on how to send large PDF files through email. The most effective way to do this is by splitting large PDF files to two or three smaller files. This means that the sender has to send it one by one. Here comes a good Mac PDF Editor (or Windows PDF Editor), which can help you split and send a large PDF file with fast speed.
Here are 3 steps on how to send large PDF documents by using iSkysoft PDF Editor.
Step 1. Launch the PDF Editor program, and load the PDF files you want to send.
Step 2. On the upper left corner, click "File" > Click "Mail".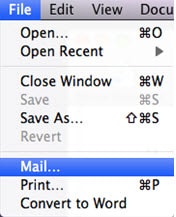 Step 3. Fill in the recipient's e-mail address and the email subject, then click Send to start sending PDF files via email.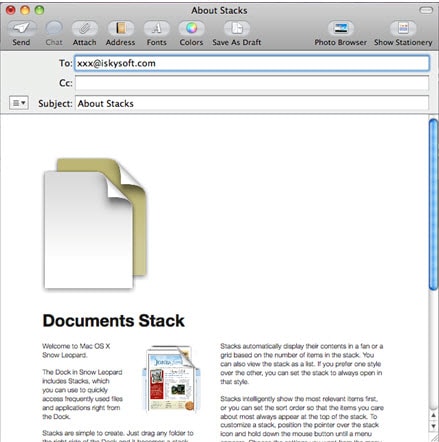 Note: This PDF Editor allows you to do some changes for your PDFs if you want, you can access to information about editing PDF files.
These are just some very simply steps on how to send PDF files, how to send a document in PDF format is not a difficult task. By following some simple steps and applying them in specific email applications PDF files can be opened and enjoyed by recipients. Send PDF files through email and share information in a convenient way.