PDF Files are generally read only, but there are ways for you to edit some elements. This means that you can make some minor changes to your PDF files if necessary.
Part 1. How to Modify a PDF File on Mac
If you want to know how to modify PDF Mac on your computer, then keep on reading. An ideal solution is using the iSkysoft PDF Editor for Mac. This software program allows you to modify, edit, split, or merge PDF files as though they were word processor documents. You can keep them editable by saving them as Microsoft Word documents or opt to save them into separate PDF files with minor modifications from the iSkysoft program. It's an application that will provide you full access to a given PDF file's graphics, images, text, and so forth that you can edit it freely.
You just need to double-click to modify text on PDF as though it's a word processor document. The PDF Editor breaks the limitation of PDF document and enables users to modify a PDF at ease. Aside from modifying PDF documents, it will also be easy for you to make annotations if you want to highlight important content or points for future use. You will have access to editing tools such as text boxes, underline, highlight, sticky note, strikethrough, clouds and much more. In addition, there are functions that you can use to add protection to PDF files and stop others from copying, printing and editing.
1
Modify PDF Text
In the top tool bar, choose the right tool in Tools box, and then click any text in the PDF page to start typing text. You can delete words or add words as you want. While modifying text, highlight some words and right click to choose Properties. A control panel will appear, in which you can adjust font size, color and add italic or bold styles to your text.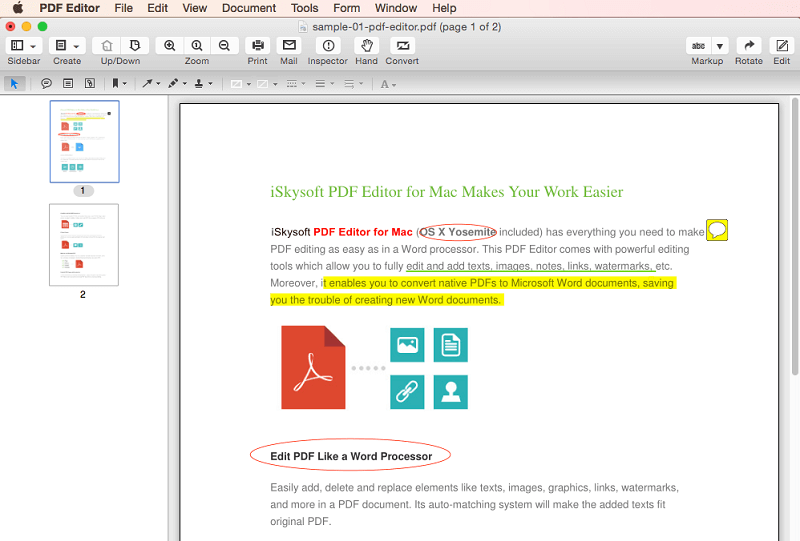 2
Add Text
Like above, you're able to directly add text to the existing content in the PDF page. Alternatively, click the Add Text button on top, and then you can insert text anywhere you wish.
3
Annotate Text
Using the annotation tools on the top tool bar, you're able to annotate PDF texts (Highlight, Underline or Strikethrough), draw lines and add Sticky Note.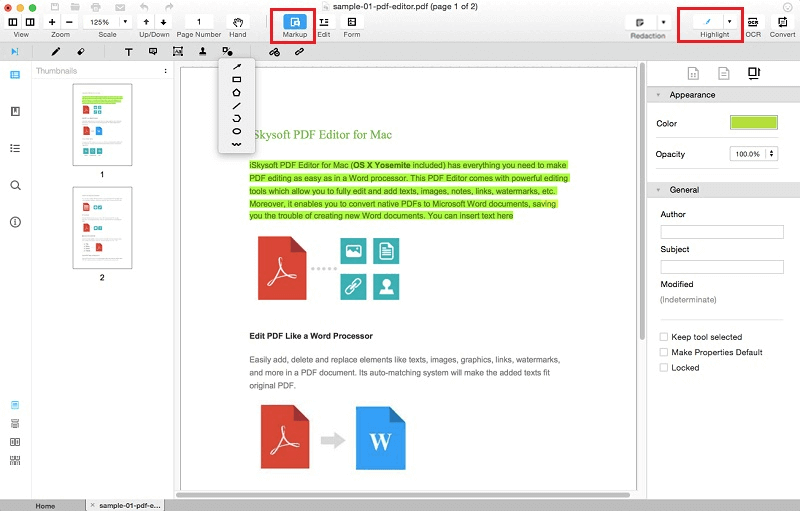 When all changes are done, go to "File" -> "Save" to save the results.
Also see the video tutorial about how to modify PDF on Mac:
Part 2. How to Modify a PDF Document in Windows
Software to modify PDF files on Windows is iSkysoft PDF Editor for Windows.
Follow the below introduction for how to modify a PDF document on Windows.
1
Modify Text in PDF File
You can click on the editing mode to add or delete words from the PDF document. There is also a menu button that you are able to use if you want to edit PDFs by customizing font size, color and styles.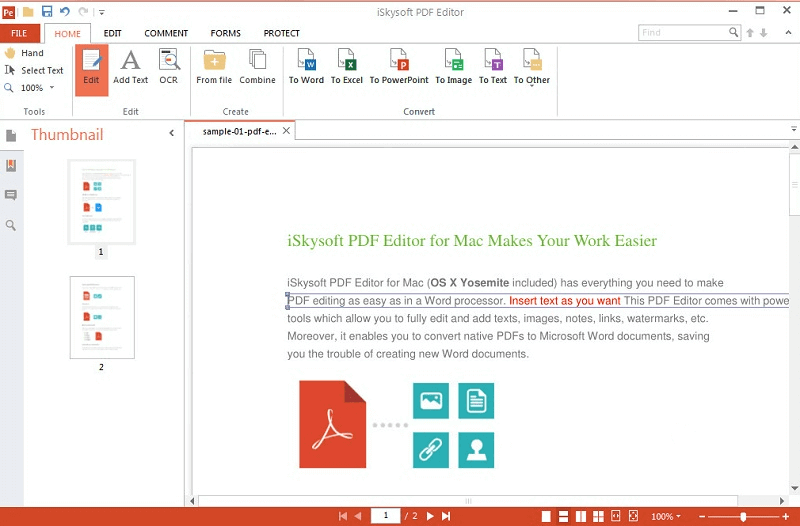 2
Modifying the image from PDF File
The menu button functions can also be used to insert or delete pictures and graphics. Even you can adjust the the position and size of the pictures.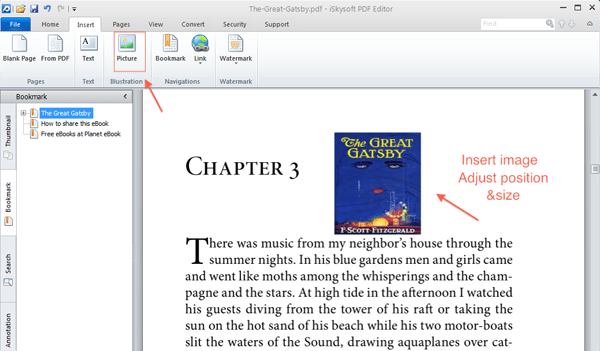 3
Converting to Other File Format (Optional)
The PDF modifying software also allows for easy converting of PDF documents to various formats such as Word, Excel. You can convert the files easily with a few clicks if you want to do more things than just simple editing.
Once you click on the convert button a window will pop up for you to choose a file type. Choose a name for the file, pick the destination folder and save. After the conversion is completed, the new file folder will open automatically to give instant access.
Keep these simple suggestions in mind to modify a PDF file by editing, creating and converting. You should definitely take advantage of the iSkysoft PDF Editor tool if you want to edit PDF files easily on Windows.
More Tips:
Annotate PDF: If you want to make some annotations on your PDF text, this guide will tell you how to do that.
Highlight PDF: For someone needs to highlight several texts or sentenses, here you will know more.
Add Text to PDF: Go to learn the detailed guide about how to add some texts to a PDF file.