Contents
1 PDF Editor

3 Add X to PDF

4 Edit PDF Form
By default, PDF documents cannot be edited and can only be viewed through a PDF viewer. Many business PDF documents are password-protected to keep from opening, editing and copying. If you want to unlock PDF files but do not have access from the creator or owner, go on to read on how to unlock a PDF file and edit secured PDF. And learn the truth about secured PDF and how to protect your own PDF.
Part 1. Unlock PDF and Edit Secured PDF on Mac (Yosemite Included)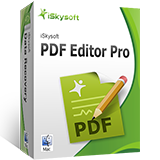 There are a lot of PDF editors in the market that unlock PDF files, but some will only work a kind of protection. Here you will be introduced to a tool that can allow you to unlock secured PDF on Mac or Windows PC. Rather than spending a lot of them searching for a good tool, you should try iSkysoft PDF Editor Pro for Mac (or PDF Editor for Windows). It unlocks encrypted PDF documents and enables users to edit/convert even the encrypted PDF documents. In any case, this PDF unlocker program is capable of "unlocking" the read-only nature of your typical PDF file, such that you can now edit it as on a word processor document.
Convert secured PDF to Word, Excel, PPT, Image, etc.
Edit, delete, or add texts, images, and more in PDF.
Create PDF from PDF, Webpages, images, text files, etc.
Add password, watermark, signature and stamps to PDF.
Edit and convert scanned PDF with built-in OCR plugin.
Combine multiple PDFs, split PDF or compress PDF size.
How to Unlock PDF and Edit PDF on Mac (Yosemite) in Steps
Unlock a PDF on Mac
Step 1. Run the PDF unlocking program and the encrypted PDF document gets unlocked automatically. Then you can either edit PDF or convert PDF to other formats like Office Word, Excel, PowerPoint, Image, etc.
Step 2. iSkysoft PDF Editor Pro for Mac allows you to convert secured PDF to regular formats like Word, Excel, PowerPoint, and among many. To do so, simply click the Convert button on the upper toolbar. A dialog will appear so you can make settings before unlock PDF and convert to your selected format.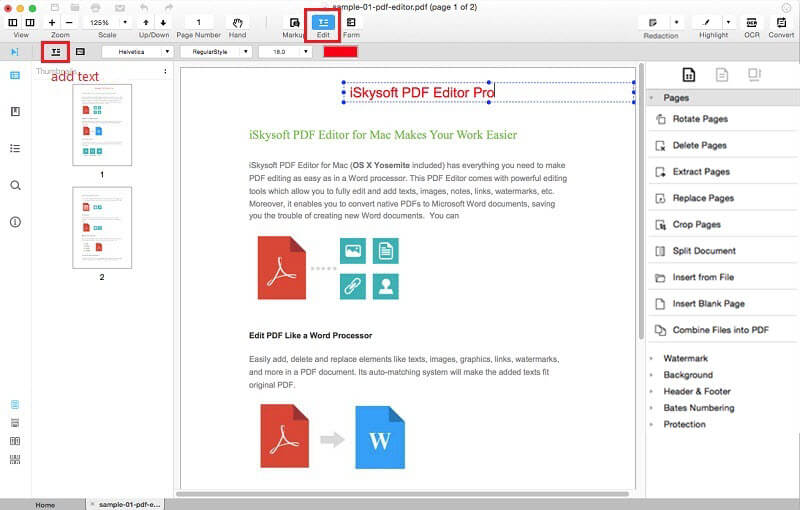 Unlock PDF Online
To unlock a PDF online, I recommend you to use PDFUnlock. PDFUnlock provides you with a free service to remove password from secured PDF files. However, it has downside that you cannot unlock PDF with opening password and the file size should be smaller than 5MB. And it only can unlock limited permissions.
Step 1. Open pdfunlock.com site, and then drag and drop your secured PDF file to the file enter box.
Step 2. Click the Unlock button, and the site will start to unlock the PDF file and down it to your local folder.
Step 3. Open the unlocked PDF file and click the Edit button > Protection > Security Properties to check the unlock permissions.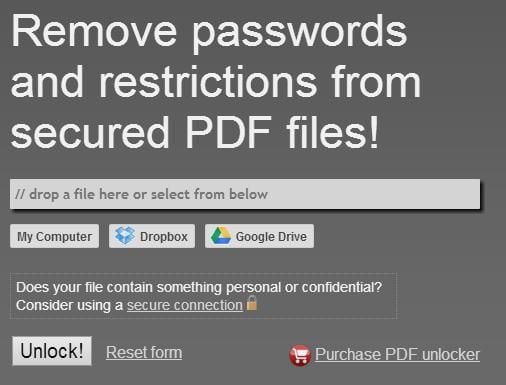 How to Edit Secured PDF Text
Edit Texs Choose the "Touchup" tool in the toolbar, and double click any text in the PDF file to modify it within an editable text block.
Add Texts Click the "Add Text" tool in the toolbar and click on any area on the page you desired to add, modify, or delete text to enter text, correct the error, or click the "Backspace" to delete text.
Add Annotation Choose an annotation tool to highlight, underline and strikethrough PDF texts, or add sticky note and drawings.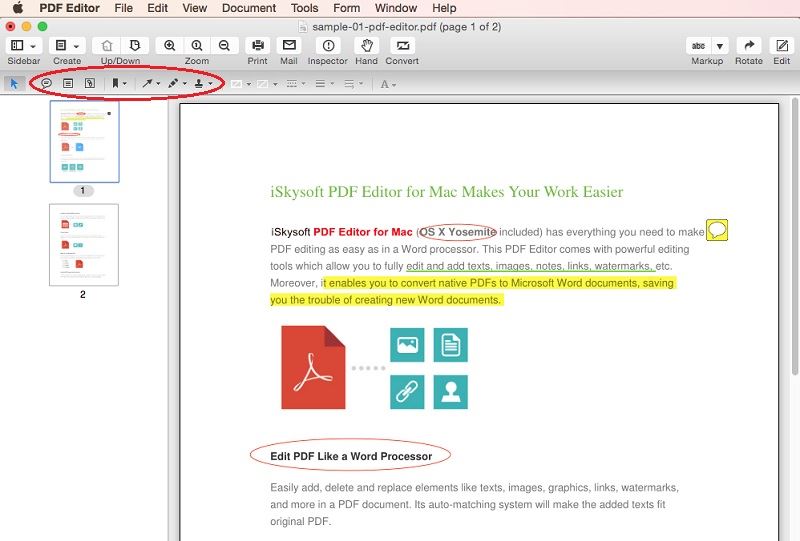 Part 2. How to Find What Is Restricted on a PDF File
Open Restriction --- Normally, the PDF owner will protect the PDF from opening. That means you even cannot open and view the file without the password. In this case, you can only get help from the encryption-breaking software. This would take you days to crack the lucked PDF file and can only crack the simplest password.
Permissions Restriction --- If you get a PDF with permissions restriction, it means the secured PDF has been protected from printing, copying contents, editing, signing, filling form fields and others. So even you can open and view such PDF, you can do nothing on it.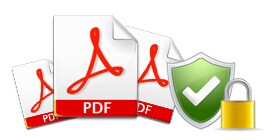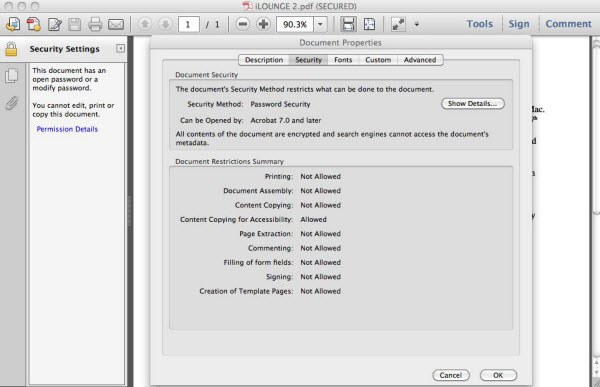 Find What Is Restricted on a PDF
When you receive a PDF file, how can you find out what is restricted on the file? You can use the below methods to find the restriction.
Open the PDF file with Adobe Acrobat. If the PDF has been locked with open password, you will get a pop-up window asking you to enter password. Now you only can get the password from the owner or use the encryption-breaking software.
If you do not need a password to open the PDF file, the file will be opened directly. Then you can view a Lock icon on the left pane. Click the icon and you will get a pop-up window showing the restriction details. Or you can click the Edit button to show the drop-down menu. The permissions restriction will be shown in grey and cannot click.
Part 3. How to Secure PDF Files
There are several ways to secure your PDF files. Here I would like to introduce the most common and easy ones.
Add Watermark
A watermark can be texts or images that shown either in front of or behind a PDF file. By adding watermark on your PDF document, it can make your PDF unique and avoid others to reuse your contents. To add watermark on your PDF, you can:
Step 1. Launch iSkysoft PDF Editor Pro for Mac. Then drag and drop your PDF file to the program dock. The file will be opened with the program.
Step 2. Click Document to show the drop-down menu. And select the Add Watermark option. Then you will get a pop-up window for watermark settings.
Step 3. Input texts or upload image to make it as your watermark. Adjust the appearance and position, and then click OK to confirm.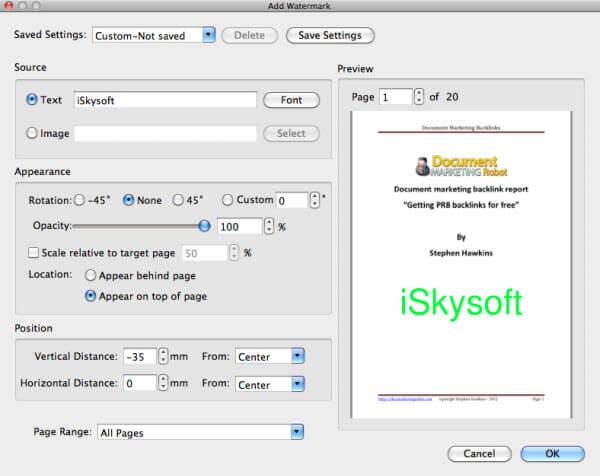 Password Protection
The most common way to protect a PDF is to add password to secure PDF. You can add password to protect others from opening and viewing your PDF. Or you are able to add password to protect your PDF from particular operations like editing, printing, copying or signing. Below is the entire process.
Step 1. Install and open iSkysoft PDF Editor Pro for Mac. And click File to select your PDF file and import it to the program.
Step 2. When the PDF is opened, navigate to the menu on top left corner of your Mac and click the File menu to open drop-down menus. Then click the Security option and choose Security Settings.
Step 3. Now you will go to the Security Settings windows. If you check the option of "Password is required to open the file", you can enter the password you need to protect your file from opening. Or you can also add permission password to protect the file from printing, editing and copying.