When using iMovie, you will have the privilege of choosing from several formats supported to deal with any incompatibility concerns. Whether it is export or import, there will be ample formats that you will put up for consideration. However, you should be able to differentiate between formats for video and audio. Any mix-up will cause incompatibility which is the last thing you would want to experience when using iMovie. The questions on what file formats are supported by iMovie is not an individual concern that you have to deal with alone.
Many other users of iMovie go through the same experience so you should not be too much worried. By reading through this article, you will learn more about all the file formats supported by iMovie and their key information.
Part 1. List of iMovie import formats
The below sheet lists out iMovie supported video format: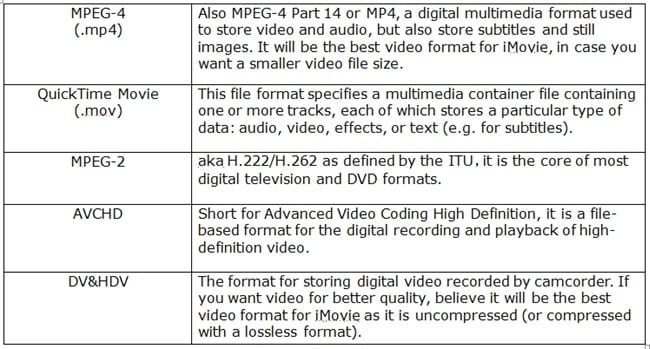 There could be other formats in the market but these ones are the common ones for importing files on iMovie. However, you should not waste time looking for the best format because all of them have different features and perform differently making it possible to decide on which is the best. All of them have equal strengths and weaknesses so just look for the suitable and compatible one to use.
Part 2 List of iMovie export formats
It will be easier for you to decide on exporting files to iMovie but choosing the right format might be challenging. This is because there are many options available but this part will discuss some of the commonly used formats. You can use them the next time you are planning to export audio and video files to iMovie.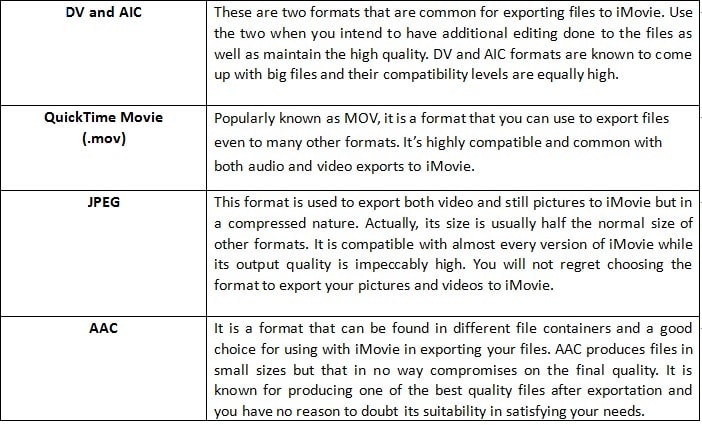 Over and above, you can do some advanced research and you will come across additional file formats that are as good as those discussed above. Do you know that it is possible to have settings for these exports formats in iMovie customized? Yes, that is possible and you are advised to consider that in making your experience more enjoyable. This will be in relation to frame rate, frame size and key frames among many other applicable settings.
When customizing your export format settings, the frame size should be done first followed by key frames and then conclude with frame rate. That is the standard procedure used in making sure nothing goes astray. The right settings should be able to offer the best compromise between qualities of the video playback and file size. That has to be the foundation for adjusting settings for your iMovie export format all the time.
Part 3 iMovie alternative-iSkysoft video editor for Mac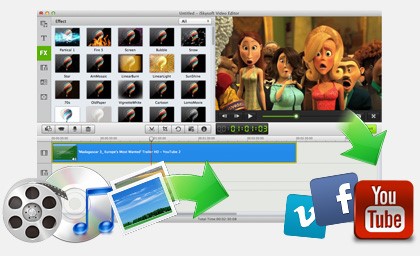 iSkysoft Video Editor for Mac is one of the effective options for converting M4V files to a format that is well compatible with iMovie. You can consider the many formats for standard videos, high definition videos and online videos that iSkysoft video converter for Mac supports before choosing what to settle for. They include and not limited to MOV, MP4, MPG, WEBM, ASF, TRP, TP, VOB, HD MOV, HD TS, HD MPG, HD WMV and HD FLV. The list is endless which points out to how compatible this software program is when it comes to importing M4V files to iMovie for editing. There are also many audio formats that iSkysoft video converter for Mac works with very well.
Import formats list of iSkysoft video editor for Mac
This is a good alternative for importing video to iMovie and it supports many formats. For video, they include MP4, AVI, FLV, MOV, AVI and 3GP. Audio import formats that work well with iSkysoft video editor for Mac are M4A, AAC, OGG, AIFF, WMA, WAV and MP3. You can as well use the program for importing still photos and supported formats are ICO, TIF, BMP, GIF, PNG and JPG. All these formats are well compatible so that should be least among your worries when using iSkysoft video editor for Mac as an alternative to iMovie.
Export formats list of iSkysoft video editor for Mac
Your experience when exporting files with iSkysoft video editor for Mac will be the best since it supports a variety of formats. When exporting video, you can look up to formats like EVO, TOD, NSV, MOD, MKV, F4V, WMV, TRP, MTS and M2TS among others. iSkysoft video editor for Mac is also good for audio files export and will be supported by formats like MP2, MKA, FLAC, AU, APE, AIF and AC3. It will be upon you to choose the right file that is suitable for exporting your video or audio file in the best way.