Have found several cute or funny videos on photobucket.com and want to save them on your Mac or play them on portable media players? You must be looking for a tool to accomplish Phontobucket download, right? You can try iSkysoft Photobucket Downloader for Mac. It is an app which was especially designed to download Photobucket videos. Whenever you find an interesting on the web, the Photobucket download app could detect it. Then three ways can be applied to download the video.
1
Launch the app for Photobucket Download
First, download and install the Photobucket Downloader. After you install it, it could be automatically launched.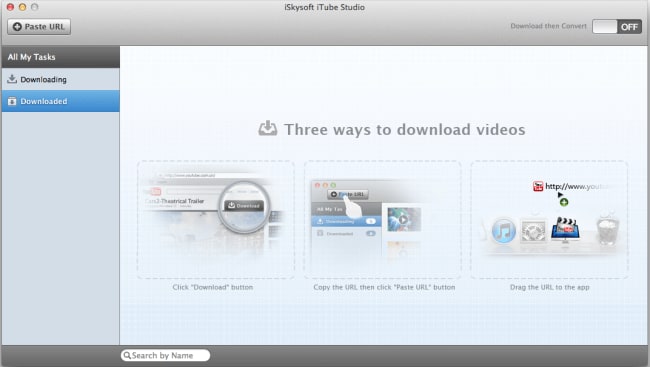 2
Start the Photobucket Download
Launch Safari, then go to Photobucket.com and find the video you want to download. When you play the video, a download icon could appear on the top left corner of the video. Then three ways are available to download Photobucket Video.
1) Press the download icon which has already appeared on the top left corner of the video.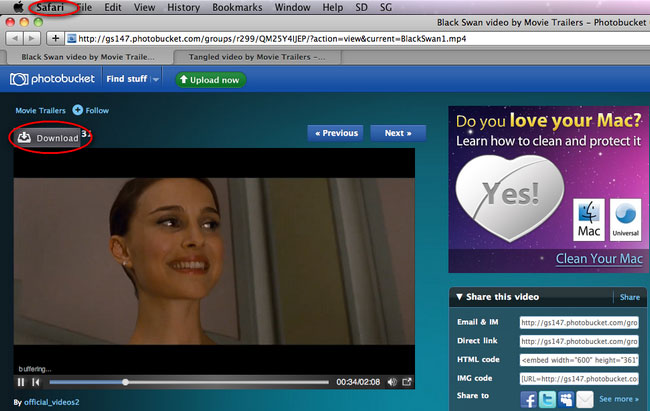 2) Copy the URL of PhotoBucket video page from your browser's address bar and click the Paste URL button in the primary window of iTube Studio. You can also go to the "Downloading" menu and choose "Paste URL". Both works like a charm.
3) Directly drag and drop the URL to the dock icon of the Photobucket Downloader.
Tips: You can watch more interesting videos on Photobucket.com by leaving the Photobucket Video Downloader run background. When you find another wonderful video, you can download it in the same way.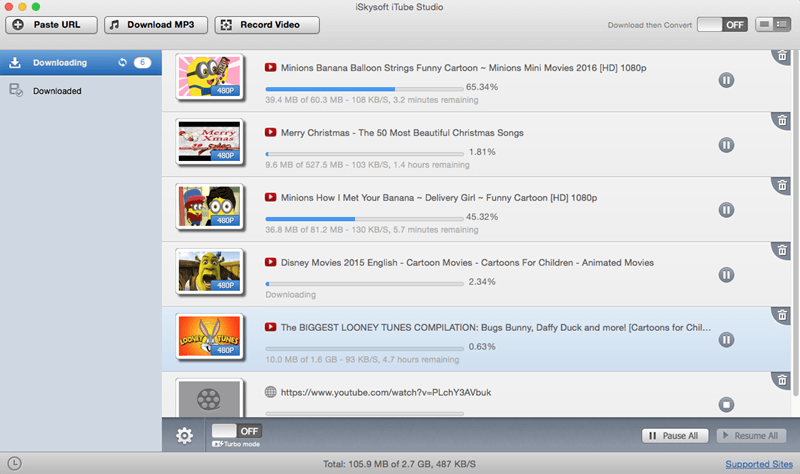 3
Play and manage the downloaded Photobucket videos
1) If you want to enjoy the downloaded videos right now, you can go to the library, double click the video to play it. The built-in FLV player enables you watch the videos freely.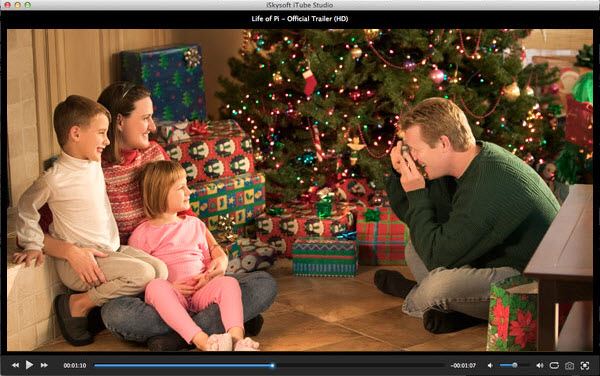 2) You can manage all your previously downlaoded FLV/MP4 videos by this PhotoBucket video downloader. To do so, go to File > Import to open the Finder to choose your local FLV/MP4 video files.
Since you have already downloaded a slew of videos from Photobucket video, you might like to watch them on your portable devices, like phones, iPod, PSP and so on. You can do that by converting the downloaded Photobucket videos into other formats. Just switch to the Downloaded tab on the left and click the "Convert" button on the right of each downloaded. A window will show up for you to choose the output format and make settings. When everything is done, click OK to go.
What is Photobucket and How to Make Full Use of Photobucket?
Photobucket is one of the most popular image sharing sites today. And currently, it has expanded its service to include video hosting as well. The site boasts of over 10 billion photos and videos uploaded by its active members, with that number growing by the minute. The thing that's great about this website is that it can upload all your images effectively, with their full size and resolution remains intact.
Photobucket also allows for instant upload from almost all devices, including mobile phones and tablets. There is also a photo editing software also available from the site. Sharing one's videos and images become so much easier with Photobucket and its many services.
Tips on Using Photobucket
As a photo and video editing website, it is quite advisable for every single one of its users, regardless if free or paid, to take advantage of all available features. Here are some tips on using Photobucket:
1. It's possible to download photos and videos from the site too. Although most of the site's users upload videos and photos to Photobucket, it is also possible to do the reverse – download them. If there's any video that you particularly like, you can enjoy it offline by downloading it using compatible software.
2. Edit photos before sharing. Make your photos extra special by adding a few interesting elements to it. Why not add a mustache on your selfie? How about putting borders to your pictures? Explore all the options available in Photobucket's free editing software and make the full use of it.
3. Upgrade your account when needed. Free members are given limited storage space and bandwidth. If you're not interested in upgrading your free account into a paid one, be sure that your usage falls well within what was allotted. Otherwise, your shared items won't display properly.