Video DownloadHelper is a famous online media download extension for Freifox. It's an easy and free way to extract online content effortlessly. However, since Firefox updates frequently, Video DownloadHelper might be incompatible with your Firefox browser and stop working. This article shares the technique to fix 'DownloadHelper Not Working' problem. If necessary, you can also try our product iSkysoft iTube Studio to download YouTube video for totally free.
iSkysoft iTube Studio can download video from 100 YouTube like video sharing sites. Plus, it is clearly much more than a YouTube video downloader. You can simply use it to convert any downloaded or existing FLV/MP4 videos on your hard drive to the specified formats as you wish, including MOV(QuickTime), MP4, WMV, AVI(XviD), MPEG, FLV, 3GP, MKV, etc. You can also convert video directly to iPad, iPhone, iPod compatible format to enjoy on the go. Download it for a free trial now.
How to Fix 'DownloadHelper Not Working' Issues
Most reasons that result in DownloadHelper not working might be the compatibility problem. Therefore, the following solutions deserves a try:
1. Re-install DownloadHelper: By default, Firefox will update your addons automatically. But this might cause compatibility issues. If the addon works well, why update it? So if DownloadHelper not working, re-install it to an older version might work. Get older version of DownloadHelper here. https://addons.mozilla.org/zh-CN/firefox/addon/video-downloadhelper/versions/. Differently, if your Firefox version is too old, DownloadHelper might also not work. My suggestion is using the latest Firefox. Here comes the program. How to disable the auto-addon-update feature of Firefox? Actually, Firefox use Addon Manager to manage your addons. Open it by Firefox > Addons > Addon Manager and turn Automatic Updates off.
2. Make sure DownloadHelper not working is true: Sometimes, you might find out DownloadHelper doesn't download MP4 video. I have to say, this is not the problem of DownloadHelper. If the video website doesn't provide MP4 video source, DownloadHelper naturally can't download video to MP4 format. DownloadHelper just downloads what's provided. In such case, you need a video downloader and converter like iSkysoft iTube Studio.
3. Restart Firefox or computer: No reason, just do it and DownloadHelper not working issues might be fixed automatically. Good luck!
Easy Steps to Download Online Video Using DownloadHelper Alternative
As a DownloadHelper alternative, iSkysoft iTube Studio is extremely easy to use yet powerful. See how to download online video with iSkysoft iTube Studio step by step, and convert to any format you want.
1
Install Firefox Addon
Like DownloadHelper, iSkysoft iTube Studio will also install a download addon into your Firefox browser. When done, a download button will be added to any supported video while you're playing them, similar to Video DownloadHelper's rotating icon. Better than DownloadHelper, iTube Studio also supports Internet Explorer and Chrome besides Firefox.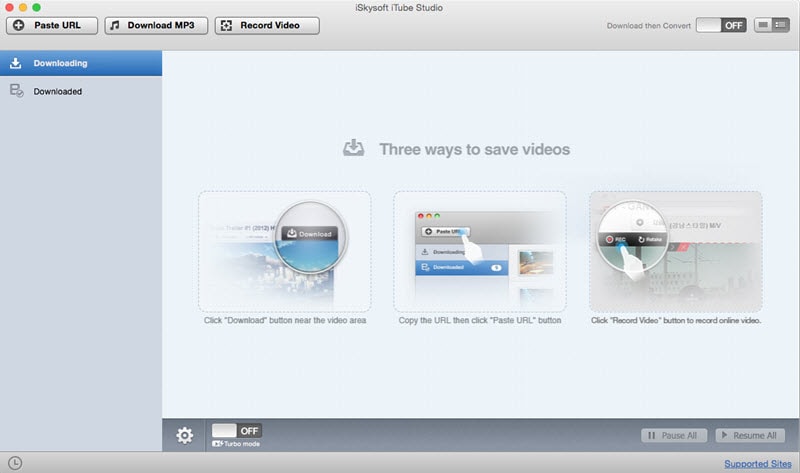 2
One Click to Download YouTube Video
With iTube Studio correctly installed, You can visit sites like YouTube.com like before to play the video you want to download. When the Download button appears at the top left corner of the video. Click it to download video to its original format, usually FLV and sometime MP4. So far, iTube Studio provides the same features as DownloadHelper.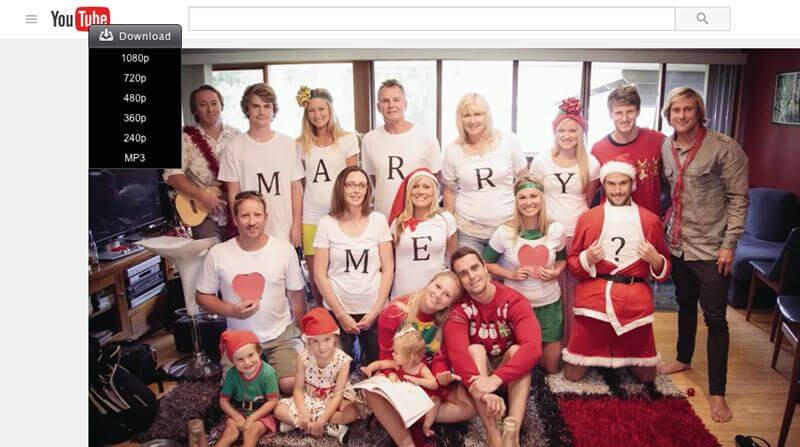 More ways to download video: You can also directly click the Paste URL to download video via URL, or drag and drop the URL to the program interface to start downloading YouTube video.
3
Convert video to video or audio format easily
After the video is downloaded, go to Downloaded tab, and click the Convert on the right of each video. In the slide down window, choose the format you want to convert to. Easy enough! Moreover, If an Apple Device like iPad is chosen, and the option "Export to iTunes" has been checked, the converted video will be added to iTunes library automatically so you're able to sync to your Apple device conveniently with iTunes.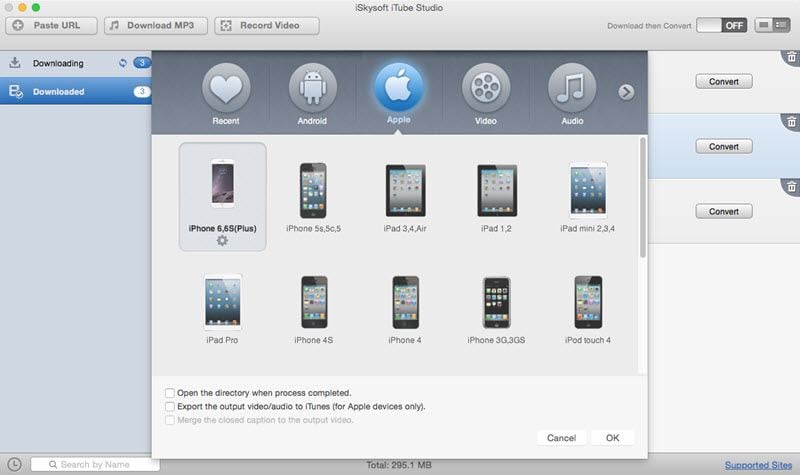 Personally, I humbly recommend you to use Google Chrome for faster browsing experience. Since DownloadHelper doesn't work with Chrome, also get a DownloadHelper for Chrome alternative.