Latest survey shows that most of the teenagers nowadays prefer to watch and listen to music not on the radio, mp3 player or online music streaming websites, but in YouTube. Most of us are familiar with YouTube which is a video sharing website, but because of the features and ingenuity of people, this online video sharing website has also turned into a popular music streaming website. However, since YouTube is an online service, some users cannot always get to listen to YouTube music if they don't have an internet connection. This is why there are some applications and software that were developed to download and convert YouTube videos to MP3 files. One of the best applications is listentoyoutube.com.
ListenToYouTube is an online application that helps you download videos from YouTube. The application converts the videos to MP3 audio. All that you are required to have is a YouTube URL, the application will transfer the video to the server after which, the MP3 is going to be extracted, and a link will be given that you can use to download the audio file. However, the format support is limited. The biggest problem is that listentoyoutube.com sometimes is not working, especially on Mac platform. Don't worry. Now I will introduce you some ListenToYouTube alternatives.
Alternatives

Price

Pros

Cons

$29.00 (Free trial also available)

Works well with YouTube and other 1000+ sites;
Supports 4K video downloading;
Has the ability to convert videos to the most popular formats;
Offers presets for various mobile devices;
Saves your time by downloading and converting multiple videos at the same time;
Play videos with the inbuilt video player;
Schedule computer to automatically shut down when the download is finished;
Supper fast speed.

Free

Coverts videos from both the computer and the web to MP3;
Searches for music from the web;
Multiple audio output settings;
Has a screen recorder tool;
It is safe and clean.

The screen recorder can only be used online, this means that for you to be able to use it you have to be connected to the internet.

Free

Downloads videos from popular video sharing sites;
Converts videos to MP3, AVI and other formats;
Provides presets for some mobile devices.

Slows the computer down;
Does not work well on older operating systems.

Free for the basic version;
$29.90 per year for the pro version.

Has the ability to download videos that have different definitions;
Can convert videos to several formats;
It is speedy and very easy to use.

Does not have the ability to integrate with the web browsers;
The customization capabilities are few.

Free

Download videos from many sites like YouTube, Vimeo, Metacafe etc.;
Works very quickly;
Easy to install;
Can convert downloaded videos to some formats.

Limited format choices;
Does not work on all iOS systems;
Audio takes a bit to load.
Alternatives

Price

Pros

Cons

$29.00 (Free trial also available)

Works perfectly with hundreds of sites;
Can download videos with selected resolution, including 4K UHD;
One click to download YouTube to MP3;
Downloading and converting multiple videos at the same time;
Has the ability to convert videos to the almost any format;
Offers presets for a variety of mobile devices;
Integrated with media player and web browser;
Can set auto shutdown for your computer.

Need to pay for the full version.

Free

Download videos from many social web sites;
Can convert videos to plenty of formats;
Can export videos to your mobile devices;
Can burn videos to DVD.

Has a lot of bugs;
Always fail to download videos;
Virus infected;
Slow download and conversion.

Free for the basic version;

$29.95 for the pro version.

Can download music from various sources;
Lots of songs in creative commons;
Can convert videos to MP3.

The basic version is very limited;
Adds unwanted toolbar to your browser;
The audio quality is not satisfied.

Free

Supports multiple sites;
Converts videos to some formats;
Can select the quality of output files;
Can import existing videos for conversion.

Customization capabilities are few;
Only works with YouTube;
Cannot download and convert videos in batches.

Free

Download videos and music from many social sites;
Integrated with web browsers;
It is speedy and very easy to use;

Does not support torrents;
Sometimes it responds so slow;
Cannot work with Firefox.
Compared to listentoyoutube.com, iSkysoft iTube Studio not only allows you to download and convert YouTube to MP3, but also convert YouTube to all popular video and audio formats, and download video from over 1000 sites like YouTube, Vimeo, Metacafe or Facebook. Your music library will be virtually unlimited. If you would like to download music from YouTube, iSkysoft iTube Studio is a good ListenToYouTube alternative for both Mac and Windows users.
Websites

Pros

Cons

Convert videos with simple copy and paste;
Provides multiple audio formats for output files.

It may take over your browser starting pop-up.

It is speedy Downloads from various sites;
Effective when it comes to converting video files;
Provides lots of media formats.

Some of the converted files do not work;
The conversion has been limited, this is because of the 100MB.

It is easy to use;
Downloads videos that are of a high quality;

It needs some enhancements.
Part 4. Why Choose iSkysoft iTube Studio for Mac
iSkysoft iTube Studio for Mac is undoubtedly the best video downloader for listening to YouTube. Let's look at some of its key features.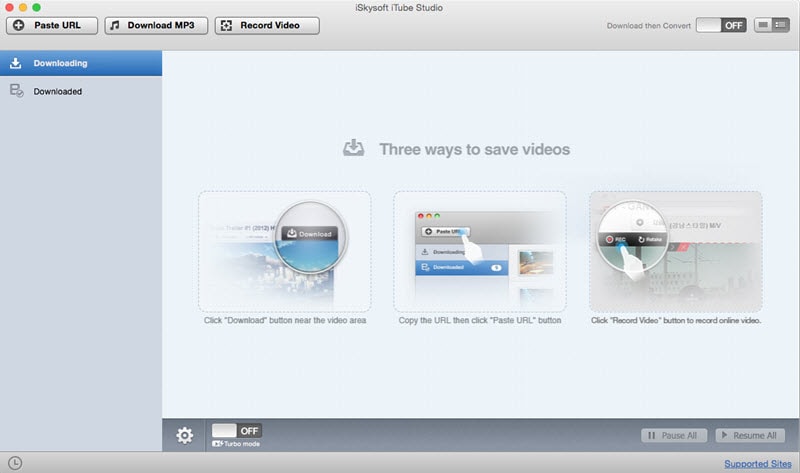 iTube Studio is an easy to use video downloader and it also has the ability to convert your video files. Thanks to this application, you get to enjoy your favorite movies even if you are offline. iTube studio for Mac has 3X faster downloading speed and this makes it among the fastest downloaders. The application is capable of downloading from several video sharing sites such as DailyMotion, VEVO, Facebook, Vimeo Metacafe among others.
iSkysoft iTube Studio is also one of the software that allows its users to convert these videos into MP3 or other video/audio formats that can be played on your phone, music device, PSP, PC, tablet or laptop and listen YouTube music anywhere. iTube studio for Mac s a simple application and is perfect for your downloading needs.
Part 5. How to Use iTube Studio for Mac
In order to use iTube Studio for Mac, first you will have to download it and install it in your Mac. Then follow the following steps: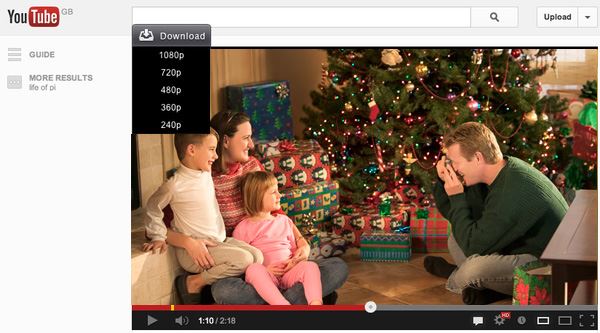 Step 1: Open "Listen to YouTube" Downloader
Download and double click. dmg file to start installing iSkysoft iTube Studio to your computer. It comes with an installation wizard to help you complete the process in minutes. After that, a download button will be added to any video on the supported sites.
Step 2: One Click to Download YouTube MP3 File to Your Computer
The Mac version provides you with a "Download then Convert" feature so you can directly save YouTube as MP3 file. To do so, activate this special mode first. Just click the "Download then Convert" button at the top right corder. In the resulting windows, choose MP3 from Audio category. After this step, anytime when you click the Download button in your browser, the YouTube video will be saved to MP3 format. To change it, just switch off the "Download then Convert" option.
Even you're in "Download then Convert" mode, you can click the Paste URL to add YouTube video to the "listen to Youtube" list.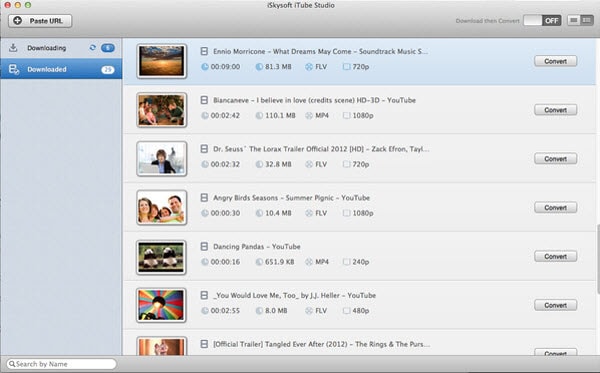 Step 3: Convert FLV video to MP3 (Optional)
If you have not activated the "Download the Convert" option and download YouTube video manually, iSkysoft Listen to YouTube downloader lets you convert the downloaded YouTube video to MP3 in a few clicks, similar to the process you enable the "Download then Convert" option. If you're using iPod/iPhone/iPad, you can check the option "Export to iTunes" so you actually directly download YouTube to iTunes. When download complete, you're ready to sync MP3 so you can listen to YouTube music fast and easy.
1 Converting Problem
ListenToYouTube is very fast when comes to converting video files. The problem is that the free version does not convert the video. However, there is nothing to worry about because there is a full version that you need to pay for once you have the paid version you can to be able to convert as many videos as you wish to. The solution for the converting problem is to turn to the iSkysoft iTube Studio.
2 Support Format is Limited
Listen to YouTube only supports one major audio format, which is MP3. This is a limitation for a person that wants to use other formats. The solution to this problem is to use the paid version of the application but if your budget is tight and you do not have the money to spend on a video downloader you can use iSkysoft Listen to YouTube, which is actually a very good alternative.
3 Grabbing Error
There are several reasons to this problem, below are some of the causes:
YouTube connection might be temporary unloaded or it may be down;
The video that you are grabbing might be blocked;
There are some YouTube videos that can be accessed from specific countries if you are not in one of the countries you will not be able to grab the video.
The solution to the problems above is only one and this solution is for the first cause of the error. What you can do is wait for a short time because it is a temporary problem. With the other causes of the problem nothing can be done.
4 Unable to Connect
This might be because one of the download servers is down temporarily or the source of the video file that you are downloading is broken. The solution to this problem is to click on the download not working link. Once you do this, the process is going to be cleared and the video that you were downloading is going to be converted again, this will take place in another server.