Before we can talk about converting URL to video, we need to know what URL actually is. Most of you would have heard of the term URL, without ever going into the details of what it is and what it actually stands for. The requirement for acquiring such detailed knowledge comes up when a person needs to convert URL to video.
URL is the short form of "Uniform Resource Locator". This means, the URL is a string of alpha-numeric characters that the internet browsers can use to locate a resource on internet. While surfing on the Internet, most people would have noticed that a string of text appears on the top of the page. This is what we call the URL. It is this string that enables software and browsers to know, where on the internet a particular piece of information or resource is located. It's the same situation for video. Through a video URL, you can play a video, download and convert it to your hard drive. This article will show you how to convert URL to video step by step with iSkysoft iTube Studio - an easy to use yet powerful URL video converter for Mac (OS X 10.10 Yosemite) and Windows.
How to Convert URL to Video with iSkysoft URL Video Converter
iSkysoft iTube Studio lets you easily convert URL to a video file on your computer, no matter what format you want. All popular video sites are supported, including but not limited to YouTube, VEVO, Vimeo, Break, Metacafe, Aol, TED, Comedycentral, MTV, CBS, Yahoo, BBC, ESPN, BlipTV, WatTV, VideoBash, FunnyOrDie, The NY Times, Adult sites, etc. See how to use iSkysoft iTube Studio step by step, and convert to a desired format effortlessly.
1
Install and Run iSkysoft URL Video Converter
After downloaded the software, double click the file to install it to the Application folder on Mac or C: partition on Windows. When done, run this URL video converter like other applications.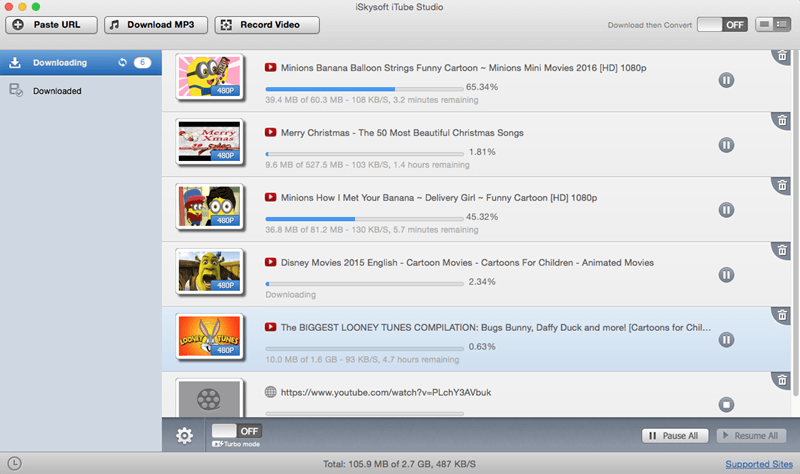 2
3 Methods to Download Video Through URL
The easiest way to convert URL to video is to copy and paste URL. You can directly click the Paste URL button to download video from its URL after copies it from the address bar of web browser. Alternative, drag and drop the URL icon to the primary window of the application or the dock icon. The application will start downloading video from URL immediately. The third way is by clicking the Download button on top of the video which is provided after the application detected and analyzed the video URL. Which way is better? It's up to you.

3
Convert URL to Any Video and Audio Format
After downloaded video from URL, you can convert it to any format, like MP4, AVI, MOV, MP4, WMV, AVI, ASF, MPEG, FLV, 3GP, MKV, and more. An array of video presets for mobile devices are also included. Thus you're able to watch the video on your devices without any hassle, including iPhone, iPad, iPod, PSP, and so on.
To convert the downloaded video, go to the Downloaded tab, and click the Convert button on the right of the video you want to convert. In the slide down window, choose the format you want to convert to. If an Apple Device is chosen, and the option "Export to iTunes" has been selected, the converted video will be imported to iTunes library so it's ready to sync your video to your Apple device quickly and easily.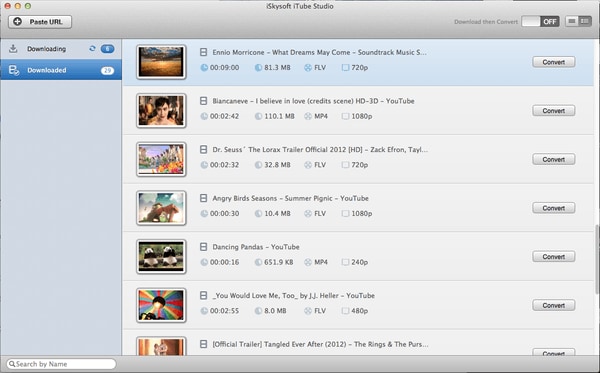 Done. Now you can convert URL to video effortlessly with the help of iSkysoft URL Video Download and Converter. The need to convert URL to video arises when a person is supplied a URL link as the location of the video that he or she was looking for. In that case, what would he or she do to get the video? They would have to convert the URL. The best possible way to do this is to use a URL video converter.
Needless to say, in this era of Internet, a number of URL video converters are available quite easily. But, with so many options literally at people's fingertips, it becomes highly difficult for them to choose the ones that would be good for them. iSkysoft URL video converter excels because it can catch and download videos directly for the URL and lets you convert video to any format you want without any other software. This is how a URL video converter can convert URL to video within a short time.