After you create a note on your iPhone 5 or iPhone 4S, you might wanna backup the note, but how? Well, there are some possible ways you can try to back up your iPhone notes.
1. Use iPhone contacts to back up iPhone 5 notes
You know there is note field that can be added in a contact's info page and your contacts can be easily shared anywhere you want. You can't directly add your iPhone note to a contact but copy and paste to the note field of the contact: open the note -> select the whole or any part of the notes to copy -> tap on the + button on the top of the contact home screen -> choose "Add field" -> scroll down to select "Notes" -> tap and hold on the notes bar to paste the notes you just copied. After that, you can sync your contact with the iPhone notes to wherever you want.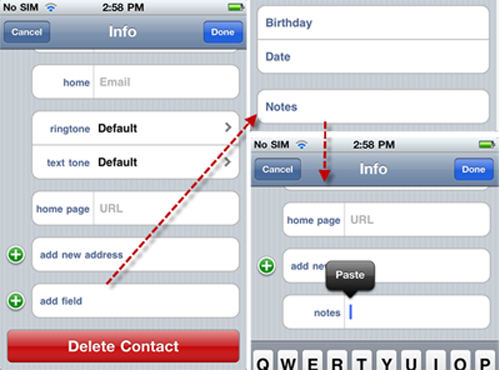 2. Back up iPhone 5 notes via Gmail
If you use iPhone 5, iPhone 4 or iPhone 4S, you can read your iPhone notes under the Notes label in the Gmail account via Mail. That means you can directly transfer your notes to other email account as an iPhone email attachment, then check the receiver email on your computer, in this way, you can save the attachment to your local folder on the computer.
3. Noter
This is an iPhone app which allows you to use an advanced notes program online and offline. It requires internet connection. To use the Noter, you need to log in the app with a Noter account and go to noter.dbelement.com in Safari, then load the Noter client onto the device, this is to enable the app the ability of note edit. After that, your notes on the iPhone would be synced to the Noter server. (Well, this method is not recommended. It's too complex and only other Noter users can read the iPhone notes.)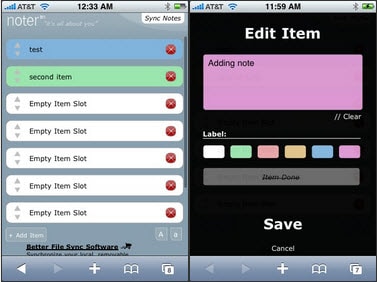 4. Evernote
Well, why not use Evernote directly if you wanna create iPhone notes instead of the Note app provided by Apple? Evernote is one of the most outstanding note taking app on iOS, Android OS, Windows OS and Mac OS. You only need an Evernote account. So if you can create notes on your iPhone, you can get them no matter you are using the mobile version of Evernote or desktop version once you logged in the Evernote - the notes taken on your iPhone have been automatically uploaded to the Evernote server.