About to purchase a brand-new iPhone 5, the most amazing thing yet in the history of iPhone? What a brilliant idea! Need get your old phone contents on your new iPhone 5? You can get some extra help here about how to transfer files from your old phone (iPhone, Android, feature phones etc.), gaming, watching movies and more.
1. If you're upgrading from an older iPhone
Now you are moving on up to the latest and greatest in the iOS world. To transfer your contents from your old iPhone (including iPhone 5s and iPhone 5c), you can get three methods:
Via iTunes: If you use iTunes to manage your iPhone 5, the items on the device should be included on your iTunes library. So you can directly plug your iPhone 5 into your Mac (or PC, here Mac is used.) then iTunes should be automatically launched by detected your device. Then click your iPhone 5 under Devices in the left sidebar of iTunes, and press the Sync button in the right pane.
Via TunesOver: Of course you can use other transfer tool. TunesOver for Mac is magnificent in backing up iOS devices contents. You can connect your old iPhone to Mac, and export all the data to Mac or iTunes library. And then connect your new iPhone 5, and click the "Add" button on the primary window of the program to move data from old iPhone to iPhone 5.
Note: This product is currently compatible with Mac OS X 10.9 Mavericks, new iOS 7, iTunes 11.1.2.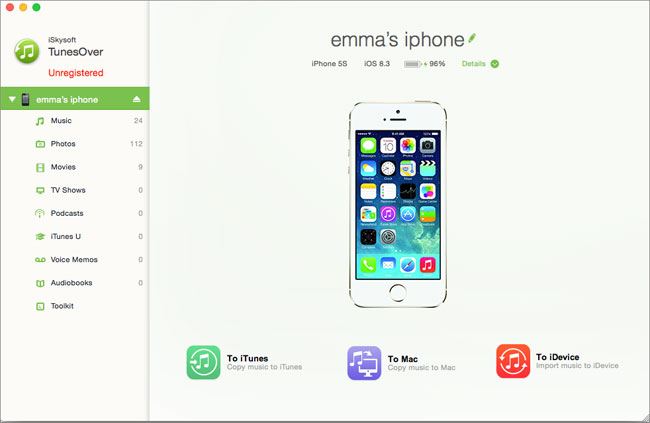 More: back up iPhone notes
Via iCloud: If your iPhone 5 has upgraded to iOS higner version and has an iCloud account, you can get iCloud backup automatically once a day while the device was connected to the Internet. (To manually backup via iCloud, you can go to Settings -> select iCloud -> Storage & Backup ->tog on iCloud Backup. (iCloud backups might take more time than iTunes backups.)
2. If you used to use Android or feature phones
If you just switch Android or other phone OS to iOS, to transfer old phone items to your new iPhone 5, there are some tips you can use:
If you use Google products, you can get some hints to sync your Email, Calendar and Contacts in this article: How to Sync Multiple Calendars on iPhone;
To transfer video, music, ebooks, photos to your iPhone 5, you can firstly back up them to your Mac, then:
If the file formats are MP4, MOV, or M4V which are compatible with iTunes, you can directly use iTunes to transfer them to your new iPhone 5. If not, switch to TunesOver mentioned above. This Mac app enables to convert video and audio in any popular format then directly transfer them to your iPhone 5. And for ebooks or photos, you needn't worry about the format. iPhone 5 ought to accept them since you are able to view them on your old phone - these two have less limitations.
Apps? Oh no, you can't transfer your applications to your iPhone 5 because the phone OSs differ. To install applications on the device, the only way is download them on the App Store on the iPhone 5 or sync from iTunes. (130 Free Online iPhone & iPod Touch Games Collection)
3. More tips to set up your new iPhone 5