WMV, short for Windows Media Video, is the most ubiquitous video format on the Windows platform. It would be a disaster when you decide to switch to Mac at the beginning. WMV can't play on Mac, WMV can't edit with the best video editor on Mac - iMovie, and more. Just scratching your head for a good WMV converter to convert WMV video files so that you can play WMV on iPhone 5? Download WMV to iPhone converter here.
We know you needs - iSkysoft Video Converter for Mac is a great WMV video converter for Mac. It fully supports WMV format (WMV 8, WMV 9, WVC-1, etc.) and enables you to easily convert WMV to iPhone formats. All iPhone models are supported, including iPhone 5, iPhone 4S, iPhone 4, iPhone 3GS, , etc. Besides iPhone, This WMV video converter also converts WMV files to iMovie and Final Cut Pro format and then edit them with your favorite editing program. For your information: this video converter also includes basic video editing tools for you to edit videos in a flash.
To install the application, simply double click the downloaded package, and drag it to your applications folder (or wherever you want it ).
How to Convert WMV files to iPhone 5 compatible formats on Mac
Both Mac and Windows versions are available. Here I'll show you how to convert WMV to iPhone compatible format using the Mac version. Although the Windows version has a small different interface, the work flow is almost the same. Only clicks are away from playing WMV on iPhone!
1
Add WMV files to the video converter
1. Launch this WMV to iPhone video converter and you'll see the primary window as below. To get started, add the WMV files you want to play on iPhone - just drag and drop them from Finder to the primary window, or add WMV files through "File > Load Media Files". A window will show up and click OK after WMV files are selected.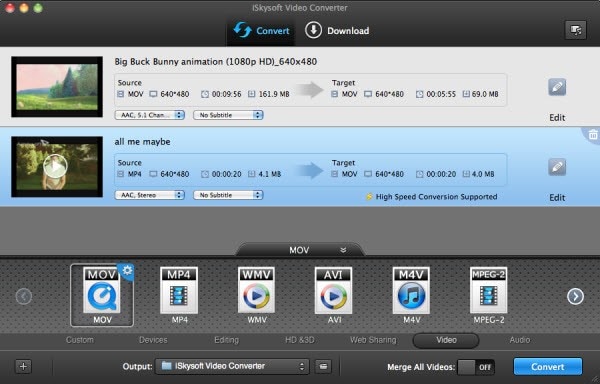 Tip:If you have several WMV files like wmv.001, wmv.002, wmv.003, wmv.004..., you can easily merge them into one file and convert to any format you want. To do so, select the WMV files you want to join, and go to File > Merge. To select all imported files, simply press Command-A.
2
Choose iPhone output format
When WMV files have been imported to the program, you'll see the output format is already set to iPad or other format. You can change it simply by clicking the device icon at the bottom.

3
Convert WMV to iPhone compatible format
The last step is to kick off the WMV to iPhone conversion. Click Convert button and the rest will be finished automatically by the WMV to iPhone Video Converter. If you're converting WMV in batch, it'll take a few time. The converted video files will be added to iTunes library when the video conversion complete. You can simply sync your iPhone to your iTunes library to play WMV on iPhone instantly.
More about WMV
WMV was developed by Microsoft and was widely used on Windows platforms. A WMV file is generally encapsulated in the Advanced Systems Format (ASF) container format with Windows Media Video codecs encoded. There is also a WMV HD format, which makes it possible to watch high definition movies in 1280x720 (720p) or 1920x1080 (1080p) on personal PC, Xbox 360, and Sony's PlayStation 3. WMV HD videos are also supported by the WMV to iPhone video converter introduced in this article. DRM may also be implemented to WMVM format. You need a DRM removal software to remove the DRM and convert to other formats.