iPod is an innovative device to store and play audio files encoded by MP3 or AAC, while iTunes is the default way to manage your MP3 files and other media files, and sync content between iPod and computer. However, iTunes is a little bit complicated and has its own limitations such as non-Windows-friendly, compatibility with Linux, and limited audio format, etc. This article will show how to transfer MP3 to iPod without or with iTunes step by step.
TunesOver - iPod touch Transfer and Manager for Mac and Windows
iSkysoft TunesOver is an ideal MP3 to iPod touch transfer with extra features like effortlessly transferring photo/video/audio files to-and-from your Mac and any iOS device. TunesOver for Mac makes it easy to transfer songs and playlist between Mac/iTunes and iPhone/iPad/iPod touch. What makes it outstanding is the ability to transfer virtually any format video & audio to iPod touch and other Apple devices, as well as copy DVD movies to iPod touch in no time.
The program has a sharp and intuitive interface, which enables to do almost any thing with only one click. To transfer MP3 to iPod, just click the "Add" button on top of the primary window and select the MP3 files to import to your device.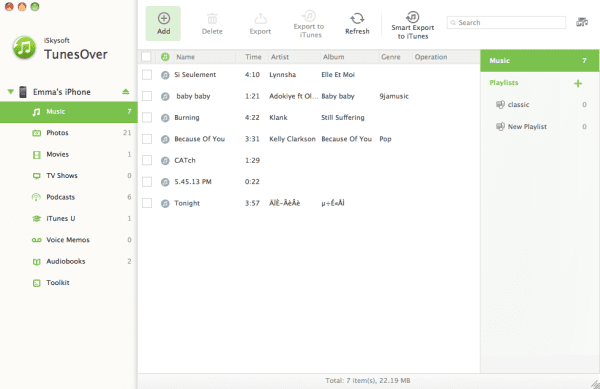 This product currently is compatible with Mac OS X 10.9 (Mavericks), 10.8, 10.7 and iOS 7.
iTunes - The Default Way with Restrictions
iTunes is the official media management software for Mac and all iDevices. It will be pre-installed on your Mac. Windows users can download and install it on PC without any program. With it, you can activate your iPod, purchase music and transfer music to iPod. iTunes is not bad until one day when you want to add your own MP3 or other media files to iPod. You'll find out that iTunes refuses to save content to iPod from any source unless it's iTunes. To bypass this, the TunesOver introduced above. Below is the easy steps to transfer MP3 to iPod.
Run iTunes and connect your iPod to computer with USB cable.
Set up your iPod. By default, your iPod will automatically sync with your iTunes library. To change this, click the "iPod" in the "Devices" list and open the settings. Click Summary > Manually Manage Music and Video.
Add your MP3 to the library if they are not their. You can also rip CD to iTunes and transfer MP3 to iPod to play anywhere.
Select the iPod in iTunes > Devices.
Click the Music tab, and make sure your playlist is ticked under the Selected playlists.
Click Sync to go. To manually transfer MP3 to iPod, simply drag the MP3 files from your library onto your iPod icon.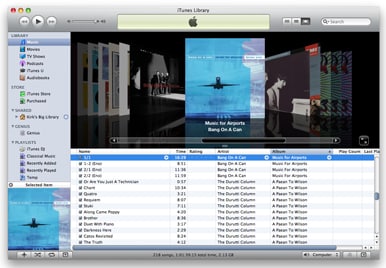 MediaMonkey - Transfer MP3 to iPod on Windows and Linux
MediaMonkey is a third-party free media player to play MP3 and other audio files on your Windows and Linux computer. It can also easily transfer MP3 to iPod by going through Tools > Sync Devices. Besides iPod, iPhone, iPad, Android devices and others MP3 player devices are also supported. This article is originally written to transfer MP3 to iPod without iTunes. Ironically, you need to install iTunes because iTunes comes with the device driver for iPod that is required to detect and access the database of the iPod. Any way, it's a new way to transfer MP3 to iPod on Windows other than Mac-specific software - iTunes.