Why Convert MTS or M2TS to MOV?
You may have tried every way to import MTS/M2TS clips from you HD cam to iMovie or Final Cut Pro for editing, and you may also wanna import these cam files to your QuickTime/iPad/iPhone/iPod for playback but failed. These happened may due to the MTS files being raw, or the resolution of the MTS/M2TS videos unsupported; In cases like these, you could convert MTS to MOV for a change, which will fix your problems for MOV is highly compatible with Mac OS (Mavericks and Mountain Lion), iOS (iPhone 5) and QuickTime etc.
This article provides one possible solution that definitely worth your time to give it a try with its features of easy. Having been practiced successfully by thousands, a professional Video Converter for Mac is required in the MTS to MOV Mac conversion. The one used in this guide caught our attention because it preserved the video quality and finished the Mac conversion at superb fast speed. Here we go to find how it works:
1
Add MTS/M2TS files to the app
Several choices are available to add MTS files. The most convenient for the user would be to simply plug the camcorder to the computer and the software will automatically identify and expose all MTS files available.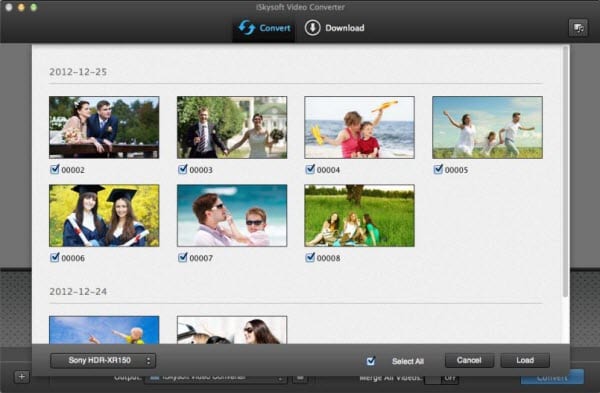 Having the MTS files already on the computer, you can also drag and drop them on the program or browse through the computer folders and find your MTS files.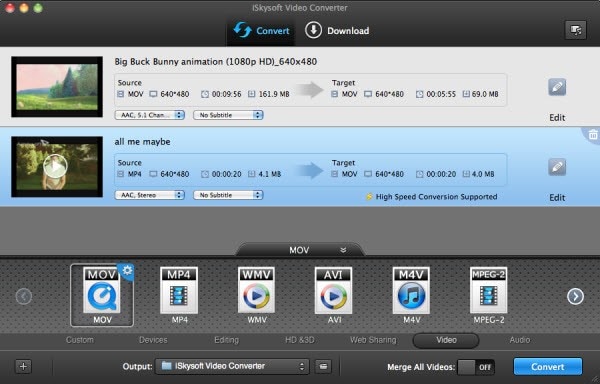 2
Select MOV as output format
In the bottom format tray of the Video converter for Mac, go to Video category and choose MOV as your output format.
Actually, if you wanna use these output files on your iMovie, Final Cut Pro, iPad, iPhone, iPod etc., you can directly choose the default settings for them offered by the MTS to MOV Mac app.

Note: Moreover, you are offered some helpful edit functions by the MTS/M2TS to MOV tool, such as you can apply some cool video effects to the files, and if you just want to import certain segment of the MTS/M2TS clips for editing, you can split the clip before conversion. Details in the user guide of Video Converter for Mac (taking Mountain Lion for example).
3
Click Convert to start converting MTS/M2TS to MOV on Mac
This smart Video Converter for Mac can automatically switch off the computer when the conversion is done, so you don't need to wait around during the conversion. To do so, go to top Video Converter > Preferences and change "When all jobs finished" option to "Shut down my computer".
More about MTS/M2TS formats:

MTS is a very high definition video format that is commonly used on HD camcorders, AVCHD, and blue ray disc. It is a container file format that uses .MTS as a file extension. This file format is based on a transport stream container known as MPEG-2. MPEG-2 as a video encoding algorithm while AC-3 is used as the audio encoding algorithm.

M2TS on the other hand is a filename extension that is used for the MPEG-2 transport system in Blu-ray disc audio-video container file format. These files are raw HD videos that are recorded using mostly Sony, Panasonic and canon AVCHD camcorders.

Both MTS and M2TS file extensions support 1080i and 720p HD video formats. The only difference is that the video file in M2TS is saved in the Blu-ray BDAV format. However, both of them are difficult to play on Mac operating systems and have to be converted to friendly MOV or MP4 format.
Play MTS/M2TS Files Anywhere
Besides converting MOV, you're also able to use iSkysoft Video Converter to do the following:
Have a nice time.