This article includes everyting you need to know about MTS video format, including the following 5 sections:
Part 1. What are MTS files?

MTS format is a high-definition MPEG, AVC, H.264 transport stream video file format which is commonly used by HD camcorders such as Sony, Canon, Panasonic.
MTS files are used primarily with Sony hardware. Camcorders make use of MTS format in the form of AVCHD, a recording format made specifically for camcorders. Some camcorder models from Canon also use MTS files. These files are also present on Blu-ray disc compilations, therefore they are capable of storing quite a large amount of information and data.
Part 2. How to get AVCHD MTS files off HD video cameras/camcorders to Mac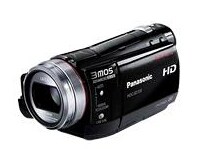 It's easy to transfer AVCHD MTS files from your camera/camcorder to your Mac. You can refer to the method of getting AVCHD M2TS files off HD video camcorder/camera to Mac.
Part 3. How to play AVCHD MTS files with MTS player
You can't play MTS files with QuickTime Player on Mac. QuickTime doesn't support MTS format. VLC Media Player is the recommended MTS player to play MTS files on Mac OS X. VLC directly supports AC3 audio and H.264 video which are used to compress MTS files, without any other software/component/filter required.
Sony has released a program called "Picture Motion Browser" that it supplied for its camcorders and camera to browse and transfer photos/videos. You can use it to view MTS files, but this software doesn't work on Mac. You have to rely on other MTS player programs or VLC media player.
Part 4. How to convert MTS to MPEG, AVI and other formats on Mac OS X
As a video shooting enthusiast, you probably have lots of MTS files on your Mac. So, due to the limited support for MTS file format on Mac, you may be facing these problems: cannot play MTS on Mac, or on iPad, iPhone, and iPod; have trouble uploading MTS files from your Mac to video sharing sites like YouTube. To resolve all MTS filer problems, we're here to teach you how to use an easy-to-use yet powerful MTS file converter Mac to convert MTS videos so you can watch your movies on your iPad, iPhone, iPod, smartphone, MP3/MP4 player without any hassle. Now see how to convert MTS files with this MTS file converter for Mac :
1
After downloading this Mac MTS converter, just double click the .dmg archive files to install it. In the popup window, drag and drop the icon to copy the application to your applications folder (or other destinations). All modern Mac OS X versions are compatible, including Mavericks, Mountain Lion, Lion, and Snow Leopard.
2
Import your MTS videos into this MTS file converter for Mac
Having the video converter running, you'll have 3 ways to import MTS files. If the files are already on your computer, all it takes is to drag and drop them in the software's main screen or select them from your folders using the file browser button.
If you don't have the files on the computer yet but still on the camcorder, it's even easier! Plug the device to you computer and the Video Converter will automatically detect and display the MTS files.
Whatever the choice, you can also add several files at the same time, saving you time.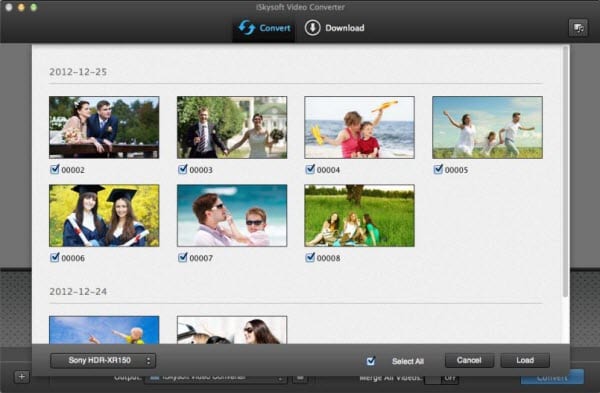 3
Convert MTS to MP4, MPEG, AVI, MOV on Mac OS X
After importing AVCHD MTS files, you're able to set the output format to suit your need. This MTS converter for Mac supports almost all popular video formats, such as MP4, MPEG, WMV, AVI, MOV and the like. If you want to convert MTS files for editing with iMovie, "iMovie" preset is your choice. You can find it under the "Editing" section in the format list of this MTS converter Mac. Plus, there are optimized presets for iPad, iPhone, iPod, Samsung Galaxy, etc. Just choose these presets to convert MTS by this smart Mac MTS file converter. To change video settings, mouse over the format icon and click the Gear button when it shows up.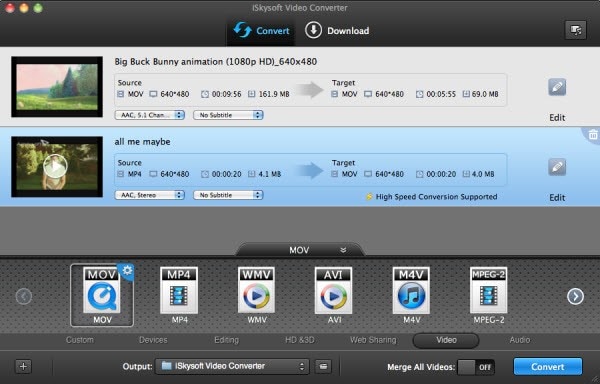 If you need to extract audio from MTS files on Mac, simply choose an audio output format in Audio section like MP3, M4A, AAC, etc. Also see the MTS conversion video tutorial below:
More detail information for your reference: Convert audio and video file formats from and to many playable standard formats on Mac OS X. Click here if you want to edit, trim, crop MTS videos and capture pictures on Mac OS X.
Part 5. How to convert MTS files to DVD on Mac
If you need to convert AVCHD MTS files, TS files, or M2TS files to DVD on Mac, a DVD burning Mac application is required. We naturally recommend iSkysoft DVD Creator for Mac. It is a professional but easy to use video to DVD creator for Mac. With it, you're able to burn MTS to DVD on Mac so as to play MTS videos on TV or portable device.
1
Download, install and run MTS to DVD Creator
Click the button below to save the installation package to your Mac and install to the Applications folder (or any folder you want). Then launch it.
2
Import video files in MTS format
To import the MTS files to this MTS to DVD creator for Mac, click the "+" button to locate your MTS files, or directly drag and drop MTS files to the interface. This Mac DVD creator provides you with editing tools to trim and crop MTS files and adjust the effects before creating MTS DVD. Lots of DVD menu templates are also included so you can easily design your DVD menus.
3
Burn MTS files to DVD on Mac
After choosing the DVD types (DVD9 or DVD5 depending on your DVD disc type and the video size) and the DVD video quality, click the Burn button to create DVD. It'll take up just a few minutes to finish.
What Camcorders or Cameras record MTS format files? (From 2011)
The following camcorders/cameras capture video in MTS file format, according to Wikipedia:
Sony camcorder/camera: NEX-FS100, NEX-VG20, Sony SLT-A65, Sony SLT-A77V, Sony NEX-5N, Sony NEX-7, Sony DSC-HX9V, HX9V-E, Sony HX10V, Sony HX20V, Sony DSC-RX100
Canon camcorder/camera: HF G10, HF M500
Panasonic camcorder/camera: Lumix DMC-ZS10/TZ20, Lumix DMC-FX77/FX78, Lumix DMC-TS3, Lumix DMC-FZ45/47/48, Lumix DMC-GF2, DMC-G3/GF3, Lumix DMC-TZ30, Lumix DMC-G5, Lumix DMC-FZ200, Lumix DMC-GH3, Lumix DMC-LX7