How to Play AVI with QuickTime on Mac (Mountain Lion included)
May 15, 2013 4:54 PM / Posted by Brian Fisher to Video Solution
Follow @BrianRainFisher
How to play AVI on Mac or on Mac default player (QuickTime)? Have troubles playing AVI in QuickTime because of codec issues? Usually, QuickTime will say avi not working. The problem is, QuickTime will only play AVI files that have audio and video compressed by a codec QuickTime recognizes. If that doesn't describe your file, you won't be able to play AVI smoothly on QuickTime. In fact, many Mac users, who upgraded their Macs to Lion or Mountain Lion, have figured out that QuickTime X can't even recognize their AVI videos which used to play smoothly in previous versions. What to do?
Since AVI is one of the most widely used video formats period, it's depressing when you can't play AVI on Mac. Is there any easy way to fix this problem? Any free AVI player for Mac? Definitely! Below are three seperate solutions to open AVI files on Mac: Perian, VLC Player, Video Converter for Mac. All are tested and proven. Find the one that fits you best.
Solution 1. Convert AVI file to Mac compatible format .MOV for playback

This solution enables you to play AVI on QuickTime (Mac default player) without any trouble, no componet and additioanl media player required. You can use Video Converter for Mac, which helps you easily and quickly convert AVI to QuickTime compatible formats like MOV, MP4 and M4V. After that, you can not only play AVI on QuickTime smoothly, but also transfer the files to your iPhone, iPod or iPad for playback and so on. This AVI converter is fully compatible with Mac OS X Mountain Lion, Lion, and Snow Leopard.
Download, install, and run the program.
Step 1: Drag and drop the AVI files to the program. (There are many editing functions like Trim, Adjust, Rotate, Crop, Merge, Watermark etc you can use).
Step 2: Set the output video format. Choose "MOV" as an output format.
Step 3: Click "Convert" button to start the process.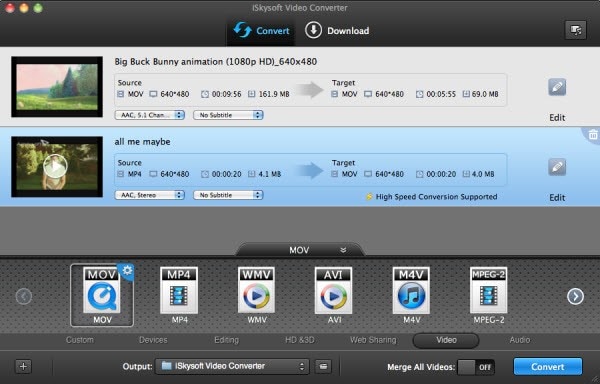 Note: The solution 2 and 3 only enable you to play your AVI on Mac, i.e, you are unable to add the AVI files to your iTunes library for orgnization or sync. So if you want to use your AVI files in QuickTime, iMovie, iTunes and more, solution 1 (converting AVI) is highly recommended.
Now watch the video tutorial of iSkysoft Video Converter for Mac:
Solution 2. Get Mac Perian—QuickTime Component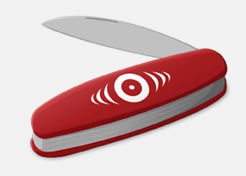 Perian, one of the players for AVI files, is a free QuickTime component which adds native support for a good number of popular video formats. The current version (1.2.3) of Mac Perian is compatible with Snow Leopard and it works for most of the AVI videos. You can download Perian for Mac here. Note that Perian
Note: The latest version 1.2.3 of Perian doesn't work on Mac OS X Mountain Lion because Perian requires installation of quicktime 7, which doesnt exist for Mountain Lion. It also doesn't work on Mac OS X Lion. So if you have a Mac running Mac OS X 10.7, say, Lion, you have to downgrade the previous version, say 1.2.2. The version of 1.2.3 of Perian does not support QuickTime 10 in Lion and fails to fix the loss of audio after one second in xvid files with ac3. So if you have a Mac with Lion or Mountain Lion, converting video to QuickTime is highly recommended.
Solution 3. Switch to Other Media Players

VLC player, another great mac AVI player, is a universal media player and in most cases it works like a charm under Mac. If your operating system is Snow Leopard or Lion, VLC Mac player would be a good choice. But to use the media player, you need to install Front Row. And what you should know is that you can only play your files on Mac, that's to say, you can't import your AVI into iMovie for editing, add AVI to iTunes library for sync edc. If you wanna do more with your AVI files additional to the AVI playback, an AVI to QuickTime Mac conversion is the final solution.