GIF files are image format files that support most browsers and are viewable across platforms. Hence, it is a very popular format for sharing animated files on forums, social networks and websites. Use animated GIFs as your avatar on Myspace or forums and attract attention. As this a versatile file format, many other files types like WMV - Windows Media Video file are usually converted into animated GIF file so, that it viewable across browsers and platforms.
Converting files from WMV to GIF, or from any format to GIF is simple and easy by using online WMV to GIF converter. You can even finish the process without downloading any software. Here we'll show you how to create GIF animation from WMV files on Windows using Zamzar.com online converter.
How to Convert WMV to GIF Step by Step
Before conversion, keep in mind that there are some limits to convert WMV to GIF with Zamzar file converter.
1. You need provide an email address and wait for the email link to download GIF.
2. Your WMV files should be smaller than 100 MB in size (otherwise, compress WMV video before converting WMV to GIF).
3. You cannot trim the GIF animation if it's too long and thus too large. (we suggest using iSkysoft Video Converter to trim WMV video for a shorter duration. )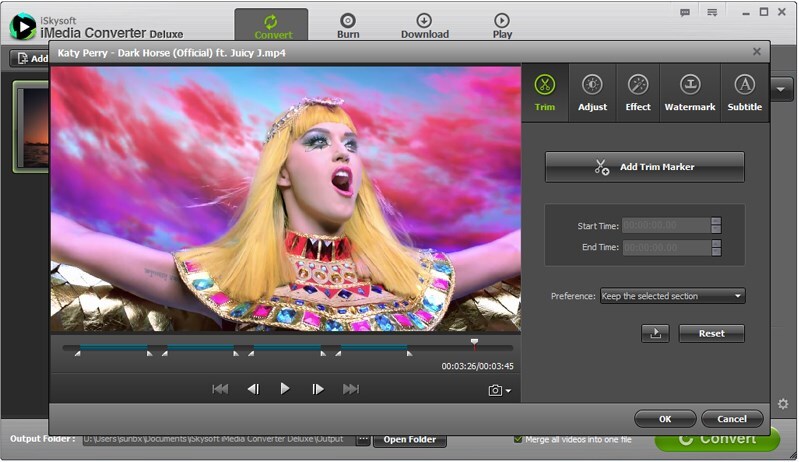 Trim WMV video file length for a smaller size.
1
Go to Zamzar.com and upload WMV file(s)
When you open zamzar.com, the site invites you to upload the file you wish to convert. Either select the WMV file to upload - you are allowed to transfer files of size up to 100 MB - or even type in the url of the location of the video rather than WMV video file.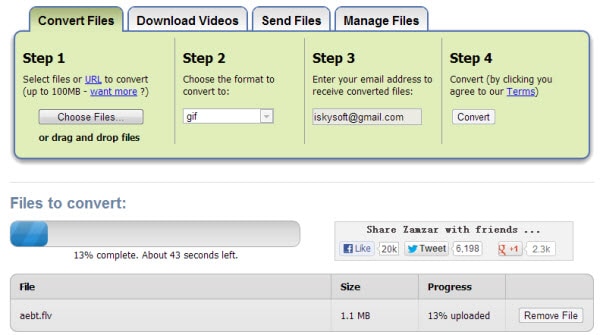 2
Choose GIF as the output format
The second step of the conversion process involves choosing the format to which the selected file is to be converted to in our case - GIF. It takes time for the back end servers at Zamzar.com to convert the file to the requisite file type as there are several people making such requests all the time. If the file you uploaded is big then this might take a longer time.
3
Input Email address to receive GIF download link
In the next step enter your email address. Once your file is converted to the required format a notification will be delivered to your email box with instructions on how to download your file.
4
Start converting WMV to GIF
Hit the convert button once your file is uploaded and you have entered all the above details correctly. If you need to correct either the file or email address now, is the time. Click on the convert button and then wait a few minutes to see if the notification has arrived.
5
Download GIF animation to your computer and use anywhere
As the converted files are retained on Zamzar.com servers for only 24 hours make sure you download your file before that time. Don't forget to download your converted file as soon as possible in order not to lose the file.
As you might have noticed on Zamzar.com, that site allows conversion of a number of different file formats to other formats, including WMV to GIF. So, you can convert - WMV, MP3, MP4, AVI, YouTube video and many more format to GIF. Similarly, it is possible to convert GIF files to other types. In fact files of any format can be converted to any format required provided your file size is 100 MB or less and you provide a email address. Alternatively, you can split WMV video using a video editor before using Zamzar.com to convert video to GIF animation.
If you have a bigger file then you need to compress it. To do this you need a video converter that does the job for you. iSkysoft Video Converter for Windows is highly recommended. It is a great video converter tool that helps to compress large sized videos, trim it or even crop it before you upload to Zamzar.com.