Q: "How do I email multiple attachments with my new iPad? Specifically I want to send an email with multiple pages documents in a single email. I am NOT interested in sending multiple photos I already know how to do that.
A: To add, send and open email attachments on your iPad, you need first to understand what kind of files you can attach to your iPad email.Your iPad's mail app supports the following:
Photos in .jpg, .tiff, .gif
Microsoft files: .doc, .docx, .ppt, .pptx, .xls and .xlsx
Web pages: .htm and .html
Keynote: key
Numbers: .numbers
Pages: .pages
Preview and Adobe Acrobat: .pdf
Others: .rtf, .vcf and .txt
But in fact, you can easily send photos as email attachments, but you're still unable to add other files like PDFs, words as the iPad email attachments. So if you need to attach words or other files to your email, you can use Copy/Paste option: go to your iPad email -> create a new email -> save it as draft -> open the file you wanna attach-> copy the items then return to your email draft -> paste -> then send your iPad email as you usually do.
If you need to attach a iWork file, you can choose the document from the "Gallery", then tap on the first button in the toolbar (lower left) and select "Send via Mail".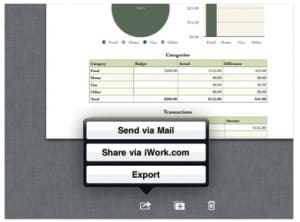 And if you have received some emails with attachments on your new iPad, you can open the email attachments like these: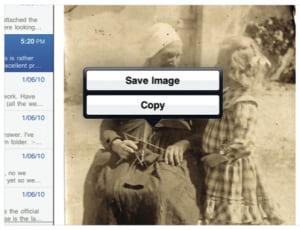 1. iPad email attachments - Photos
If you received an iPad email with photos attached, you can tap on the photos and hold until you see a popover menu where you could choose Save image to add it to your photo library.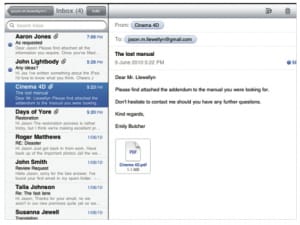 2. iPad email attachments - RTF and PDF files
Some RTF or PDF files are in the iPad email? Then to open these kinds of files, you can tap on the icon of the file to open it in Quick Look. You can only view and copy text from these files, no edit.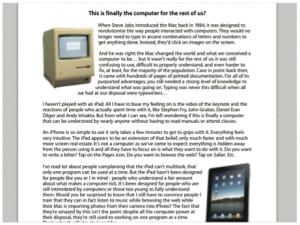 3. iPad email attachments - iWork and Office documents
If you got some Word, Keynote or other iWork and Office files, you can also hold them to open "Quick Look" to view. Also no edit available.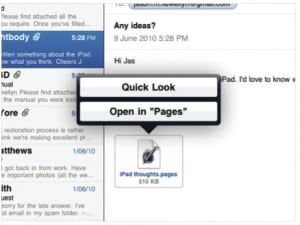 After you've read your iPad Email attachments, you then can get out of Quick Look: tap on the iPad screen and select the "Done" button. Then you will get backto the iPad Mail app. (Or "Open in Pages" if there is the Pages app installed on the device.)