Currently, iPad doesn't allows you to create new photo albums on the device directly, unless you use iPhoto on your Mac to create the new album and then sync to the iOS device. But there are some third party photo apps you can use to do the work:
This iOS app costs $1.99 and allows you to organize or name your new iPad photos and videos. It also can create new folders and sub-folders directly on the device. You can add photos and videos in the iPad photo library to the new photo album. In addition, some simple edit functions are provided. For example, you can rotate the photo when it's not viewed in the correct direction. and transfer the whole file folder.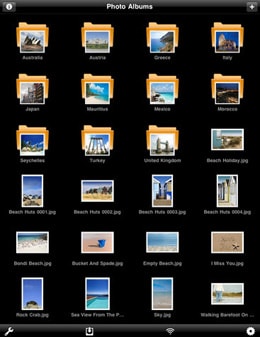 2. Pics
The price of this photo organization app for iPad is also $ 1.99. The photo app for iPad allows you to add, delete, order or rename photo albums. With a so-called best and coolest user interface, Pics enables you to organize your new iPad photos by album and transfer them to your Mac, PC or other iOS devices via Wi-Fi or Bluetooth. If some albums or photos are the same in the two devices or in your Mac and iPad, these files won't be transferred. And the different photos on your iPad will be saved in a new album created automatically by the app.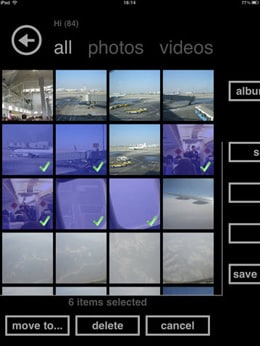 3. PhotoAlbum
Well, this is a really powerful photo app for iPad which you can create photo albums on the new iPad and more. The price of the PhotoAlbum is $1.99. Album titles can be updated or deleted even descriptions are allowed to add to each title. Tags for those photos imported are available. It's friendly to facebook and Flickr so that you can share your iPad photos to the two platforms. Moreover, you can set password for some photo albums which contain your private photos.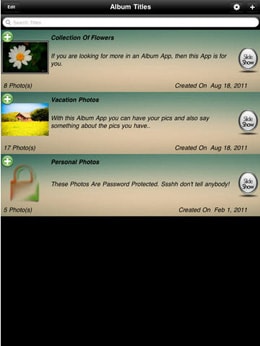 4. Sort Shots
Sort Shots has a intuitive interface so users can get a easy start. This app for iPad actually adds categories, ratings, places, favorites, dates and more to your iPad photos so that you can easily find your photo in a huge photo library.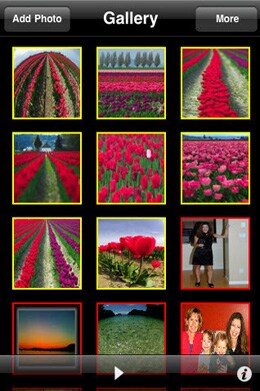 Don't wanna download third party apps? Well, you have to create the photo album on your computer first:
Via iPhoto on Mac:
Open iPhoto, connect your iPad to your Mac, create a new ablum and import photos you want to the album, then drag it to your iOS device in the iPhoto.
Via iTunes on Mac or PC:
Newly add a folder on the computer then plug your new iPad to the computer, open iTunes, click your iPad name under Device in the left sidebar, choose photo tab, select the album to sync.