Contents
1. Top Facebook Video Downloader

2. How to Download Facebook Videos

3. Download Facebook Videos for Devices

5. Facebook Tips
As the most popular social network in the world, Facebook now enables you to easily share your photos, videos, communicate with friends and more. And here you'll learn something about Facebook video including: how to upload videos to Facebook from iPad and other iOS devices and how to upload video to Facebook from Android devices and more (also check how to download Facebook video).
While Facebook supports a wide variety of video formats, the website recommends the usage of the MP4 video format so you can maintain the audio and video quality of your uploads. Taking the following steps can help you to ensure your video quality remains unchanged:
Export the file in MP4 format
Compress using the H.264 Codec
Maintain a frame rate of no more than 30fps
Set a stereo audio sample rate of 44,100hz
Limit the aspect ratio to 1280px wide
Facebook's other supported formats included WMV, MOV, 3GP, AVI, FLV, and DIVX etc. However, as mentioned above, if you were to use these video formats, you would see the quality of your video decrease. See a full list of Facebook compatible video formats.
Part 1. Convert Videos to Facebook Compatible Format
Have you found that your video file's format is incompatible with Facebook? Are you looking to convert your video into the MP4 format to preserve its quality? Use iSkysoft Video Converter for Mac to convert your files into the proper format.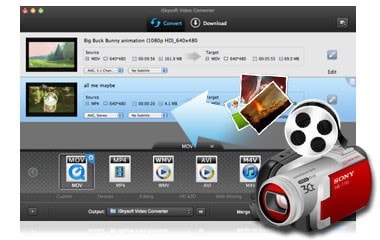 iSkysoft Video Converter for Mac offers you many options for converting your files into new formats. It well supports almost any video and audio formats, including HD, HQ videos, audio and web videos. The program help you convert media files at 90X speed and maintain the original quality. In addition, it also works as a video downloader, let you save online video to local computer with one click. iSkysoft Video Converter for Mac is your best option for converting, and maintain the quality of your videos.
How to Convert Video to a Facebook Compatible Format Using Video Converter for Mac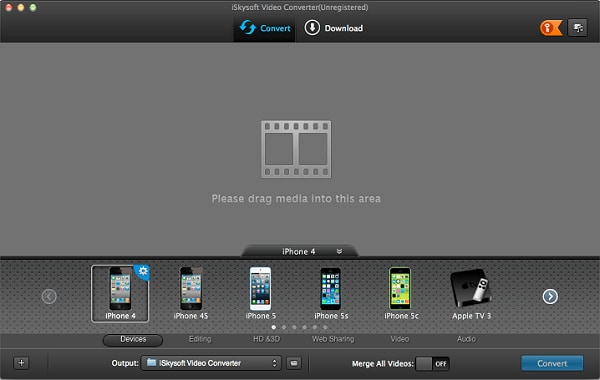 Step 1. Import the Video to the Program
After you have successfully downloaded and installed iSkysoft Video Converter for Mac, you can then launch the program and load the video you want to convert. To add your video file, drag and drop your video files into the program. Alternatively, you can click on File, then Local Media Files, to add files to the program. Check to see if your video file is already part of the library.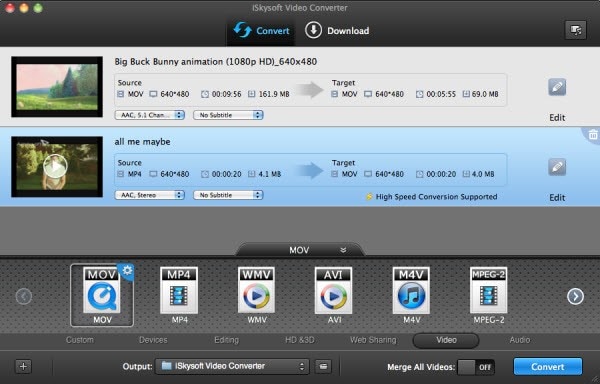 Step 2. Convert the Video to MP4 Format
Select the video file you want to convert. And then choose the video format you wish for the file to be converted into at the bottom of the interface. Once again, we recommend the MP4 file format: click Video > MP4 > Convert.
Tips: To specify video conversion options, click on the Gear button that appears in the Format Icon. Use this option to specify the best video options for Facebook usage.
Part 2. How to Upload Files from Your Apple or Android Devices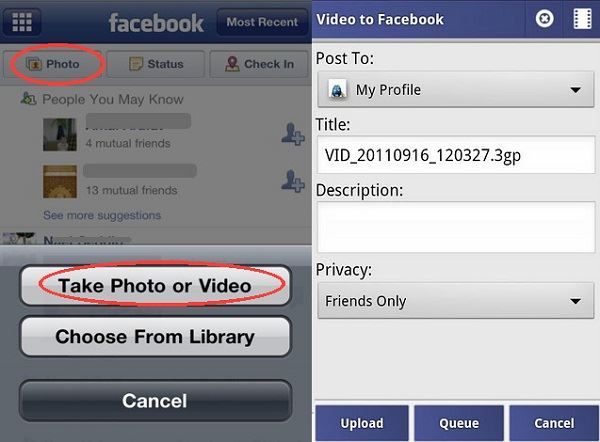 Both iOS and Android operating systems provide you with the options you need to upload videos to Facebook. However, as the files are not necessarily uploaded in the most compatible video formats, the quality of your upload may not be adequately preserved.
Follow these steps to upload your video files through the Facebook application on your iPhone, iPad, or Android device:
Open your Facebook application and log into your account.
Tap Photos. Your camera roll will appear.
Tap on the video you wish to upload.
Click on the Pen-and-Paper icon located in the bottom right-hand corner of your application. Enter your caption.
Upload your video.
Part 3. How to Save Your Time When Uploading Large Files
The difficult task arises when your video is very large, then you require considerable time for uploading. So how can users split their videos or upload only some portion of the video much quickly and easily? 2 methods are available.
Method# 1. Trim and Edit Video for Facebook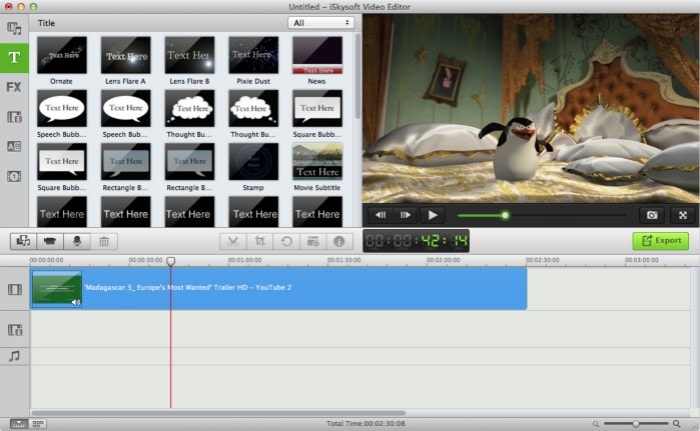 Using a video editor for Mac to optimize your video before uploading to Facebook. iSkysoft Video Editor for Mac is a Mac video editing tool which enables you to split, trim, crop, rotate your video, and apply fantastic effects in clicks. You can then export it to a Facebook friendly format for uploading.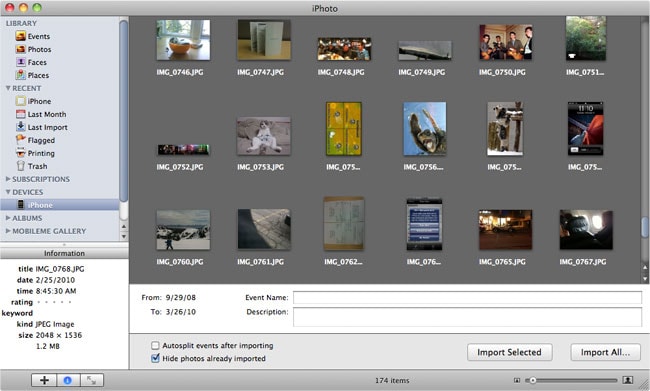 Step 1. Transfer your iPad video back to your Mac
In case the video on iPad has been recorded through iPad camera one can simply transfer that video to Mac using iPhoto. So first connect iPad to Mac with a USB cable, then start iPhoto application if it doesn't run. In iPhoto you'll see videos and photos after clicking on the device name presents at left sidebar of iPhoto. Afterwards, choose the target video, move towards top right corner of iPhoto interface and you'll see the Import Selected button. Click on this button and your video will appear on the Last Import section. Then right click on the imported video and select Copy. Finally right click on desktop and choose Paste to put iPad video on desktop.

Step 2. Open video editor for Mac and shorten the iPad video
After starting iSkysoft video editor, drag and drop iPad video from desktop to the program. You'll find the video on the timeline. Then highlight it and click the Cut button above the timeline. In the cutting dialog, drag the slider to the frame you want trim the clip, and then click the "Done" button to trim it. For more features, go to User Guide of Video Editor for Mac.
Method# 2. Trim and Edit Facebook Video with iMovie
Most Mac computers usually have a native video editing tool named iMovie for you to split your video. Here is how to edit video for Facebook using iMovie '11: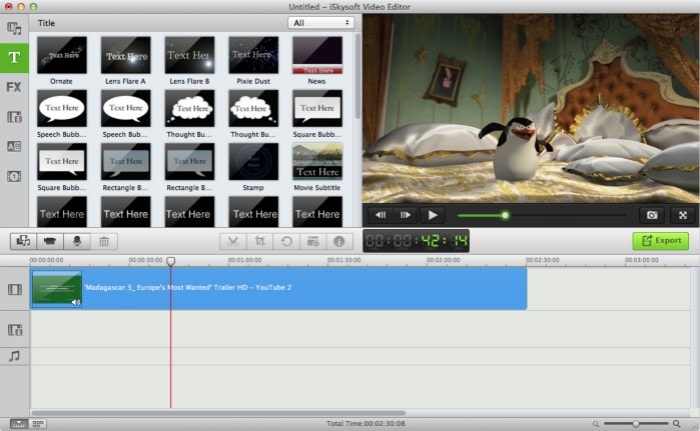 Open iMovie. Go to File > Import from camera in the top menu bar.
You will see all captured videos on your new iPad, select those you want to import to iMovie.
At bottom of iMovie interface, move the mouse cursor to the point where you want it to be beginning of the video click it and then move the cursor to the point where is the end of the iPad video which would be uploaded.
After the selection, drag and drop to the top left area.
Select part you don't want by dragging. Go to Edit > Cut.
Now you have shortened the iPad video. To share to Facebook, go to Share menu and select Facebook,
Login Facebook with your ID and password. Click OK. Done.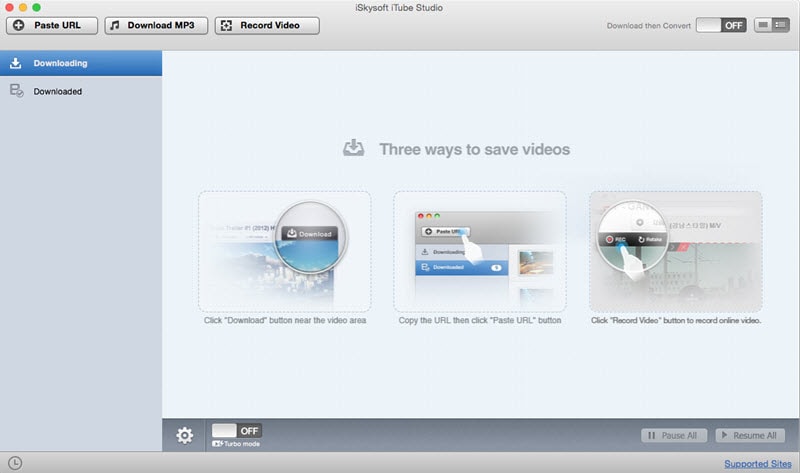 For users who are seeking ways of downloading and maintaining their favorite videos, iSkysoft iTube Studio for Mac is the perfect match of affordability and versatility. It can help you free download videos from Facebook with only one click, extract audio from Facebook video and convert Facebook video to fit for a variety of mobile devices. In addition, iTube Studio for Mac provides you with the tools you need to download videos from over 1000 sites, convert those videos into nine different video formats or thirteen audio formats, and convert the files so they will play on your Apple or Android devices.