Americas Buffalo Company has come up with Buffalo external drives that are ideal for you since it comes with a massive storage for your files. You can also do a back up to your data and enjoys its Buffalo external hard drive speed of about 480Mbps. It comes with thunderbolt connectivity or 2.0 and 3.0 connections.
Like any other external hard drive you may lose data when virus manifests your external hard drive. It could also be a result of accidental deletion of data. If you encounter any of these situations, you can follow this article to learn how to recover files from Buffalo external hard drive.
Part 1. How to Recover a Buffalo External Hard Drive on Mac (macOS High Sierra Compatible)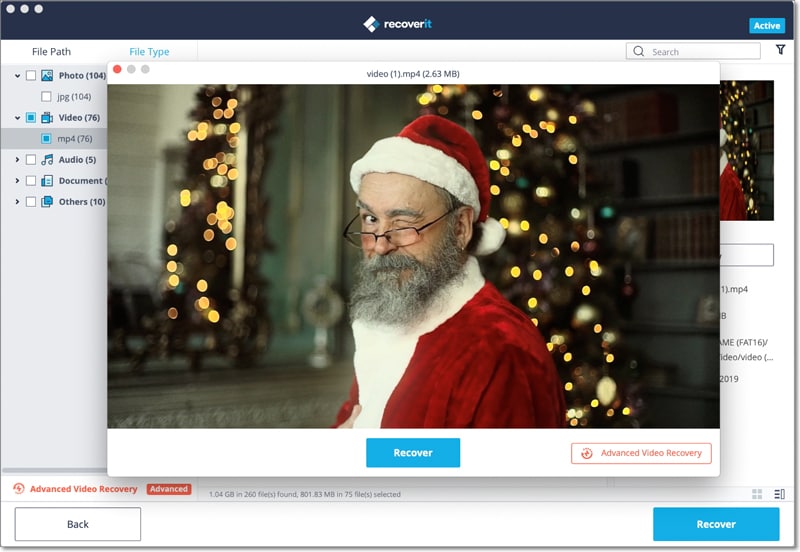 Recoverit (IS) for Mac will securely recover all you missing data on Buffalo external hard drive. This application recovers all your videos, emails, music, photos and even documents. It supports the different file systems such as NTFS, FAT 32, Fat 16, exFAT, HFS and HFSX o your Mac or Windows operating system.
Now, to give you a guide on how to restore lost data on your Buffalo external drive, ensure that you have downloaded the exclusive Recoverit (IS) for Mac. The process of recovering is one of the easiest and fastest within just three simple steps. You will also have a sneak preview of the files that are recovered.
Easy Steps to Recover Data from Buffalo External Hard Drive on Mac
Step 1. Download and Installation
Remember to connect your buffalo external hard drive to your Mac. From the first window, please select the data types that you have lost and hope to recover. For a quick recovery you can click on just the files that you have lost instead of all files. You can also select the "All File Types" option to let the software find more data for you.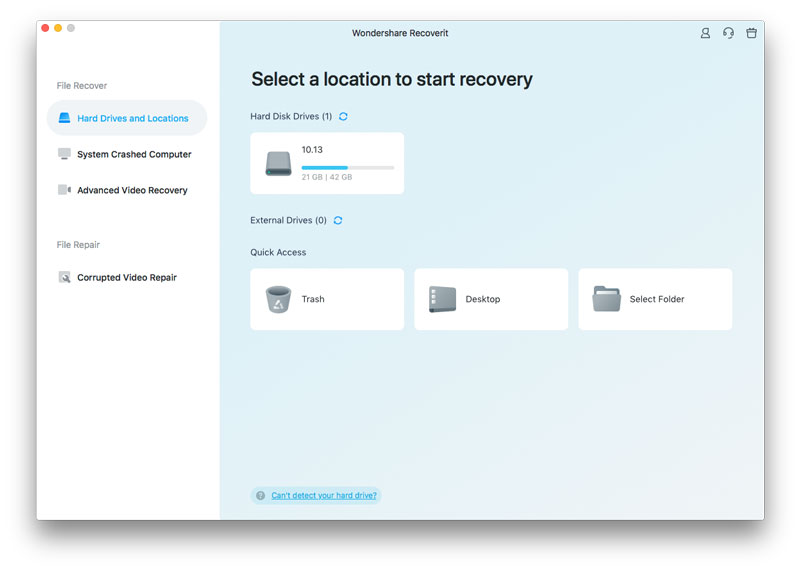 Step 2. Choose the Buffalo Hard Drive
On the window that appears you will see a list of drives. Click on your Buffalo external drive so that you can choose files to be scanned for recovery. Then click "Start" to begin the scanning process.
Step 3. Start Buffalo External Hard Drive Data Recovery
The scanning process will commence immediately. As the files are restored they appear on the screen. From there, go through what has been recovered and mark the desired. Then click on "Recover" and save the files on another external drive. The "Search" and "Filter" features are designed for you to find your wanted files quickly.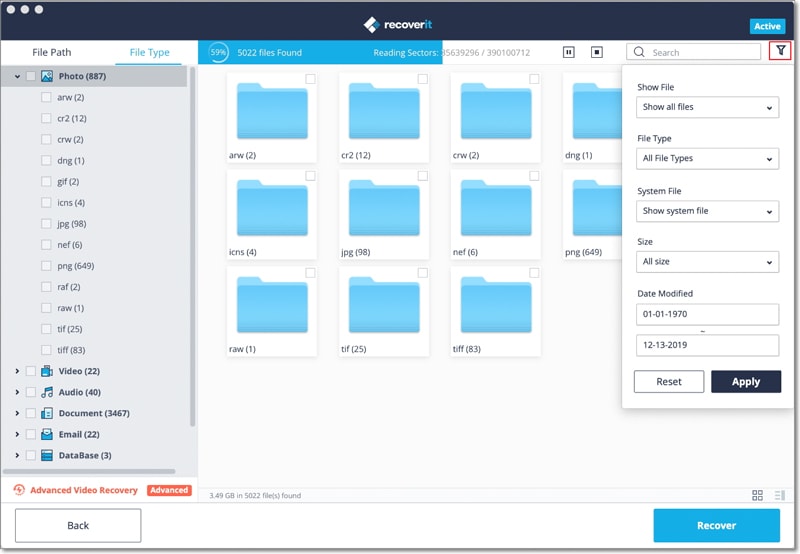 If you don't find your wanted data from the scanned results, there is a "Deep Scan" option for you to let the program scan deep into your mac and find more recoverable files. In this mode, you can selectively recover thousands of files like the the screenshot below.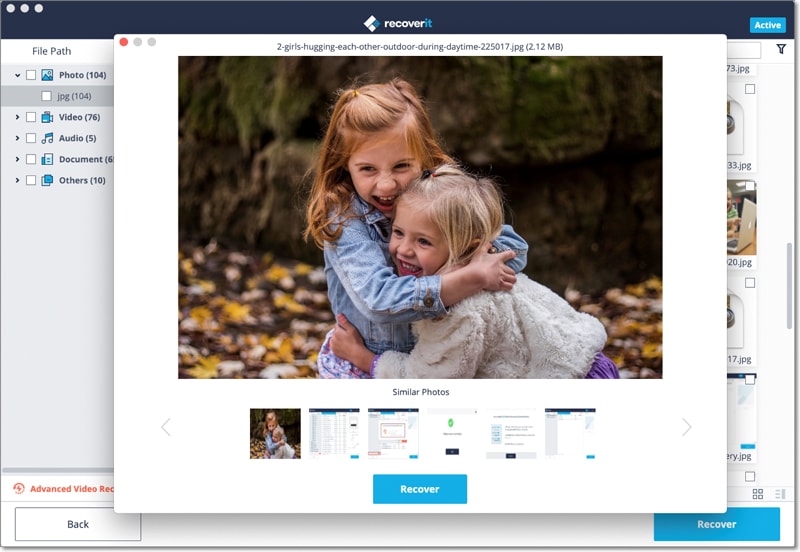 ---
Part 2. The Steps for Recovering Buffalo External Hard Drive on Windows
For computers running Windows operating system, download iSkysoft Data Recovery for Windows. It will recover all you deleted data, corrupted data, or formatted data with different recovery methods.
Easy Steps to Recover Data from Buffalo External Hard Drive on Windows
After downloading it, here are the steps for you to follow. Ensure that you connect your buffalo external drive to the PC.
Step 1. Choose File Types
iSkysoft Data Recovery for Windows is fabricated with professional data recovery function. At first you can click on the kind of data files to be recovered. Mark on the box that you want to recover the lost data. Then click on "Next" at the bottom right.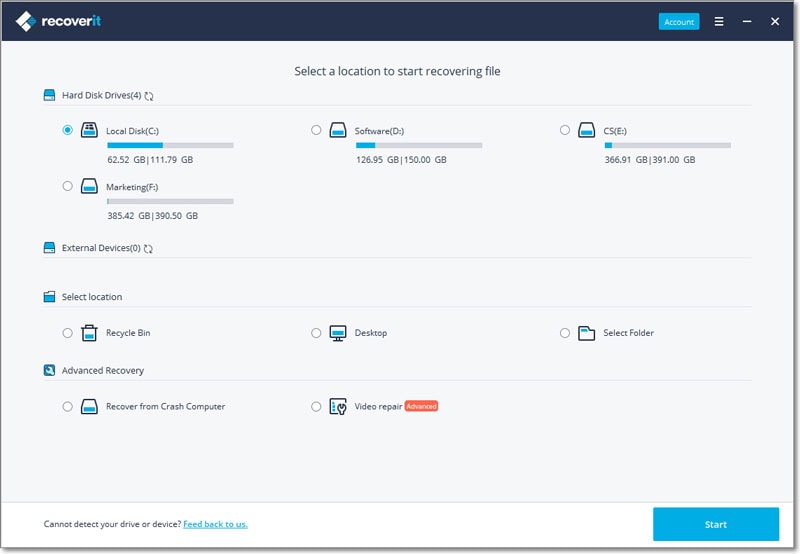 Step 2. Scan Buffalo External Hard Drive
Before you scan you need to identify your external drive on the program by clicking on it. Then on the "Start" button.
Tips: It is important to note that, to fully recover your files you can always click on "Enable Deep Scan".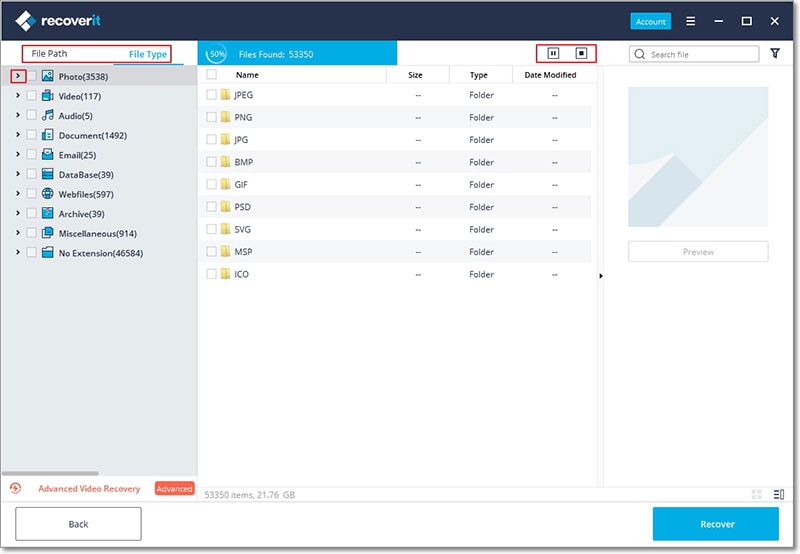 Step 3. Do a Crosscheck and Retrieve the Data
This step will shade some light on your face since you will see your precious files being recovered. When the scanning process is done preview the files recovered, then check them and click on "Recover". Ensure you save the revived files on a different external drive.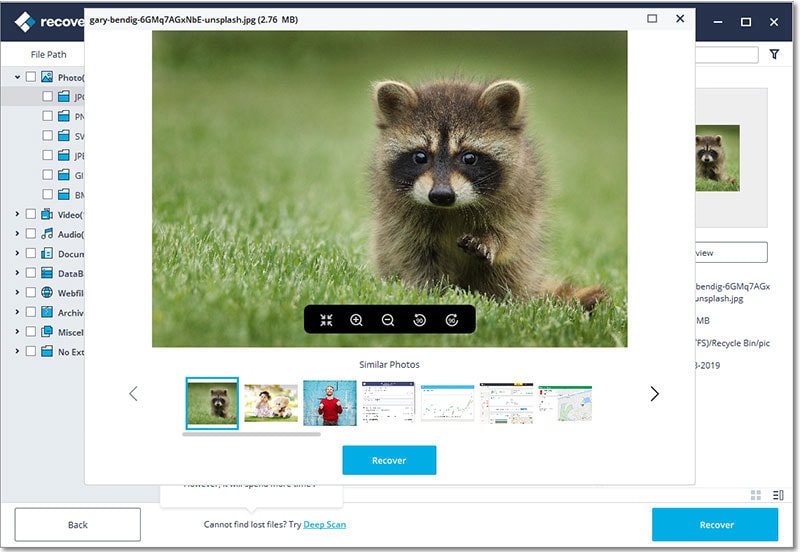 Despite finding the best data recovery app for data lost, it is important to avoid losing it. Here are basic tips to prevent cases of data missing on your external hard drive.
1. Always do a backup of your files before formatting the disk.
2. Partition your files on the external hard drive.
3. Protect the data with anti-malware software.
4. Ensure that your external hard drive is well stored and free from any damage.