Photos in your digital camera, memory card, hard drive or other storage devices aren't absolutely safe. They can get corrupted due to many system/human errors which include partition crash, disk breakdown, software crashes, computer overheating, CPU mistakes, virus infections, unexpected power outage, partial hard disk failures and more. However, you shouldn't be worried since software developers have designed thousands of data recovery programs that can help you complete corrupted photo recovery with ease in case they get corrupted. But before you can get online and download any data recovery program for your Mac or PC, you should be aware that not all data recovery program are effective when it comes to restoration of corrupted photos. You should be very keen while selecting the one to install and use, or else, you risk losing your files permanently. In this page, we provide you with the top 2 methods to perform corrupted photo recovery using the best data recovery programs.
Part 1. How to Recover Corrupted Photo Using iSkysoft Data Recovery
No matter what kind of corrupted photos you need to recover, iSkysoft Data Recovery for Mac (or iSkysoft Data Recovery for Windows) provides you with powerful tools that enable you to retrieve them with ease. The full-featured software is programmed with advanced and up-to-date data scanning algorithms that scans and restores not only corrupted photos, but also emails, audios, videos, documents, archive files and more. Your pictures & other files are restored in high quality and with original file names and file folders.
After the software has filtered out files from mass data scanning, you have the opportunity to preview your photos & other files and even determine the valid & invalid ones before the actual recovery. Generally, this read-only and risk-free program lets you recover data from multiple storage devices including internal & external hard drives, USB flash drives, Memory Cards, Players and Digital Cameras, even if they have bad sectors or badly corrupted partitions.
Why Choose This Corrupted Photo Recovery Software: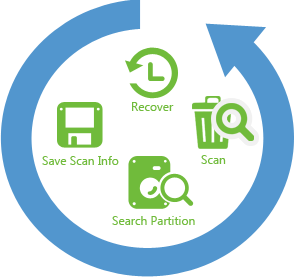 The software comes with 4-modes that let you recover files lost due to all data loss scenarios.
It reads HFS+, HFSX, FAT16, FAT32, exFAT, and NTFS files systems.
You can pause or restart the scanning process and even save the scan results to perform data recovery when you have time.
Users save time by only scanning files of the selected file type.
The "Deep Scan" increases data recovery success by performing an intensive scan and analysis of your drives & devices.
Step-by-Step Guide to Perform Corrupted Photo Recovery on Mac
Step 1. If you would like to recover corrupted photos from digital camera, external drives, smartphones, memory cards and more, use a compatible USB cable, FireWire or Card reader to connect it to Mac. Ensure that the devices are plugged in properly before you can proceed to the next step. Continued operation on the drive from where your photos were corrupted can lead to permanent data loss. Therefore, to successfully retrieve photos from an internal drive, you'll have to get another Mac computer, download the software on a USB flash drive and then recover photos with the software installed on the USB flash drive.
However, if you want to recover corrupted photos from external drive or device, just get online and download iSkysoft Data Recovery on your Mac. Install the program by dragging the setup file to "Applications" and then launch it just in the same way you run other Mac programs. You'll then see the 6 file type options in the primary interface, select the "Photo" tab and click "Next" button.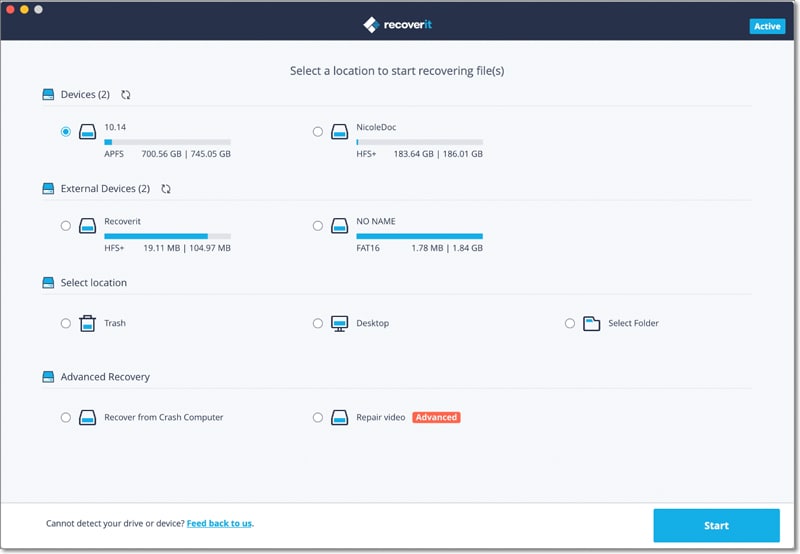 Step 2. A new window will open, and it displays all your drives (Both internal and external drives). Select the drive from where you would like to recover photos from and then click the "Start" button at the top of the window to start the scanning process. If you can't see your external connected drive, click the "Refresh" icon located on the left of "External Removable Device", and it will show up after a few seconds.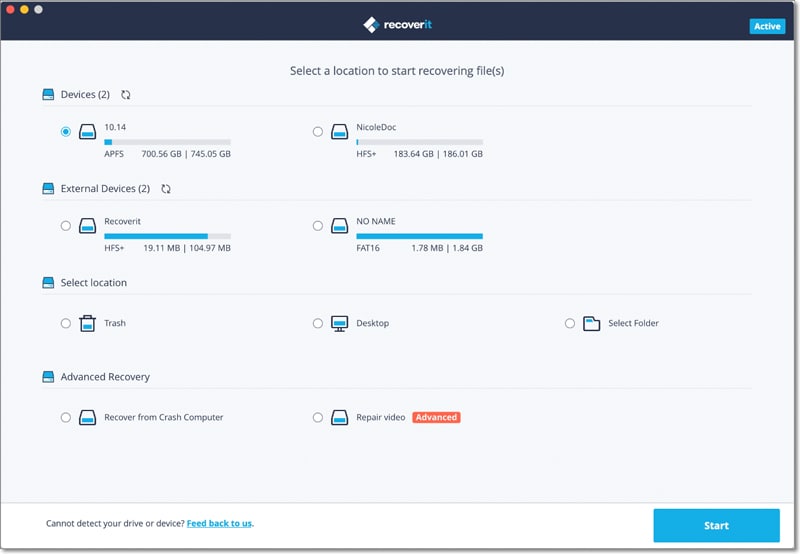 Step 3. After a successful scan, another window will open. It shows all the "found files" and lets you preview your photos. To start recovery, mark the files (photos) you want to retrieve and click the "Recover" button pn the bottom of the program's interface. Your photos should be saved to the selected path, and not to the same drive or device from where they were corrupted. Professional data recovery experts recommend that you should always save your files to an external drive as it increases data recovery success.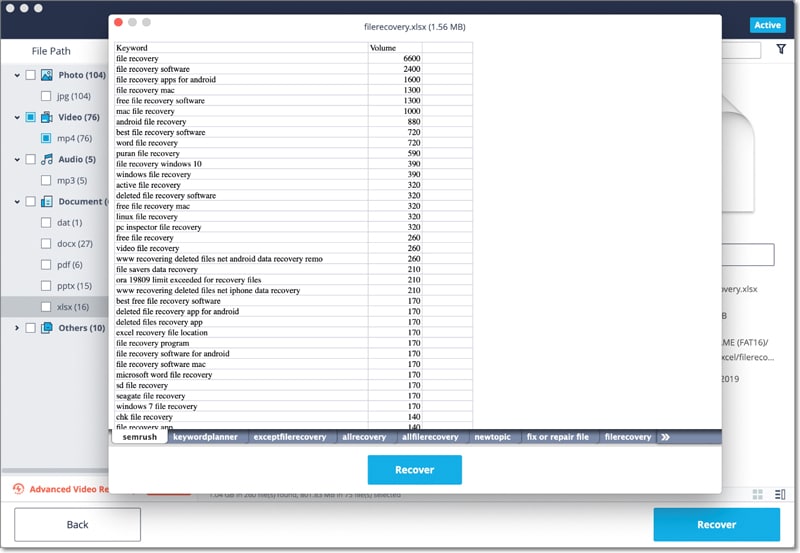 Part 2. How to Recover Corrupted Photo Using Free Online Tool
If your photos are displayed with some bits missing or in distorted versions or if your image viewing/editing software shows an error message when you try to access your pictures, an online corrupted photo recovery tool such as OfficeRecovery.com can help you repair them. The free program lets you recover corrupted photos in JPEG, TIFF, GIF, PNG, BMP, or RAW from any computer, (Mac or Windows).
Step-by-Step Guide to Recover Corrupted Photo Using Online Tool
Step 1. Launch your favorite browser and go to https://online.officerecovery.com/restore-corrupted-photo-file-online/. Click the "Browse" button and then the program will direct you to a tab from where you can access your corrupted file. Just find and upload it to the program.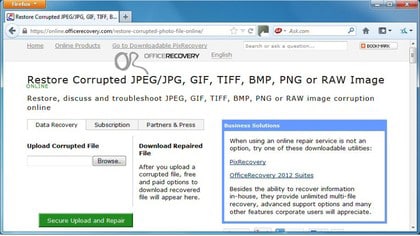 Step 2. Click the "Secure Upload and Repair" button to start the repair process. The recovery will take a few seconds or minutes based on the size of the file as well as the quality of your internet connection.

Step 3. When the recovery process is complete, you'll be asked to either like the developer's Facebook page or follow them on Twitter and then you'll be provided with a download link. Click it to save the recovered photo to your computer.