You have recently discovered that one of your hard drives has lost some or all of the data on it and you suspect that it may be corrupt. While there are ways you could get the data back, most people are a little bit skeptical about how to handle a corrupt hard drive. Keep in mind that hard drives are complex storage devices that can contain a lot of data and so they seem daunting to the average user. If this is a predicament you currently find yourself in, worry not! We are here to help you work through the problem and be able to perform data recovery from corrupted hard drive.
Part 1. What May Lead to the Corrupted Hard Drive
Before we attempt to fix the problem, it is probably wise to understand why it happened in the first place as a way to prevent this problem in the future. The following are just some of the reasons why a hard drive can become corrupt.
1. Physical Damage
Most people don't even consider it, yet it is the major cause of hard disk corruption. Some types of hard disk damage can include overheating, read/write head crash, scratched magnetic platters or even a short circuit in the control circuit board.
2. An Aging Hard Disk
If you have been using your hard disk for more than 3 years, then there is a chance that it may just have been burned out and hence is not responding as it should.
3. Virus Attacks
This is another very common reason why hard disks can become corrupt. A virus could attack the necessary boot files stored in the internal hard disk causing data loss and boot failure.
Part 2. 8 Methods for Corrupted Hard Drive Data Recovery
Now that we have an idea of why it may have happened, it is time to try and recover the data on the drive. The following are 8 different ways to do it, we begin with the simplest.
Method 1: Using Recoverit (IS)
And not just any data recovery program but iSkysoft Data Recovery for Mac (or iSkysoft Data Recovery for Windows). This program is the ideal tool because of the fact that its features are designed to make data recovery very easy and fast while ensuring that all types of data are recovered.
Key Features of Recoverit (IS):
It supports to recover FAT32, NTFS, FAT16, HSF+, and HFSX file system.
You can complete recovery process just with 3 steps.
You can preview all the scanned lost files at first before you recover them.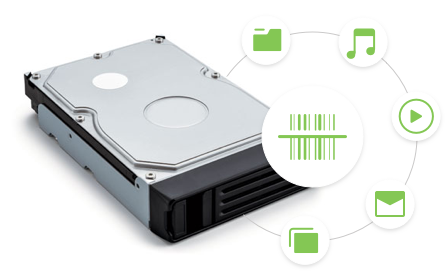 It can recover lost data from different media devices including SD card, hard drive, USB flash drive, etc.
Step-by-Step Guide to Recover Corrupted Hard Drive Data
Step 1

Download Recoverit (IS)

Firstly, you can visit iSkysoft official website and download Recoverit (IS) on your Mac. Then drag it to Application and double click the icon to launch it. Then you will see the main interface of this software where you can find 6 file type options. Try to select one type and click "Next" button.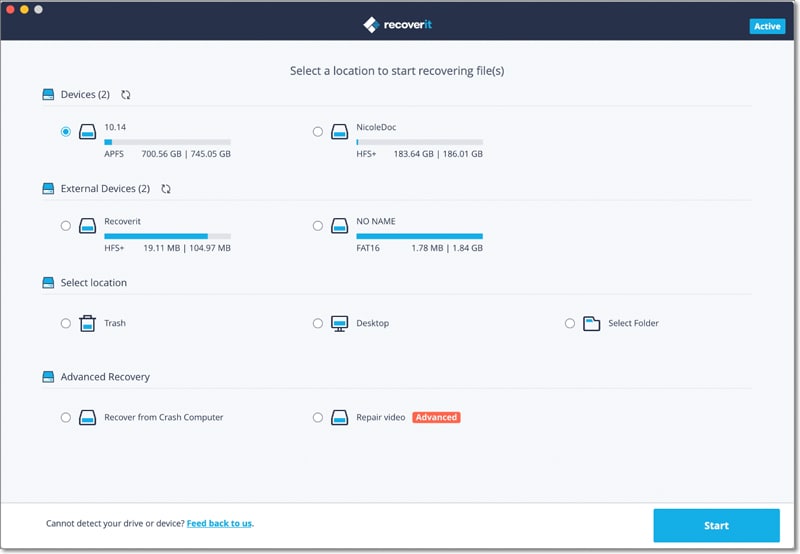 Step 2

Choose Drive to Scan

You will have the chance to choose a drive to scan. In this window, all drives are listed on the window, you need to select one drive which contains your lost data and click the "Start" button. If you do not find your drive, please click "Refresh" icon to test again.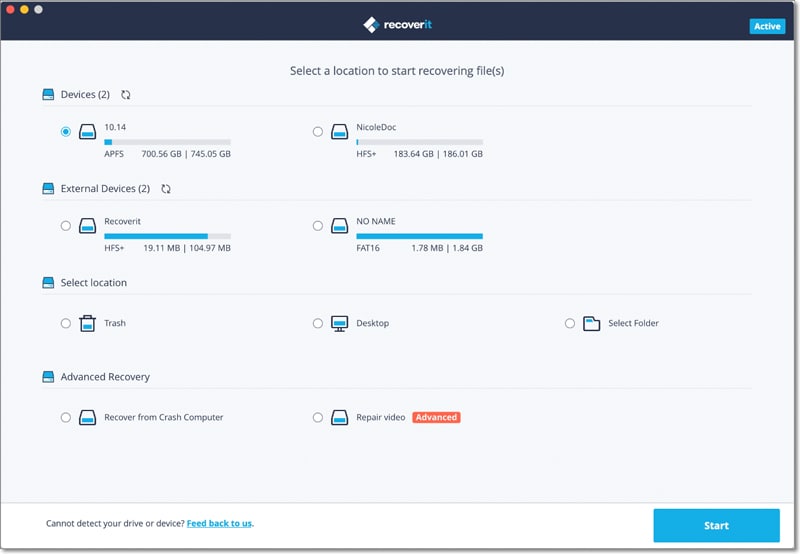 Step 3

Recover Corrupted Hard Drive Data

All scanned files will be listed on the next window after the scanning process completed. Now, you can begin to click the file to preview the quality and contents at first. After you find your lost files, check them and click "Recover" button to save them in another drive.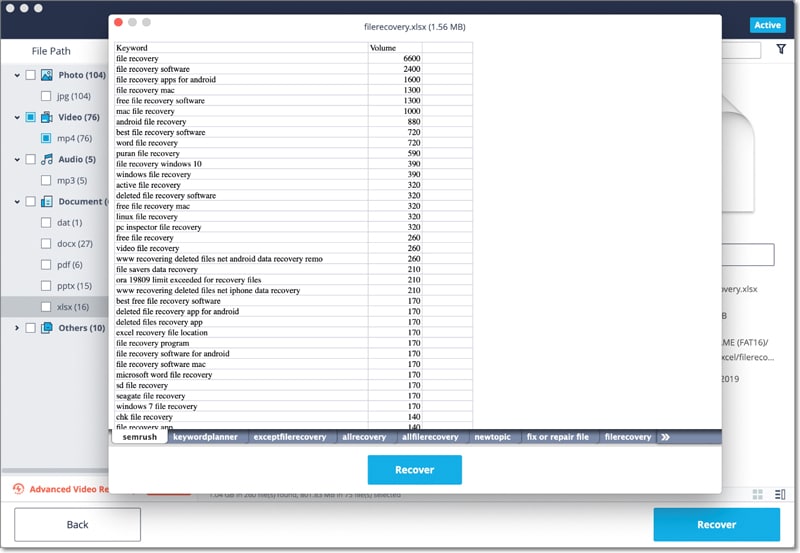 Method 2: Begin by Inspecting the Hard Drive for Damage
Sometimes data loss can be as a direct consequence of damage to the drive itself. Therefore, it may be a good idea to check the drive for damage. First stop using the computer and then power down and disconnect the drive or remove it from the computer. Examine the entire drive for damage on the external controller board. If you don't know what to look for, check for any broken parts.
If the drive is not damaged in any way, as far as you can see, the problem may be the cables. So, try plugging in the hard drive with new cables both for power and data connection and see if this changes anything.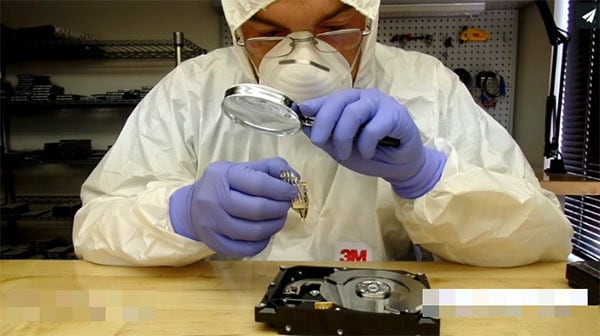 Method 3. Replace the Drive's Controller Board
Another way to try and fix the drive to recover data from it would be to replace the controller board. Here's how you can do it.
Step 1. Begin by inspecting the drive's controller board to determine if it can be removed without exposing the drive's platters. Most drives can but if this one cannot, skip this method.
Step 2. If you can remove the controller board, go shopping for an exact match of your drive. It is very important the drive you buy be exactly the same as the one you have. Carefully remove the controller board from the failing drive. Begin by removing the screws and be gentle to avoid damaging the connectors.
Step 3. Remove the controller board of the working drive carefully. Finally, attach the working board to the failing drive and then connect the drive to the computer to see if it works.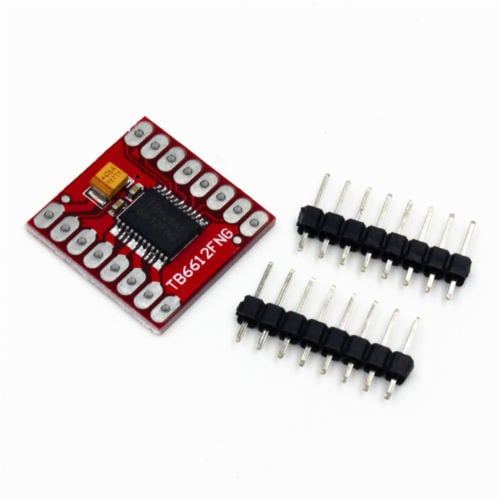 Method 4. Use Linux to Recover the Data
Sometimes Windows may fail to see the drive because the file system is damaged. In this case, you can try using Linux to recover the data.
Step 1. Begin by taking an image of the hard drive. If you are well versed in Linux, you can use DD to image the hard drive.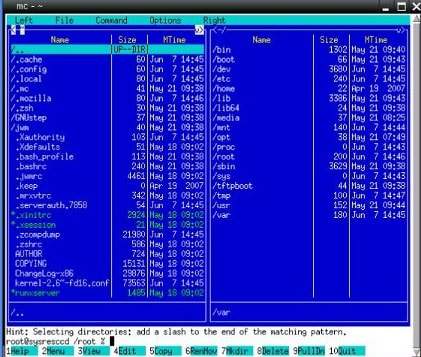 Step 2. Next, boot up off a Windows XP installation CD and in the dos prompt used chkdsk to repair the file system. Replace the (DRIVELETTER) with the application drive letter: chkdsk (DRIVELETTER) :/f. This will force Windows try to repair the drive. Mount the drive in a computer that is already running Linux and then download a live disk.
Step 3. Burn the .iso onto a blank CD with an image burner and then boot the computer. Don't forget to change the boot order in the BIOS. Now boot up the Linux system or mount the drive using a Linux live disk and begin a backup of your data if the Linux system can see the file system. You can mount the drive by typing in the command mkdir /mnt/disk & mount -t auto /dev/sda1 /mnt/disk.
Now mount another drive and backup the data and then boot into a Linux live disk. Then run the command testdisk /log. Finally, follow find your drive and choose to recreate the partition table.
Method 5. Try using Photorec
Photorec is a program originally designed to recover lost pictures from memory cards of digital cameras and even hard disks. It bypasses the file system and instead looks for the file headers which are the first part of files that tell the OS what kind of file it is without having to read the file extension.
Using Photorec is not as easy as using other data recovery programs such as Recoverit (IS) but it can be reliable in its own right. You also need to be Linux- savvy to use it. But it is worth checking out to see if it can help.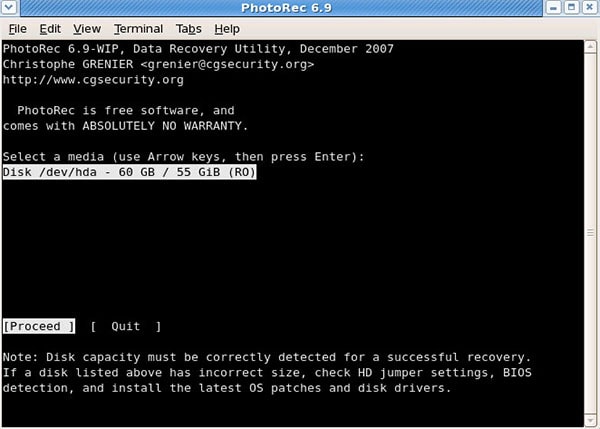 Method 6. Try Whacking It
If your computer recognizes the drive as a USB device but there is no drive letter and it seems to be initializing only for it to stop suddenly, then the head could be stuck. Try giving it a hard hit on your hand or a narrow edge near the cable connector to try and get it free. Reconnect it again to the computer and with any luck, the computer should recognize the drive and you should be able to see all of your files. We should tell you that doing this could cause data loss as the head may scrape the platter.
Method 7. Try Squeezing It
If nothing has worked thus far, you may want to try squeezing the drive. Hold the drive really tightly and press in with your fingers, palms and thumbs. But you need to be very careful not to bend any of the jumper pins. If the drive was loose, squeezing the case will hold it together long enough for you to get your data back. You can have someone else backup your data while you squeeze the drive. This may take a while but if you really want your data back and nothing else works, you may have no option but to try it.
If your problem is not that the drive is loose, then it could be over heats and the center shaft may have expanded and is stuck to its bearings. Freezing it may allow the materials to shrink and give the shaft more clearance to turn. To do this, place the drive in a re-sealable plastic back to keep moisture from causing further damage and then place the drive in the freezer for up to 2 hrs.
Remove the back from the freezer and if the drive operates normally, create a bootable backup in a second, external hard drive. Please note that this method could cause severe data loss as temperatures under 5C can cause the magnetic platters to demagnetize.
Most of these seven methods may work but many may cause even more damage than good. Your best bet is probably to use a data recovery program such as Recoverit (IS) for Mac. Just be careful not to completely overwrite the data on the drive or you may not be able to recover it at all, don't use the drive until you have taken steps to recover the data.