EDB stands for Exchange Data Base. The data in the EDB files can be easily corrupted or the data can become inaccessible. That's because of a virus infection or the huge database size. So, it is important to protect and know more about EDB email recovery. The best way to recover the EDB files is through the iskysoft recovery toolbox for exchange server. When the data is lost, you recover your data manually by spending ages and money, or you just let them pile up in your Exchange folders. Instead of that hard work, let's jump for some smart work.
Part 1. EDB Email Recovery: 3 Steps to Recover EDB Email Files
Recovery Toolbox for Exchange Server is one of the most useful EDB file recovery tool available. It is available for a variety of Exchange Server versions like the Exchange Server 2003 and the Exchange Server 2007. This software recovers the files by converting them into PST files and extracting them to your preferred location. PST stands for personal storage. A PST file is a personal folder file in Microsoft Outlook. For a user, the storage limit of a .pst file is 2GB. The email clients basically use them to store the email data and other mailbox data for later use.
Step-by-Step Guide to Recover EDB Email Files
Step 1. Have the Recovery Toolbox for Exchange Server installed. This software reads your suspended databases and saves them into new PST files. So, it basically extracts the damaged data and saves that data in PST files for your future use. This recovery process is highly automatic. All you need to do is choose the database to be recovered and let the magic work. After the restoration is done, you can find the data in your preferred location that you will be specifying.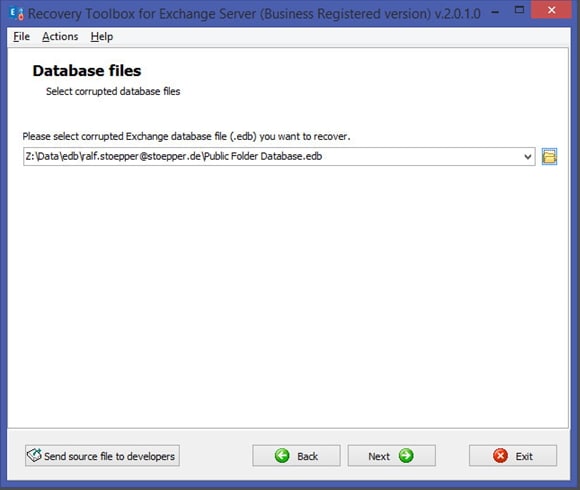 Step 2. This Recovery toolbox allows you to track the recovery process and know the details the details of what's actually being done. You can ask for a preview of the information of all your damaged files after you start the recovery process. And the data and all the corresponding mailboxes, folders, calendars etc will be displayed in a tree form. You can select the items you want to restore instead of restoring the whole file.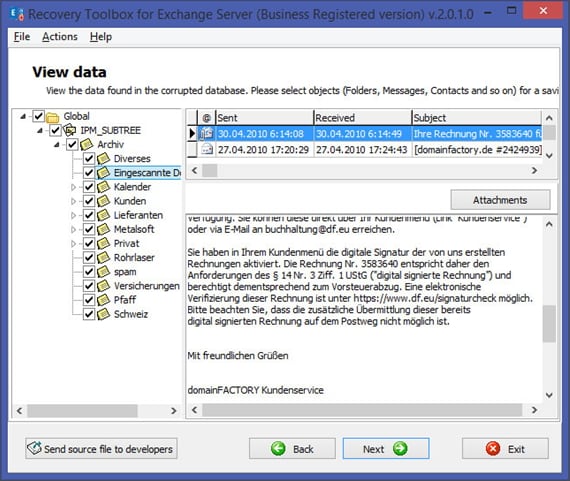 Step 3. When you run the application, you need to give the target address to store the new PST files. Besides recovering your corrupted and lost data, the Recovery Toolbox for Exchange Server can also fix your Microsoft Exchange inbox.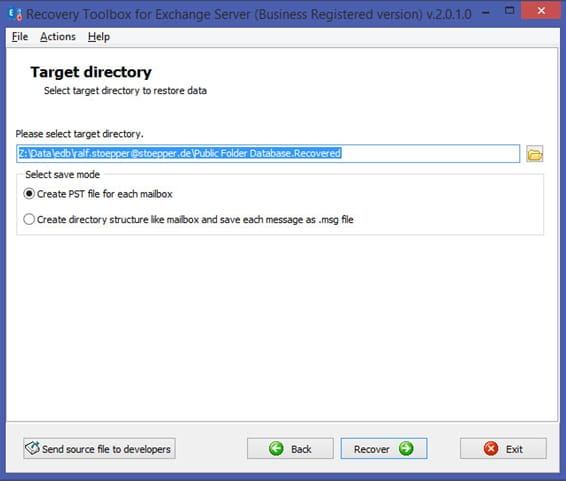 Download Recoverit (IS) to Easily Recover Emails, Photos, Music, Videos and More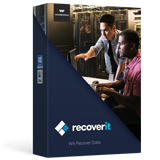 Recoverit (IS) - Easily Recover Deleted and Lost Emails
It can recover files from hard drives, USB drives, memory cards and even MP3 players, etc.
"Quick Scan" and "Deep Scan" options cover all the technological bases in the search for recoverable files.
You can preview of the data before recovery so you can ensure about your data.
Recoverit (IS) supports all Mac OS system as well Windows system.
Part 2. 5 Tips on Avoiding EDB Email File Loss
Prevention is better than cure! You just need to follow some basic steps to avoid the email file loss.
Tip 1. Never store your documents on the same drive as the Operating System. Any virus or software failure will lead to reinstallation of the Operating System. If your docs are saved on the same drive then this will lead to data loss. You can avoid this by storing a second hard-drive on your computer.
Tip 2. Backing up your files regularly is a healthy practice. Storing them on a separate drive is not enough. It is important to have back-ups for them. This increases the odds of losing the data.
Tip 3. Email attachments may lead to loss of data irrespective of whether they contain any virus. You avoid this loss by making sure that the email attachments are saved in a unique location.
Tip 4. Users lose data when they're editing a document and accidentally delete portions of it. After the document is saved, that portions are deleted and are lost unless you've enabled features that will store changes for you. If you don't want to mess with the advanced features, use the F12 key before you start working.
Tip 5. This may sound crazy but try keeping hard copies of the most important docs because something is better than nothing.