Contents
3 Extract iPhone Backup
The iPhone is used to store your entire life - contacts, notes, calendar, music – and so much more. Lost smartphones and broken iPhones can be inconvenient unless your content is backed up on iTunes. When you connect your phone to a computer with your authorized iTunes account, it will give you the option to: Sync with OS device, Transfer purchases, Back up, or restore from Back up. The first thing you need to do is choose to back up files on iTunes. After you create a backup on iTunes, you can load this backup onto any iOS device of your choose later.
Part 1. How to backup iPhone on iTunes
1. Make sure your computer has the latest version of iTunes (Version 11.2.2)
2. Connect iPhone to your computer
3. Choose File > Devices > Back up (For iTunes 10.7 or earlier, right-click the device from the list and choose Backup Now)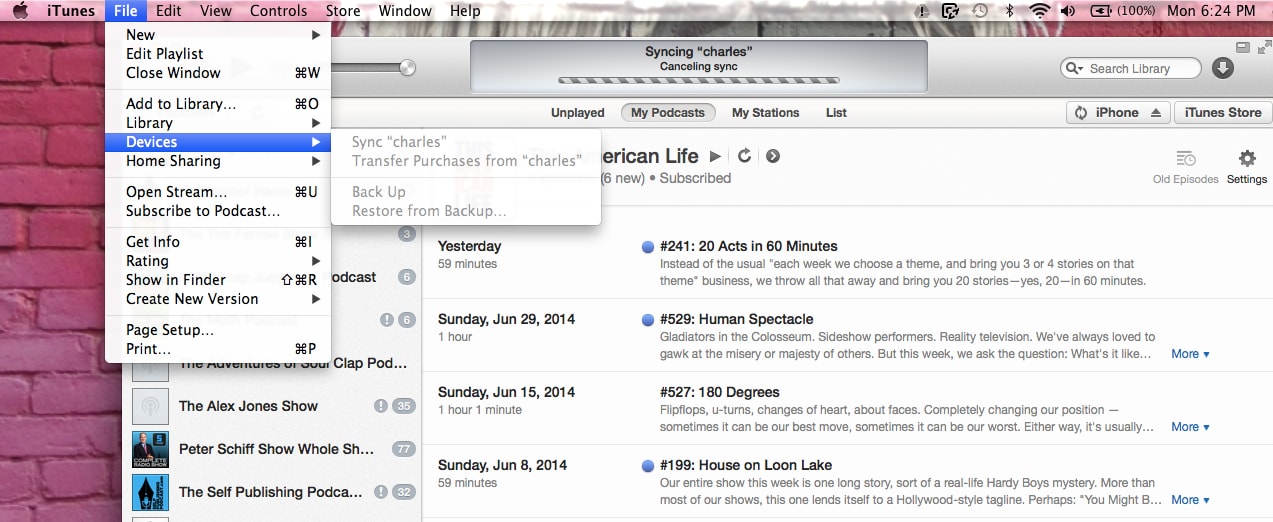 Apple users with iTunes 10.5 or later and iOS 5 or later can sync files using USB and WiFi. This is a new feature added on iTunes 10.5 that allows the user to access is storage even if they are missing the USB or does not have sufficient Internet connection.
Sync using USB
1. Open iTunes
2. Connect the iOS device to your computer using the USB cable
3. Click the device button in the upper-right corner

Sync using WiFi
1. Open iTunes
2. Connect the iOS device to your computer using the USB cable
3. Click the device button in the upper-right corner, and in the summary tab "sync with this device over WiFi"
4. After this option is selected, iTunes will automatically back up all your info, apps, music, movies, TV Shows, Podcasts, Books, and Photos onto the device when it shared the same WiFi Network as your phone.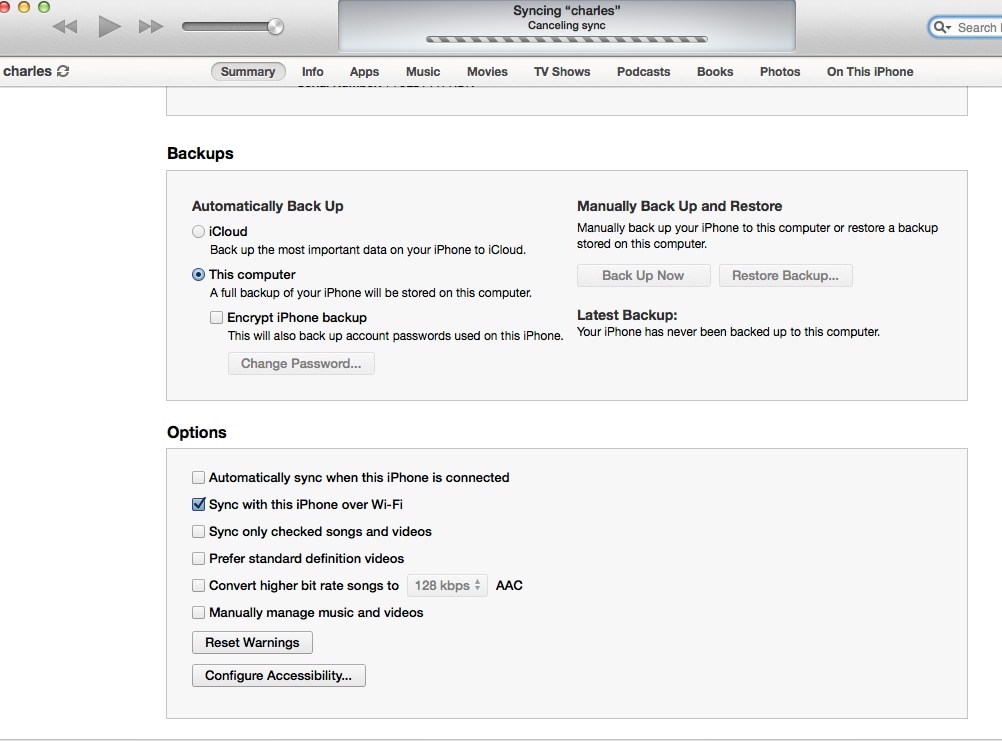 The great thing for automatically back up on iTunes is it will do everything for you, but it can become tiresome when iTunes wants to sync your entire library every time you log onto the Web. For those who do not want to carry all the data of their PC on the iPhone, Apple allows for you to manually choose the music, photos, TV shows, books, and podcasts that will be sent to your phone when you sync with USB or WiFi.
Manually Sync music on iTunes
1. Turn on iTunes
2. Plug in the iPhone with USB (or share WiFi network)
3. Click on the device from the top right tab
4. Go to Music tab
5. Customize the music on your iOS device by Playlist, Artist, Genres, or Albums
6. Repeat the process with Apps, Movies, TV shows, Podcast, Books, and everything else you can find on your iPhone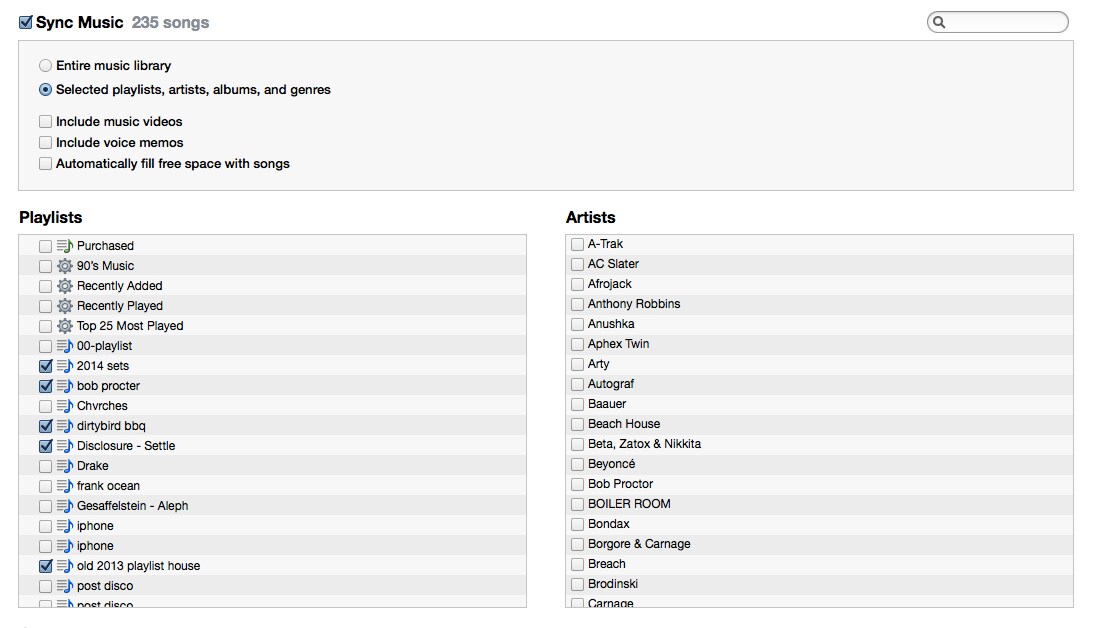 Not Saved Automatically
Apple users can back up data and setting from their iPhone - or any other iOS device - to iTunes, but iTunes will not save data already stored, including: bookmarks, contacts, calendar, documents, mail messages, notes, photo streams. In order to save your notes or, any of the data already stored, you need to manually back up on the settings under each app. Apple iTunes and iCloud will only back up purchased music and movies.
Manually Sync Notes, Bookmarks, Contacts, Calendar on iPhone
1. Open Settings
2. Scroll down and find your app (for example Notes)
3. Click notes and choose the "default account"
4. Choose iCloud to backup online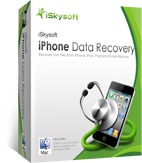 iSkysoft iPhone Data Recovery for Mac, the Best Data Recovery and iTunes Backup Extractor!
Recover lost data from iPhone, iPad and iPod touch by scanning the device
Extract iTunes backup files to take any data out of it for reading and recovery
Retrieve files up to 12 types like contacts, messages, notes, photos, videos, call log, etc.
Compatible with iPhone 5s/5c/5/4s/4/3GS, all iPads, iPod touch 5/4, and the new iOS 7.