Computer crash typically occurs in many ways that don't allow your system to power on and sometimes not going ahead of the window pane. Every computer has a different story of crashing issues from an error pop to a blue screen of death. There are lots of reasons that might result in computer crashing, such as software malfunction, window corrupt, hardware issue or the peripherals attached to the device. These things are blended and make your computer crashed, then, how to recover a crashed hard drive?
This article is going to show all Windows or Mac users how to recover data like photos, music, videos, etc. from a crashed computer in a super fast way. And it requires no professional skills for every users. All you need to do is just get the crashed hard drive recovery software on your computer, and follow the instructions to get lost pictures back from crashed computer.
To begin with, let's check the common symptoms for computer crash.
Common Symptoms and Logical Reasons for Computer Crash
Computer users all over the globe are vulnerable to such threats of a system crash. Most of the software problems are common and easy to diagnose with a little checking, however, hardware errors could be threatening and not easy to diagnose. Here, we have listed several situations of computer crash for your reference:
1. A variety of components are required to make the computer work good but these things develop faults with time and sometimes it's very hard to diagnose because they are in the hardware.
2. Alternating current is converted into direct current by the computer's power supply and it might fail sometimes when it generates a noisy signal. This is the key factor that your computer might get crashed due to an imbalance of power in the hardware.
3. Overheated RAM causes a random system crash because it is the primary hardware that commands the system. The values RAM stores can corrupt intermittently if not diagnosed in the first phase.
4. The CPU that is called the head of a computer is most vulnerable to hardware failure as there are components like cooling fan and processor that develop dust on them. If the dirt is not removed from time to time from the cooling unit it might make the fan work slowly. A slow fan would create more heat in the CPU and it would make you worried about not getting started.
5. Most often, software problems that are easy to detect are developed in hard disks with different partitions. No matter how much data is clean and stored but one single file can make the whole drive go crazy. It would generate several other virus and malware from time to time. Automatically different folders and files you would see in the drive and sometimes they would not get deleted. An error would appear that this file or folder cannot be deleted. This issue is threatening because it might swipe away all the data on your drive that you can never restore again.
6. ...
---
How to Recover Photos from A Crashed Computer/Hard Drive?
As discussed above, most of the computer crashing reports claims that users lost all the data they had on their system. Scary? So, what you would do at such point when you have nothing but a computer with keyboard and mouse? Obviously, you need a perfect solution to get all lost data back. To reach it, Recoverit (IS) for Mac or Recoverit (IS) will perform as the best assistant for you.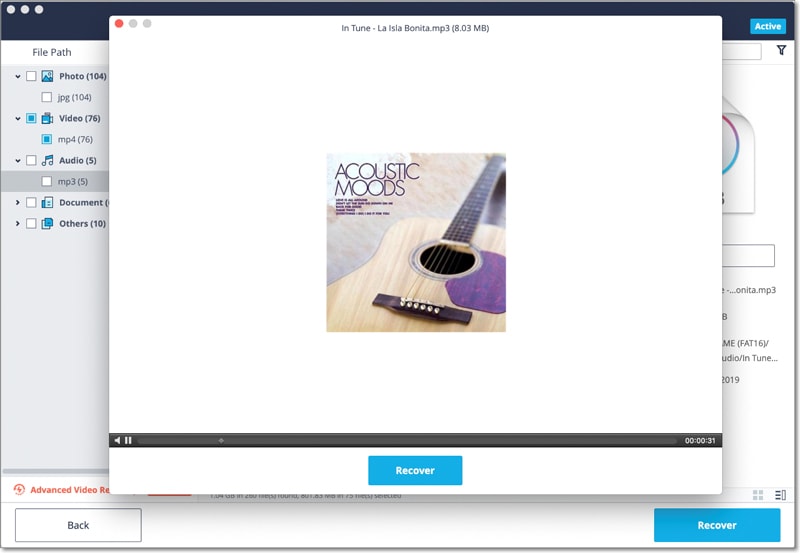 iSkysoft comes with ample of prominent features in data recovery. It allows users to recover all types of data from various disks within few simple clicks. And it divided the whole software into 8 different recovery mode, which can deals with all kinds of data loss situations. So no matter your computer data is lost due to crashed, formatted or deleted, this program can help you retrieve them as soon as possible.
Key Features of Recoverit (IS) Software:
- It has smart scanning process divided in different phases to keep a sharp eye on your lost. So that you lost photos, videos, audio, document, etc. can be found and displayed in the program accordingly.
- Different recovery mode can greatly improve the working efficiency and success rate.
- Compatible with almost all hard disks on the market, including Mac computer, Windows computer, external hard drives, SSD, memory cards, etc.
- Easy to use and 100% safe.
Learn How to Recover Photos from A Crashed Hard Drive on Mac
Since the situation of crashing is a little bit complex than other data loss situations, so we could like to recommend you to choose the "All-Around Recovery" mode.
Step 1. Select Disk for Scanning
When the program is launched on your Mac, you can see an interface like below. Select the disk that is crashed, and hit "Start" button to begin the scanning.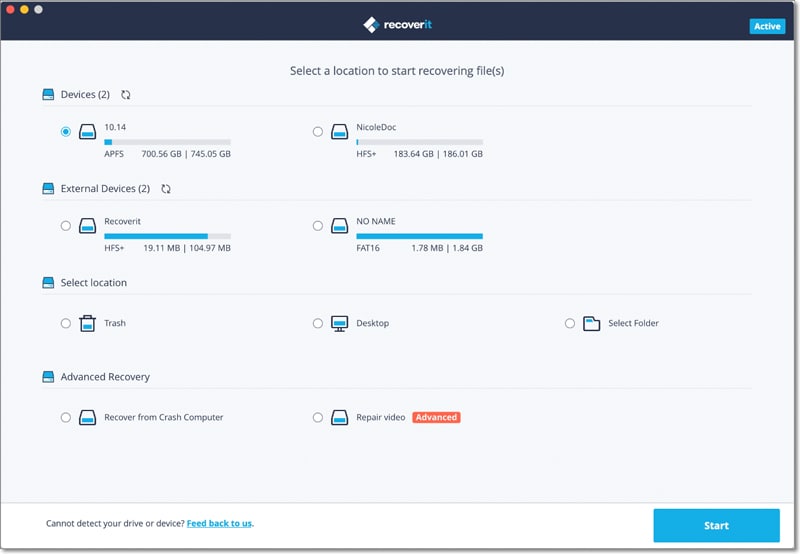 Step 2. Wait for the End of Scanning
The scanning will last for several minutes according to the size of your selected hard drive. When it is completed, you can preview all scanning files in the form of folders.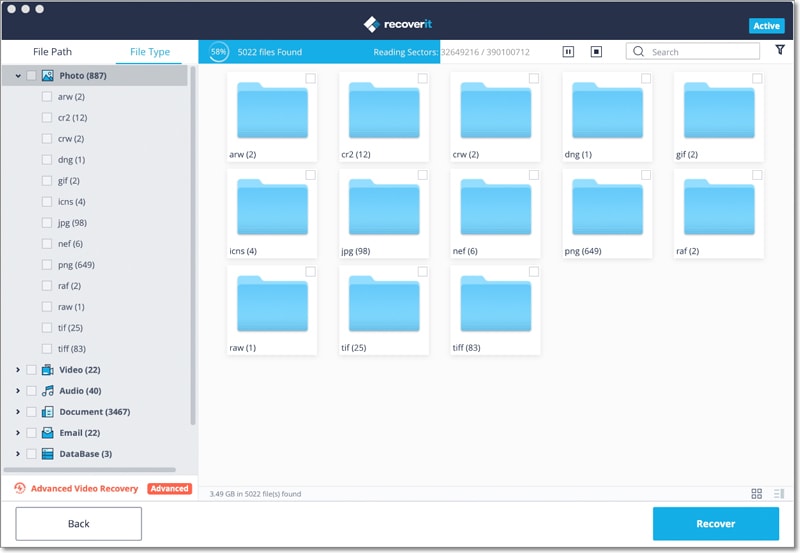 Step 3. Recover Crashed Computer
Select the data you want to recover and hit the "Recover" button to get it back. If the data is not found in this scanning results, you can click "Deep Scan" option in the left panel to conduct a deeply scanning on the computer.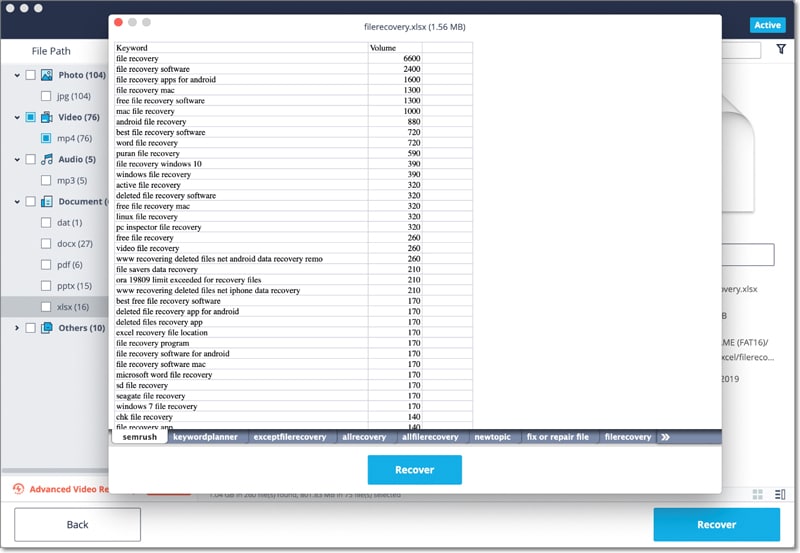 After this, you can get more recoverable files in the program. And you can preview these pictures and locate your target one, then hit "Recover" button tos ave them on your computer.