You are busy typing up the final pages of your report that is due early tomorrow. But just as you are about to complete, a power outage or a mistake on your part causes the entire document to disappear right in front of your eyes. Your first instinct is to freak out and we fully understand when you take a few minutes to disbelieve what just happened. But if you really want your document back, your next thought will be just how to get back all of the data you've lost. Rewriting the document is not an option because it was just too large and you don't have the time. So what do you do? The truth is, how to recover unsaved word document is not very easy unless you know out little secret. Fortunately for you, we've decided to share this little secret with you today. So relax and continue reading this article, you'll soon have a few ways to recover your document.
Part 1: The Best Method to Recover Unsaved Word Document
One of the best ways to recover any lost data including unsaved Word documents would be to use a data recovery program. But not just any data recovery program but the best in the business. This secret weapon is known as iSkysoft Data Recovery for Mac (or iSkysoft Data Recovery for Windows) and it is specifically designed to help you get your data back regardless of how you lost it in the first place. It is the perfect solution especially if you wanted your problem solved in the shortest time possible, which we are guessing you do.
Key Features of iSkysoft Data Recovery:
iSkysoft Data Recovery supports to recover lost, deleted and formatted data from your Mac, Windows, camera, iPod and other media devices.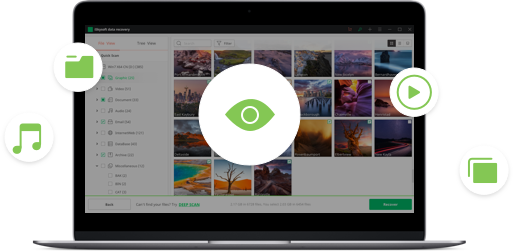 It is 100% safe and you can recover your lost data and files wothout loss of your data quality.
It is also useful to recover music, video, photo, excel, word document and many other type of data.
It can recover lost data because of virus infection, unexpected power outages, accidental deletion, software crashes and even improper operations.
Step-by-Step Guide to Recover Unsaved Word Document
Follow these very simple steps to use this great program to recover your unsaved Word Document and continue editing it.
Step 1. Download and install the program to your Mac. it is highly recommended that you install the program to a separate drive than the one containing the missing file or the one that you would normally use. You do this to prevent overwriting the data and improve your chances of recovering your data. Once the program has been successfully installed, launch it and you should see the following primary Window. Choose the data types that you hope to recover by the program, and then click "Next".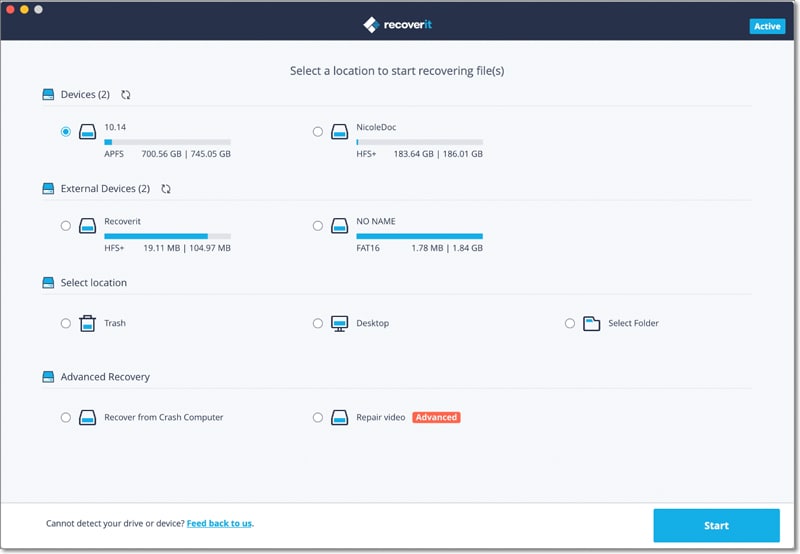 Step 2. In this window, please choose a drive and then click on the "Start" button to begin scanning the drive for the missing data. If you don't see your drive click on the refresh icon and it should appear.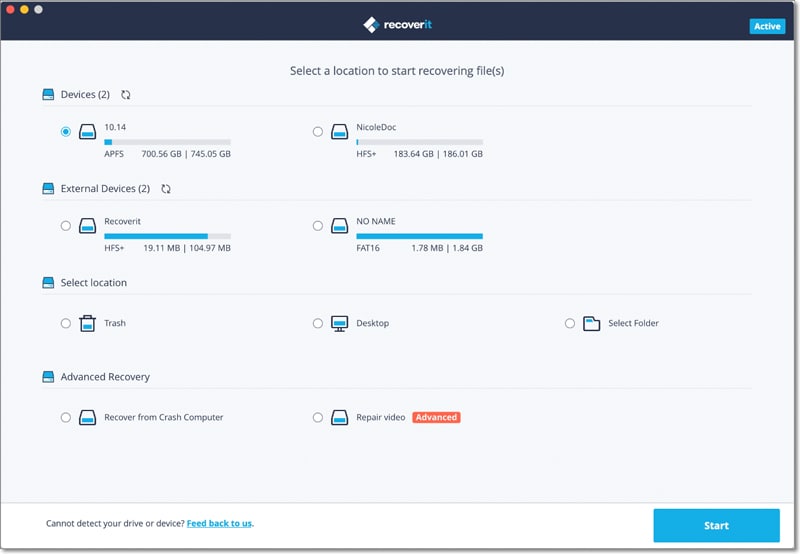 Step 3. Once the scanning process is complete, you should be able to see the results in the next window. Select the file you would like to recover from the options and then click on the "Recover" button. The "filter options" button will provide you with additional settings where you can find your missing files in short time.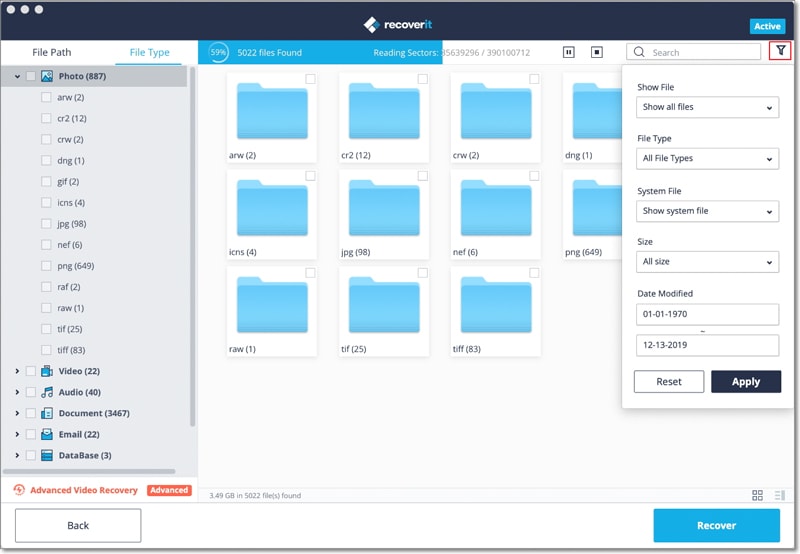 The "Deep Scan" option on the bottom is available for you to do the deep scanning into your drive thus bring more documents for you.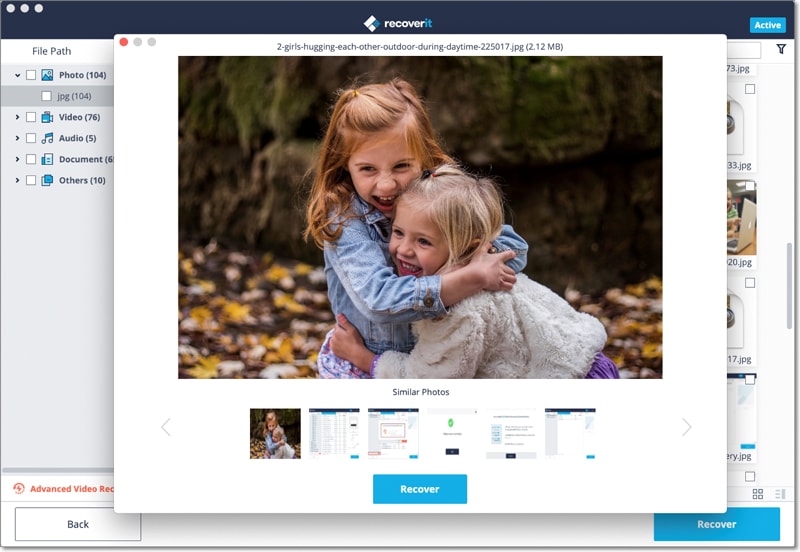 Part 2: How to Recover Unsaved Word Document Using AutoRecover Feature
You probably already know that Word can automatically create a backup of your word Document every time you save it. But did you know that you can also have Word Automatically save your document while you work on it using the Auto Recover feature? You can then use this feature to recover any unsaved changes you may have made to the document.
Steps to Recover Unsaved Word Document
Step 1. Begin by clicking on the "File" menu within Word and then click on "Options" from the list of items on the left.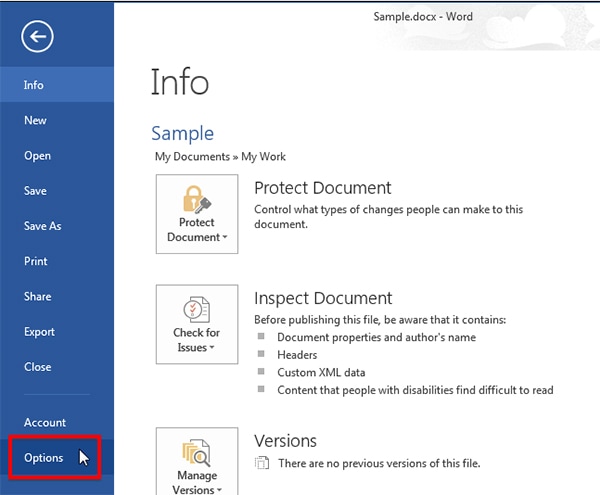 Step 2. In the Dialogue box that opens, click on "Save" on the left side of the Window.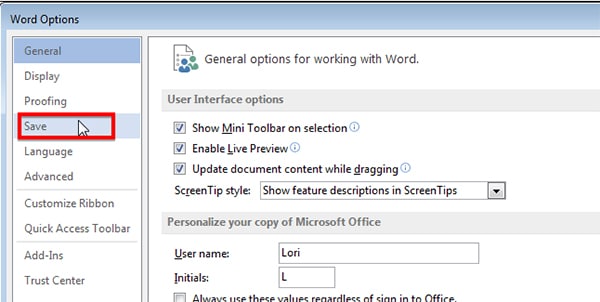 Step 3. Click on the "Save Auto Recovery Information every" check box and then enter the duration of time you wish Word to save the document.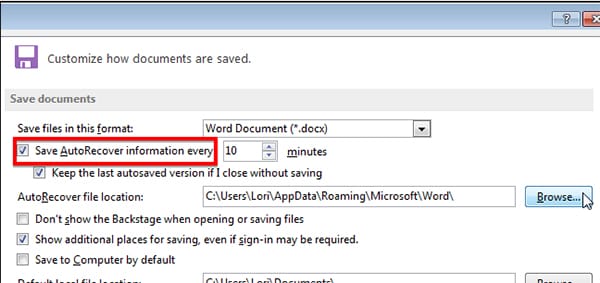 Step 4. Select where you want to save the Auto recover files in the "Modify Location" dialog box that appears and then click "OK". Click "OK" to close the "Word Options" Dialog box.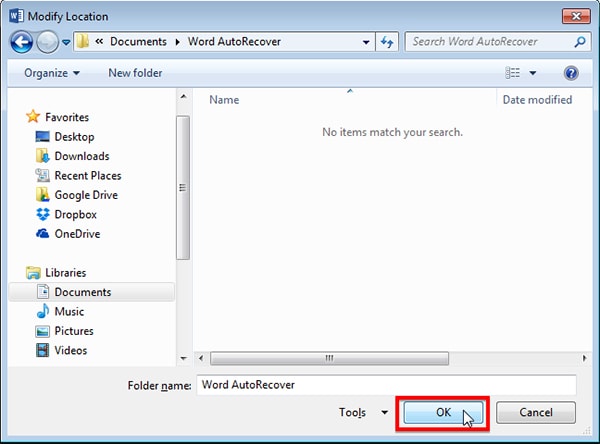 Now that we've enables Auto Recovery, let's see how to use it to recover an unsaved Word Document. Follow these simple steps to do it.
Step 1. In Word, hit Ctrl + O on your keyboard. At the bottom of the "Recent Documents" list, click "Recover Unsaved Documents".
Step 2. This will open the "Open" dialogue box in the Unsaved files folder and you should be able to see a number if unsaved documents. Their names are a little weird so the only way to know which one you want, is to look at the data and time on each one.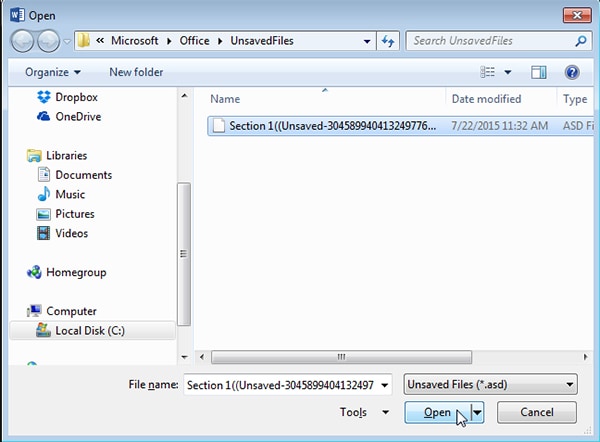 Part 3: How to Recover Unsaved Word Document Using AutoSave Function
You can also make use of the Auto Save function to recover an unsaved Word Document. this feature is the same as the Auto Recover but it is available on Word 2010 and above.
Steps to Recover Unsaved Word Document
Step 1. To use the Auto Save function to recover an unsaved Word document, open Word and then click on the "File" menu. Click on "Info" and then under "Manage Documents" click on "Recover Unsaved Document". option.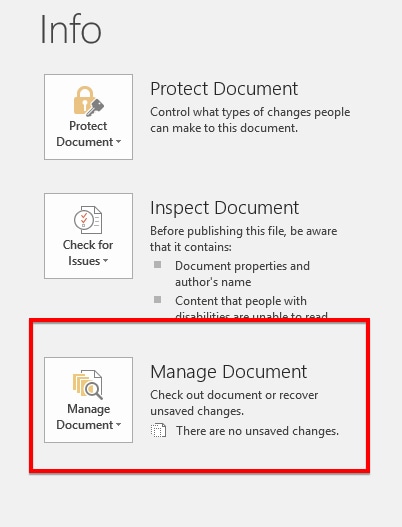 Step 2. Alternatively, you can also go to Windows Explorer and find the path C:\Users\Username\AppData\Local\Microsoft\Office\UnsavedFiles. All unsaved documents should be available there. Now all you have to do is select the draft and open it. You can then open it up in a fresh Word document and then save it under an appropriate name. Keep in mind that the Auto Save Function will only work to recover documents that are 4 days old. After 4 days all unrecovered files are automatically deleted.
For this reason, the two methods we have seen above are only helpful if you had actually turned on the Auto recovery feature and you lost your document earlier than 4 days ago. If none of these pre-conditions apply to you, you will have lost your document entirely and have no way of getting it back unless you use a data recovery program. A program like iSkysoft Data Recovery for Mac can come in handy when you must recover an unsaved Word document. The program is not just easy to use but will also recover the document as -is, with all of the formatting intact. When you are pressed for time and need to recover your document as soon as possible, a data recovery program like iSkysoft Data Recovery for Mac is a program you must have above all else.
But to avoid this problem in the future, it may be a good idea to save your document as you work on it and Word will continuously automatically save any changes you make. A backup of the document may also come in handy. With cloud storage solutions such as Google Docs and Dropbox, you have a lot of options and can access your document from any other device.