Contents
2. Recover Files from Samsung
Have you ever lost important data from your Samsung phone and felt an utter loss? A lot of us have been in this panicky situation and we find it terribly hard to deal with it. People start looking for ways by which they can recover their lost data because it may contain something very important. Some of us save our important password credentials in our text messages. Sometimes, your contacts may contain some important numbers which you do not recall otherwise. Not only this, your phone also stores plenty of pictures and videos which are very special memories to you. Hence, no one wishes to lose their data and thus we start looking for ways to recover deleted files from Samsung. Is there really a way to get back the erased files? Yes and let us find out the details.
Part 1. Top Samsung File Recovery Software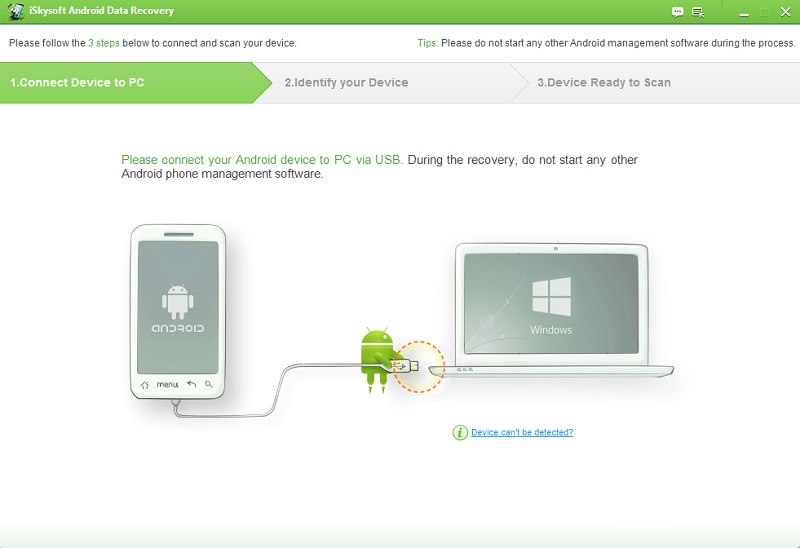 In order to recover deleted files from your Samsung phone, you can opt for iSkysoft Android Data Recovery. It is compatible with a wide range of devices as it supports 6000 plus models and different Android OS as well. You can restore different kind of file formats which includes: text messages, photos, videos, WhatsApp messages, audio files and various documents.
Part 2. The Steps for Restoring Files on Samsung
Now that you know the main features of iSkysoft Android Data Recovery, let us take a look at how you can successfully recover your deleted files from Samsung Galaxy S3, S5 and other Samsung phones using this software.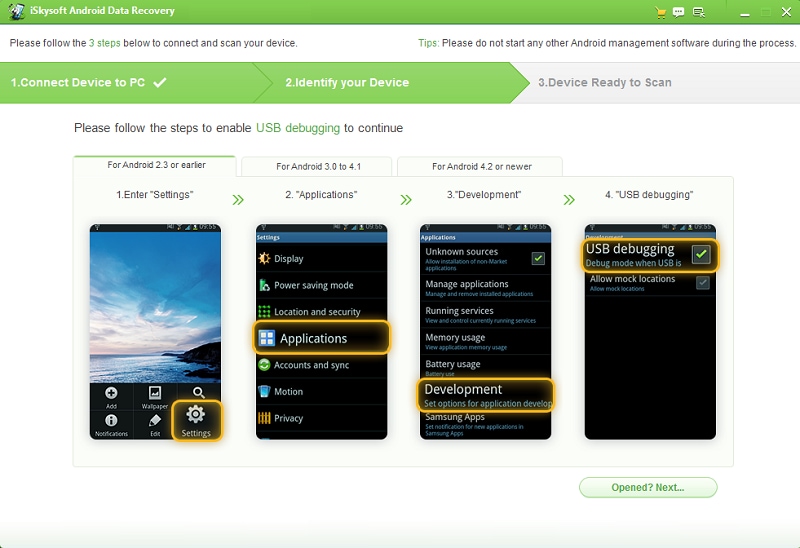 Step 1. Plug in Samsung Cell Phone
Connect your Samsung phone to your PC which has the Android Data Recovery installed in it. Now, you need to enable "USB Debugging" in your phone. You only need to follow to the steps shown on the program's interface to enable this mode.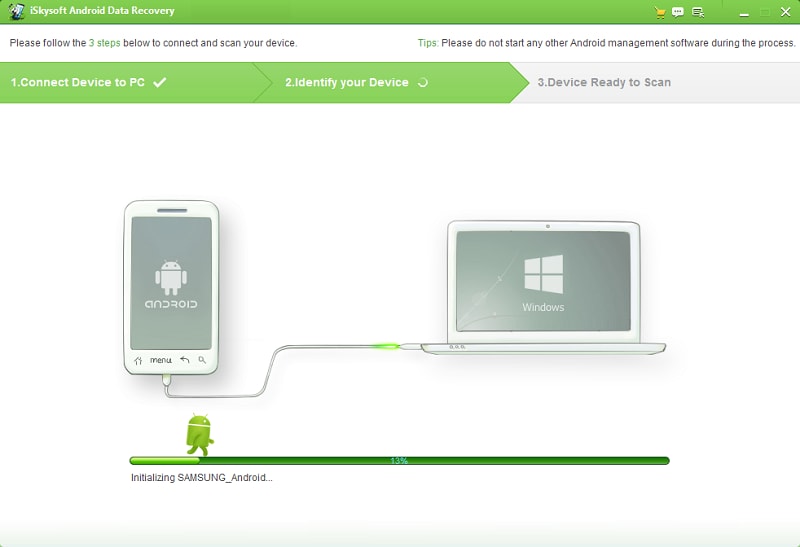 Step 2. Prepare for Scanning Process
After you have entered the USB debugging mode, the tool will be all set to start scanning your device. On the screen, hit "Next" to authorize the tool to start the scan.
For rooted phone, you will have a prompt asking you to allow super user authorization. Click "Allow". Once you have permitted the authorization, go back to the PC and hit "Start" to begin the scanning.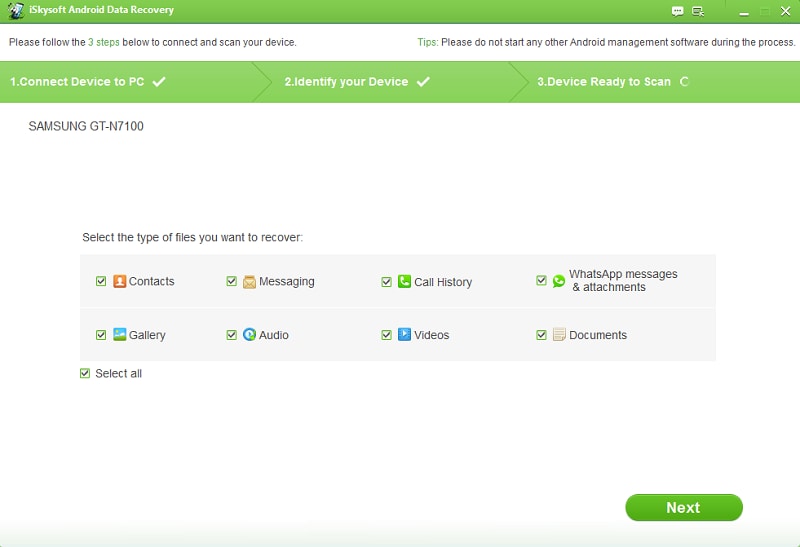 Step 2. File Type and Scan Mode Selection
You will find a list of file types which the tool can successfully scan. If you want to recover all files, check the option "Select All". If you only wish to recover selected files, make multiple selections by clicking in their respective boxes.
You now need to choose the scanning mode. There are two possible modes namely
Standard mode: choose "Scan for deleted files" as it only scans for those files which have been deleted. If you want a complete scan, you can choose scan for all files. This will take a longer time.
Advanced mode: this mode should be chosen only when you suspect that not all your delete files were recovered. In this scanning mode, the tool makes a deeper scan of your phone memory.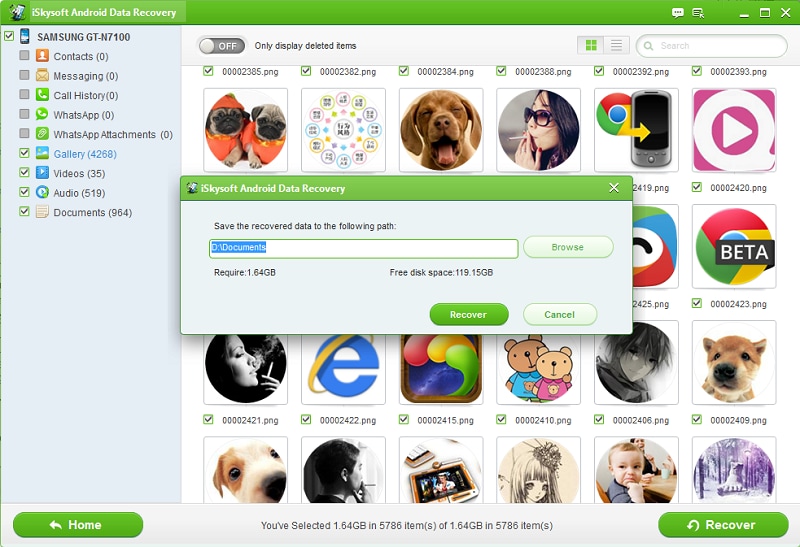 Step 4. Recover the Files You Need
After the scanning is complete, you will again find a list of categories which you wish to recover. Whichever category you want to recover, click on the same on the left hand side. The details will be listed on the screen.
You can choose the option, "Only Display Deleted Items". Select all the contacts which you want to recover. Click "Recover" option and you will be prompted to choose the location where you want to save your contacts.
While this software is easy to use, here are a few tips which can come in handy.
Do not plug out your phone when the scanning or recovery is being done.
It is important to have ample charge in your phone when you connect it for scanning; a minimum of 20% battery is advised.