Contents
4. Recover Photos from Samsung
Many of us love taking photos about the great things that we experience every day. For some it's a hobby. Others see it as something more personal than just randomly snapping shots at anything. With the phones that we have today, this shouldn't be that difficult. Yes, mobile devices can store a lot of photos in it. But what if you clicked something that deletes everything on it? You attempt to undo the act but found nothing. No photos, empty files - nothing.
Feel like panicking? Don't be. You can still get them back. You just have to know how and what tool you are supposed to use to restore deleted photos right where you saved them. More than that of documenting your experiences, sharing the pictures to the people close to your heart is a great thing. Now I will tell you how to recover deleted photos from Samsung. Ready? Spotlights on…
Part 1. The Samsung Photo Recovery Tool You Need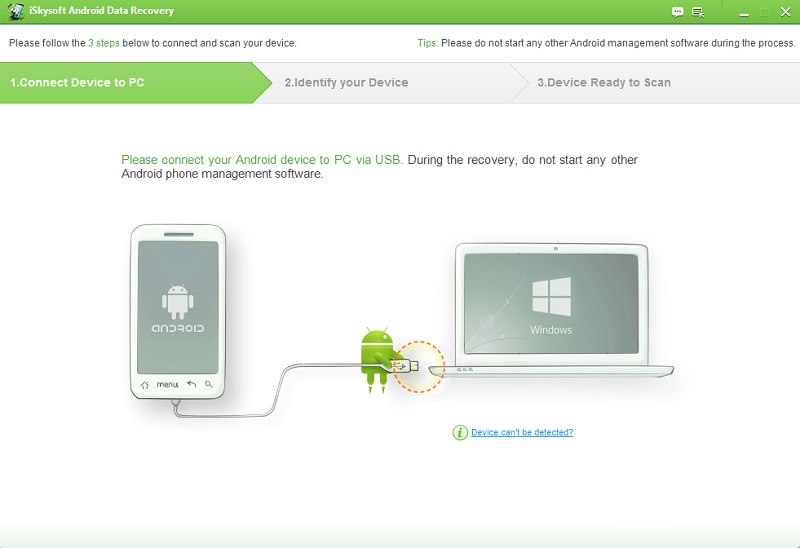 Whether you have accidentally deleted your files or corrupted them through a software update, there's still a way back to gather them up. iSkysoft Android Data Recovery lets you do this. Great thing is, its recovery capability is not only limited to photos. Items like deleted contacts, text messages, audio files, documents, and many more can be restored given that you follow the right steps on how to do them. And don't worry about the compatibility, for this fabulous program supports 6000 Android devices.
Part 2. The Guide for Recovering Deleted Photos from Samsung
If you're using a Samsung phone and have deleted something, then you're in for a treat. We will walk you through the process.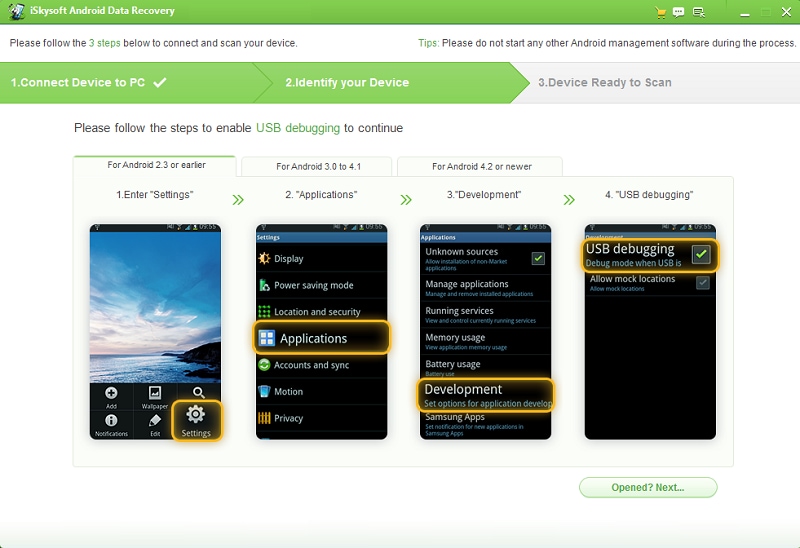 Step 1. Plug in Your Samsung Phone
Start up your computer and run iSkysoft Android Data Recovery. Get a USB cable and use it to connect your device to your PC.
Then you will be presented with a guide on how to proceed with the "USB Debugging". You have to be very careful when it comes to following the guide. The instructions that are found in there are specific to the mobile unit that you are using.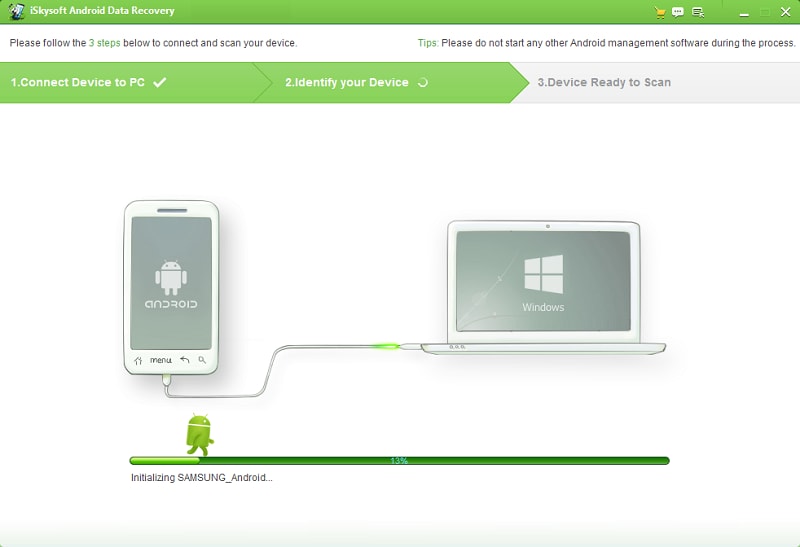 Step 2. Analyze Your Phone before Scanning
As soon as you finish the USB Debugging, you have to click "Next". This will allow the program to analyze all the data present in your device.
For rooted Android devices, allowing the program Superuser authorization on your screen is necessary. You do not need to do anything special. As soon as the message pops out, you just need to click "Allow". Then go back to your PC and click "Start". This should start the scanning of your device.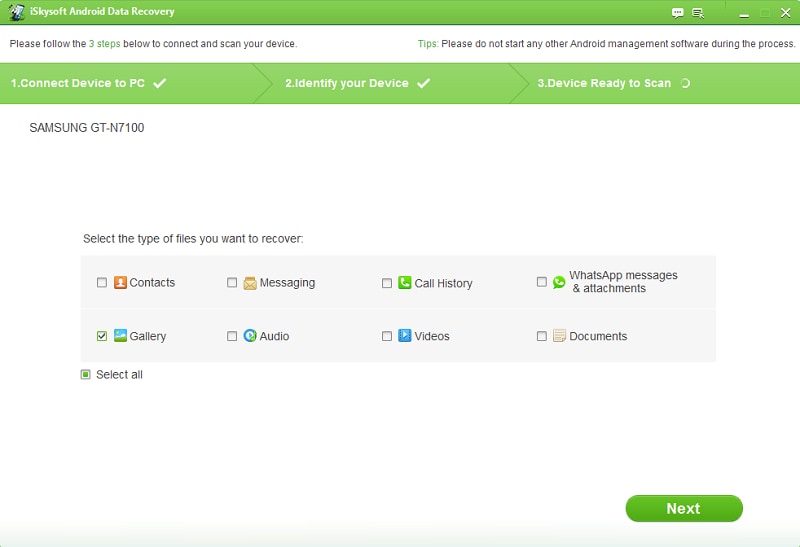 Step 3. File Type and Scan Mode Selection
Scanning for all the deleted photos can take time. To speed up the process, you can directly go to "Gallery" in the file type selection, where all of your photos are saved. Once in "Gallery", click "Next" to start scanning.
You will be presented with the options; "Standard Mode" or "Advanced Mode". Each will come with a description. Take time to read and understand what they do before you choose which mode you prefer.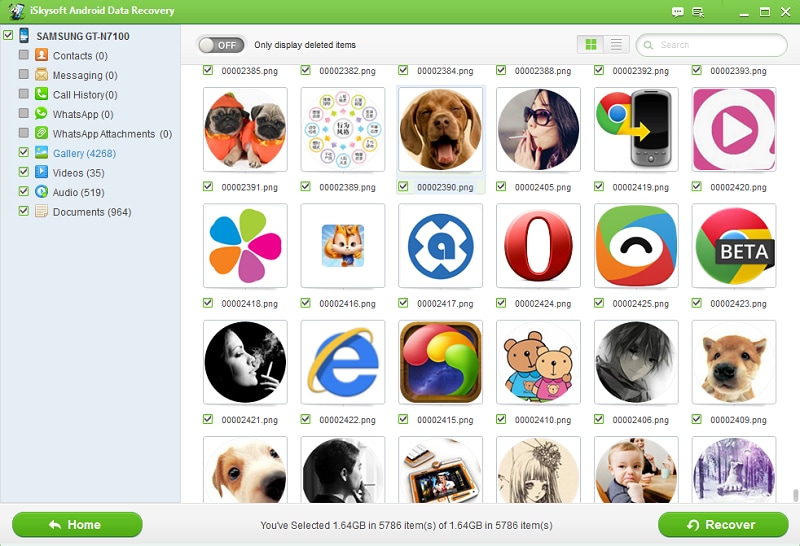 Step 4. Preview to Choose What to Recover
While scanning, be mindful of those photos that you are looking for. Once you see them click "Pause". Depending on the amount of files that are being scanned, the entire process can last for several minutes.
Check those photos that you want to restore and then click "Recover" found at the bottom of the program. In the pop-up window that will appear, select a folder from your local drive where you want to have the recovered photos.
And there you have it! Now you're ready to check out those pictures you've recovered and share it to your family and friends! To be safe, you may want to back up the photos now in your PC just to be sure.
Part 3. Ensuring the Safety of Your Photos
As soon as you realize that you have deleted the photos present on your mobile, it's best to stop using it temporarily. At least until you have restored everything. The files will not be gone and are just there, waiting to be overwritten by a new data.
To make sure that they don't get lost, it's best not to use the device first. If you really have to use your phone, then go ahead and install iSkysoft Android Data Recovery on your computer. Then, go ahead with the procedures that we just presented.
One great thing about this program is its variety of service coverage. It's not only photos that you can get back, all the things we have mentioned above like the text messages and audio files can also be recovered. The efficiency of its function is one of the reasons why there is a growing demand for the program.