Contents
5. Recover Pictures from Samsung
As the old saying goes, "A picture tells a thousand stories". With the advent of modern technology it is now easier than ever for any ordinary person to take photos with a device such as a smartphone or tablet. Samsung phones and tablets are some of the most popular and common mobile devices all over the world. They run on the Android operating system. People sometimes lose their photos on their device and this can be a very traumatic or frustrating experience due to how important the photos are or the memories they bring. Some common causes of loss of photos are abrupt ejection or removal of the SD card in the device, virus or malware infection, exposure to the elements such as water or too much heat, and accidental deletion. But don't worry. I will teach you how to recover pictures from Samsung Galaxy and other Samsung phones.
Part 1. Top Samsung Picture Recovery Solution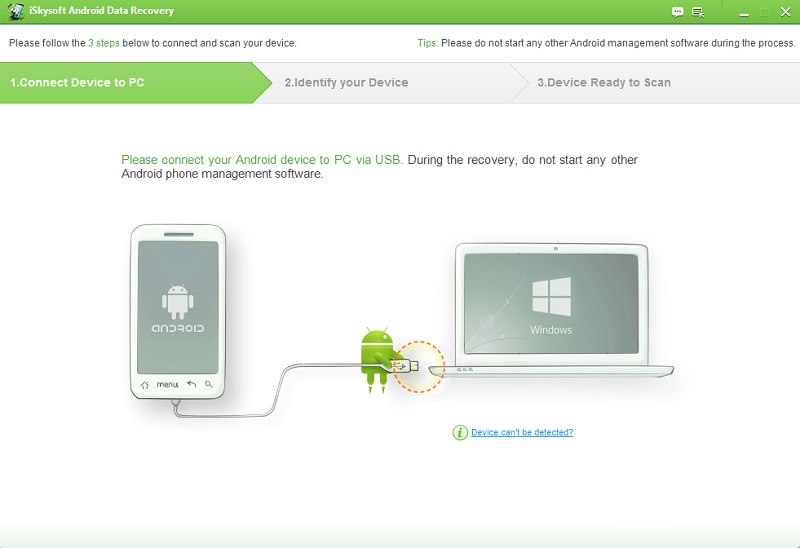 iSkysoft Android Data Recovery is an ideal data recovery program for retrieving contacts, messages, photos, videos and documents from phones or tablets that run on the Android operating system. This recovery tool can restore your important data even if the files were accidentally deleted, or corrupted. It supports over 6000 devices including all rooted Samsung devices, regardless of the version of Android OS. It also allows you to preview your data before recovery.
Part 2. How to Restore Deleted Pictures on Samsung
After iSkysoft Android Data Recovery is installed on your computer you can follow the steps below to recover your pictures back to your Samsung phones. The image formats supported are .jpg, .tiff/tif, .png, .bmp and .gif.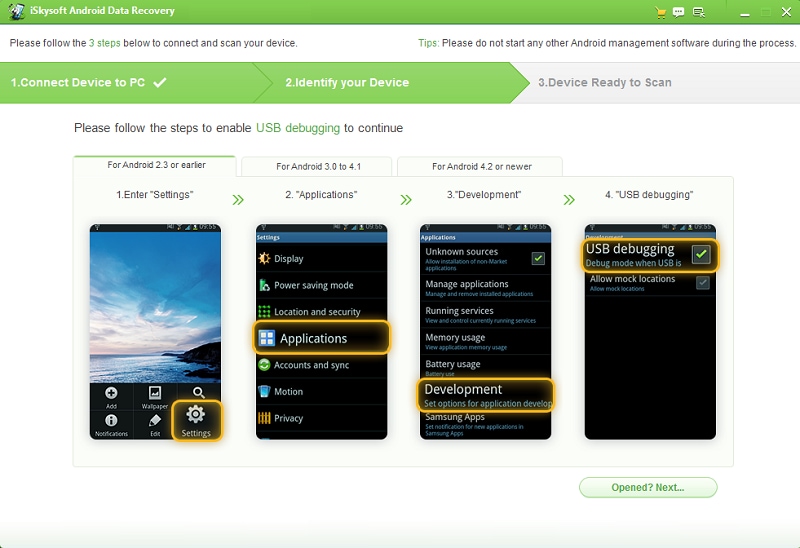 Step 1. Connect your Android Device to Your Computer
Run the Picture Recovery for Samsung on your computer and then connect your Samsung phone to your computer when prompted.
Make sure "USB Debugging" is enabled on your device. On most devices this option is found under "Settings < Applications < Development" then check the box next to "Enable USB Debugging". You can find the detailed instruction on the program's interface.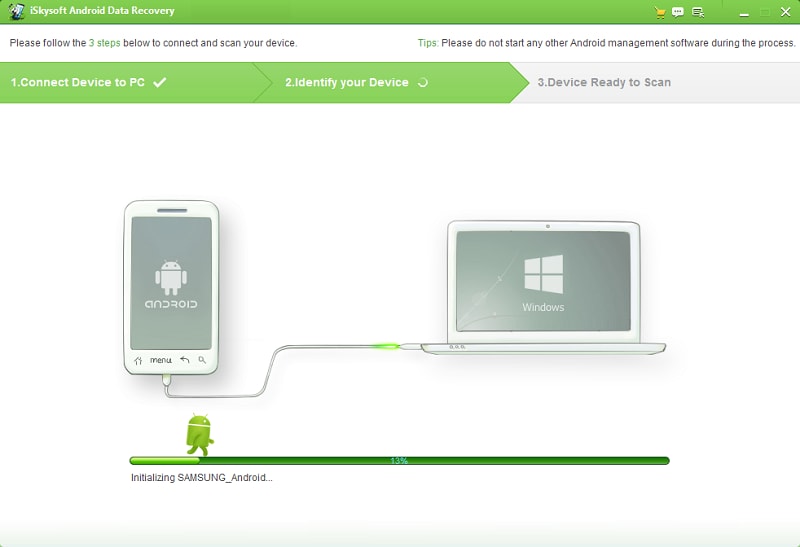 Step 2. Analyse Your Samsung Device
After USB Debugging has been enabled on your device, click "Next" on the program to begin analysis of your device to determine which data can be recovered.
If your Android operating system is already rooted, at this point you may receive a prompt on your device requesting Superuser privileges. Click "Allow" if this prompt appears, then click "Next" on your computer to begin the scan.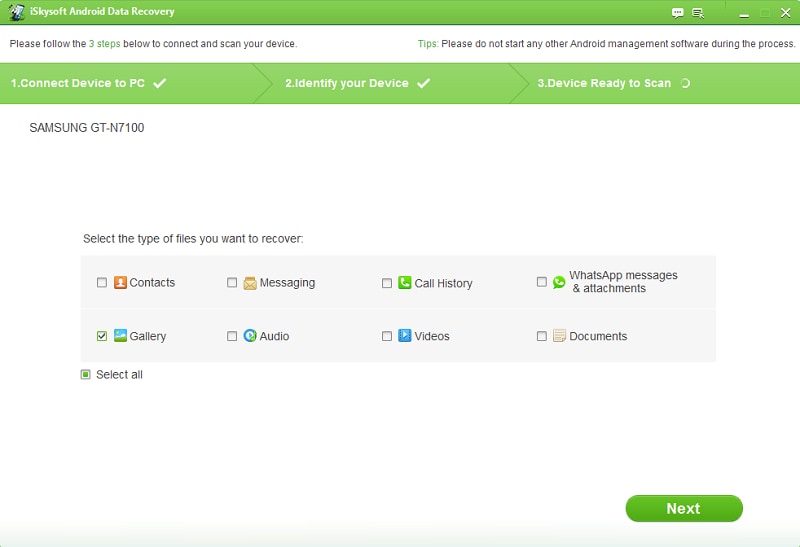 Step 3. Choose Files to Scan and Scan Mode
On the next screen that appears, check the boxes next to files you would like to scan and recover. In this case, pictures are found under "Gallery" so check the box next to "Gallery".
After selecting the files to scan, select the scanning mode. Each scanning mode is useful in different situations and has a short explanation below to help you understand what it does. In this case we are scanning for deleted files so click the button next to "Scan for Deleted Files" and click "Next" to proceed.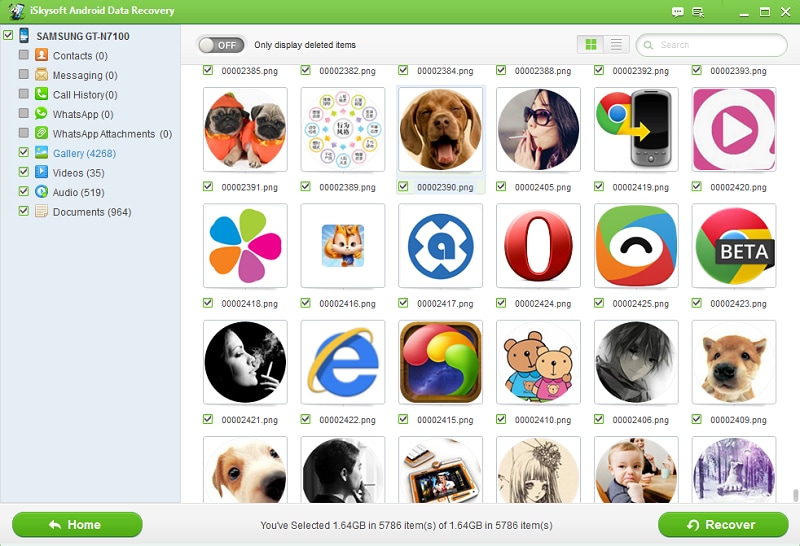 Step 4. Preview and Recover Your Data
The time taken to scan your device is mostly dependent on how many files there are to scan, and your computer's speed. In most cases it takes only a few minutes. The list of recovered files with previews is populated as the scan progresses. You can wait for the process to complete, or pause it at any time if all the files you want to recover are visible.
After the scanning process is complete, select the files you want to recover by checking the boxes next to them and click the "Recover" button. In the window that appears, select a destination folder for the recovered files. It is advisable not to save them back to the phone immediately without checking because they may overwrite newer files with the same names.
It is always a good idea to back up your most cherished photos and moments, and keep your device away from viruses and other malware. This can be accomplished by being selective of the apps and services that you subscribe to or choose to download. It is also advised to never remove the SD card from your phone abruptly especially when the phone is still on. This may cause the data on the SD card to become corrupted.