Contents
3. Recover Text Messages from Samsung
Text messaging has become a vital part in today's mode of communication. But because of the flood of information that we get every day, we tend to have some issues about filtering which among the ones that we receive deserves utmost attention and which can be checked later on. Sometimes, we are bombarded with just too much data that we seem to forget that we still have something that needs our attention. It's when all things start to get mixed up that important messages start to get lost. Accidental or not, deleting messages is inevitable. But it's a whole new different story when what you just deleted contains vital info that you have not yet seen.
You have to get them back. Immediately. Otherwise, business and personal transactions may be compromised. If you're in this scenario right now and trying to recover deleted text messages on Samsung, then you are on the right page. This article is all about an efficient tool that will allow you just that in a very easy to follow way.
Part 1. The Software for Recovering Messages on Samsung
There are several reasons why messages are deleted from Samsung phones, but three common scenarios stand out from the rest. Between these, issue about accidental deletion is more often.
Accidental (due to carelessness or hurry)
Phone malfunction (software issues and common mobile phone bugs)
Intentional (when you've read them or are not interested to read the content at all)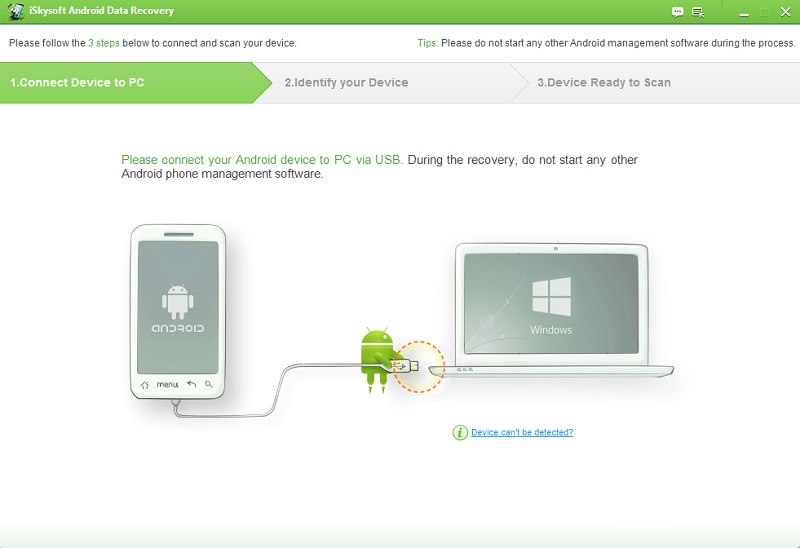 Now, you do not have to worry when you're faced with the same problem. With iSkysoft Android Data Recovery, you can immediately bring back the lost messages from Samsung phones.
Its service does not only include text messages for recovery. Even audio files, videos, images and many more can use this. If you have your Samsung mobile with you, then we can go ahead and start with the procedure.
Part 2. The Guide for Recovering Deleted Text Messages on Samsung Galaxy and More
iSkysoft Android Data Recovery is your all in one recovery program that combines speed, ease and efficient functionality all in one. Ready to get your text messages back? Let's take a quick look!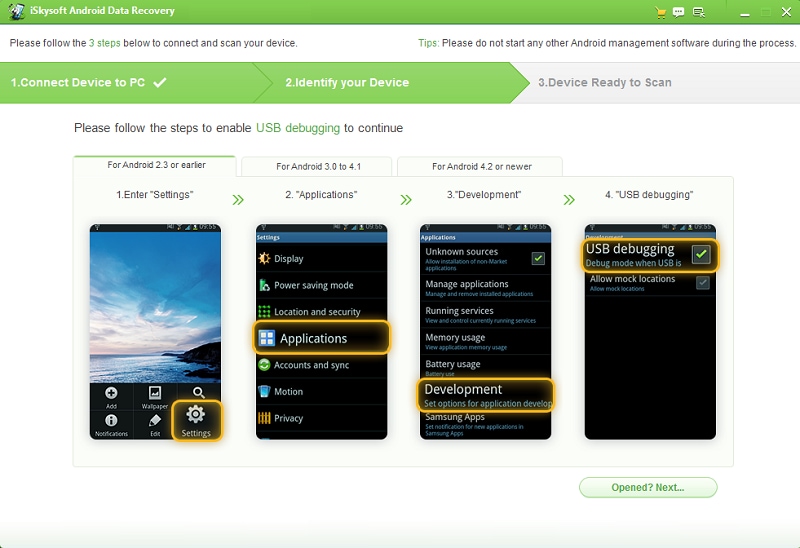 Step 1. Connect Samsung with Computer
Turn on your computer as well as your Samsung phones. Using a USB cable, connect your phone with your PC. This SMS Data Recovery tool should be able to detect if your phone has "USB Debugging" enabled. If not, then it will give you series of instructions in the program's interface that you will have to follow to make sure that you enable it. Here are 3 sample steps:
Android 2.3 or earlier versions: Go to Settings. Choose Applications. Click Development. Check USB debugging.
Android 3.0 to 4.1: Go to Settings. Click Developer Options. Check USB debugging.
Android 4.2 and later versions: Go to Settings. Click About Phone. Click Build Number until you receive the notification, YOU ARE UNDER DEVELOPER MODE. Go back to Settings. Click Developer Options. And check USB Debugging.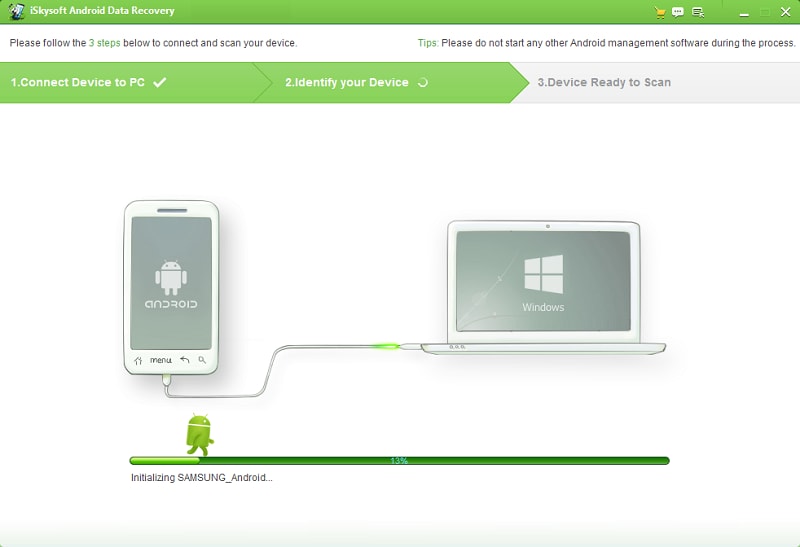 Step 2. Scan Your Android Phones
Once you have enabled the USB Debugging, all you have to do is to click "Next" that appears on your screen. This is the command that will signal the program to analyze the data in your phone.
For rooted android devices, you will have to allow Superuser authorization on your phone. Instructions will be presented right after. Follow all of them.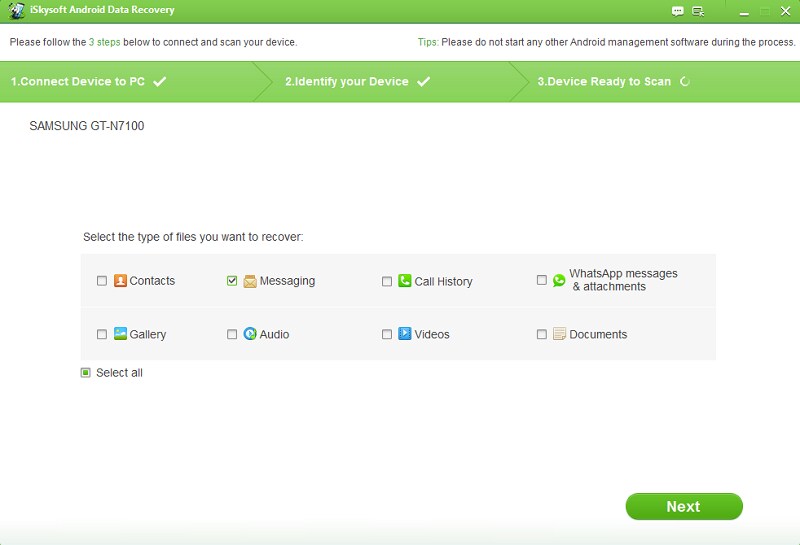 Step 3. Select Files and Scan Mode
Choose the text messages you would like to scan. Click "Messaging" to gain access to those texts that have been deleted.
Then choose the mode of scanning. Two options will be presented to you; "Standard Mode" and "Advanced Mode". Each of these has their specifications which you can just view from your mobile. After choosing, click "Next" to start the scanning procedure.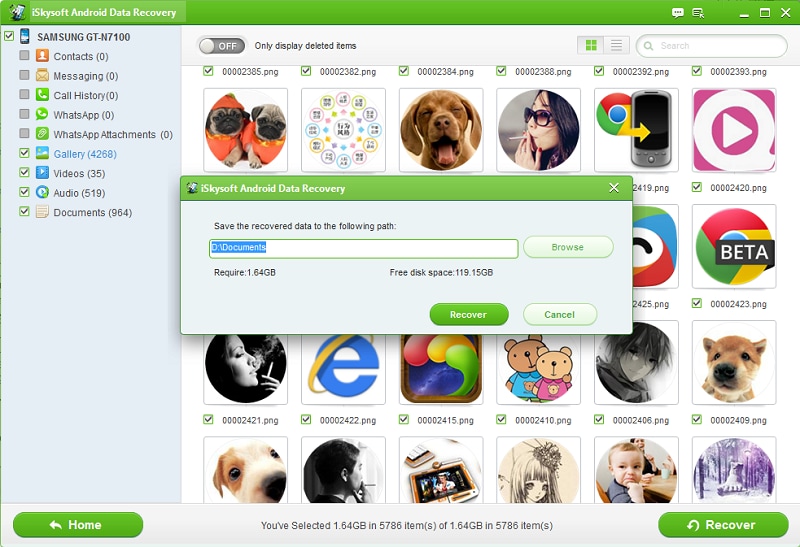 Step 4. Recover SMS on Samsung
While the scan is going on, you can click "Pause" every now and then when you see the text message that you are looking for. Click "Recover" below the program and then choose a folder on your computer where you want to save it.
There you go. In just a few simple steps, you can now take a look at those text messages that you fail to open up and those that you have deleted without even reading it. You can now pay attention to what they contain so you don't miss out some of the best events and updates around you.
Part 3. Best Practice before SMS Data Recovery for Samsung Galaxy and More
Files that are deleted are technically not gone forever. They are just there waiting to be recovered. They will only be lost once you enter additional data which will then overwrite the old ones.
While iSkysoft Android Data Recovery does an efficient job in recovering, you'll have to do your own share of the bargain. Just to be sure, it's best not to use your device as soon as you realize that some text messages are lost. If you input additional data on it, those that you ought to recover may be lost in the pool of information that is coming in.
Also, once you have tried recovering some, you may want to consider implementing a form of strategy to filter your messages better. It's all up to you on how you can go about it. If you keep on losing important messages, then you better take some action to identify what's wrong. This is to save you from the hassle of recovering files every now and then.