Flash drives are used by most as they provide convenience in transferring content easily from one computing device to another. However, in case the drive or device is damaged, that can lead to files being corrupted inside it. It could also be because of virus attacks on the files or the drive as it gets infected from any device that is connected to the internet or malware that resides in the hard drives of a computer.
In this post, you can learn how to repair corrupted USB flash drive in Windows 7/8/10 and restore lost data after repairing. Now, you can drive to the right section.
What Might Cause Corruption on Your Flash Drive?
File corruption on flash drives can happen due to different reasons. Though cloud storage has become a popular option for storing and sharing files or data easily between different devices, USB drives still remain a popular choice for many. Here are some reasons that data or device USB flash drive could get corrupt:
- NAND flash drives often show problems when they are reused time and again. Flash drives, and they can have problems retaining data, especially with the right kind of accuracy or in preserving their right form. Hence older flash drives are bound to show such problems.
- Environmental factors are the next aspect to consider which can corrupt data in a USB flash drive. When such a device is subjected to high temperature, humidity, it can lead to damage to the circuit board of the drive.
- Incorrect removal is another reason for which data can get corrupted on a flash USB drive. It is important that the option to remove the storage device safely is chosen every time such a device is pulled out from a PC or any other gadget.
- USB drives often get damaged due to being improperly inserted or other issues that can make the data inaccessible.
- ...
Now, the tragedy of corruption have happened on your USB flash drive, then how to recover files from it?
---
How to Fix or Repair An Unreadable or Corrupted USB Flash Drive?
When a USB flash drive is corrupted and unreadable, sometimes you may hard to access to the data stored in the drive even though you have an assistant tool like Recoverit (IS). There are several common reasons might cause the USB flash drive is inaccessible, and here are some possible solutions are given to such problem.
#1. Broken stems and connectors, no power to the USB
This could be an indication that physical errors exist when such error messages are displayed. These are usually displayed after you connect to USB. The reasons could be several:
- The drives could be dead or unresponsive.
- Controller chops or circuit boards could be damaged.
- When USB connector is broken physically or damage is done to the circuit board, this usually leads to power not being supplied with USB.
- Circuit repair or soldering are the possible ways to get the USB flash drive fixed.
In order to try and recover the data from such a damaged USB drive, it is best that professional assistance is sought. Experts who can help with physically repairing the drive will be able to help you gain access to the data stored inside the drive.
#2. Error: "please insert a disk into removable disk"
This kind of error occurs when the software inside the flash drive goes corrupt. There could also raise issues with NAND memory inside the disk which could also be because of overuse and low-grade NAND memory chips used. As the drive is reused for reading and writing the state becomes worse of the drive.
Usually, such an error message indicates that NAND memory chips have gotten corrupt. The metadata that is stored in these chips can be wiped or corrupt which turns the drive and makes it unreadable. You could also check Device Manager to check USB drive memory capacity, which will show it to be 0 MB. In such cases as well flash or USB data recovery professional assistance needs to be sought.
#3. Undetectable USB flash drive
USB flash drives when inserted into a computer and cannot be read could be due to problems with the port connection. Hence, before the USB drive is sent for repair you also need to ensure that the port works fine.
In order to test USB port the following steps can be followed:
- Remove the unreadable USB drive from the port and restart the computer and test the port by inserting the USB drive.
- Usually, a computer has several ports, then the different ports can be tried. Or in order to check the port connection, go to Control panel and navigate to the section called Device Manager.
- Expand on the option given as Disk Drives. There would be a down-facing arrow on a USB drive, double-clicking it and you can choose the option "Enable Device".
- You can finish this operation and choose a drive letter to assign to it, then right click on the USB drive and select option "Change Drive Letter and Paths".
- Click on add and then OK.
---
One-Stop Solution to Recover Files from A Corrupted USB Flash Drive
Most people think perform a data recovery on a corrupted USB flash drive is complicated, the facts also prove it. But thanks to Recoverit (IS), all things become easier than before. It offers several beneficial features that prove useful to get back damaged, corrupt, overwritten files from different partitions and drives of a computing system.
And the main advantage of using the tool is the easy to use interface. With a few choices that are given to the users, comprehensive scans are made of a system and that leads to effective results most of the time.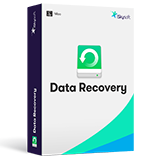 Recover different file types and formats, whether they are corrupted, damaged, deleted, resized, formatted or lost.
There are 8 modes of data recovery offered by the program. The recovery settings can also be set differently. It works in a way that running of your computer system is not harmed while it searches or retrieves data as per your requirement.
Work on the hard drives of PCs, laptops, USB flash drive, memory cards, external disk and others.
Pause scanning or stop to save the results of a scan which can be referred to later.
Step-by-step Guide on Recovering Files/Data from Corrupted or Damaged USB Flash Drive
Step 1. Install and launch the program on your Mac or Windows computer, then, you can see an interface as below.
By default, you'll be taken into the "All-Around Recovery" mode, and if you wish to try other mode, you can hit home icon back to the main screen, and select your needed recovery mode as you like.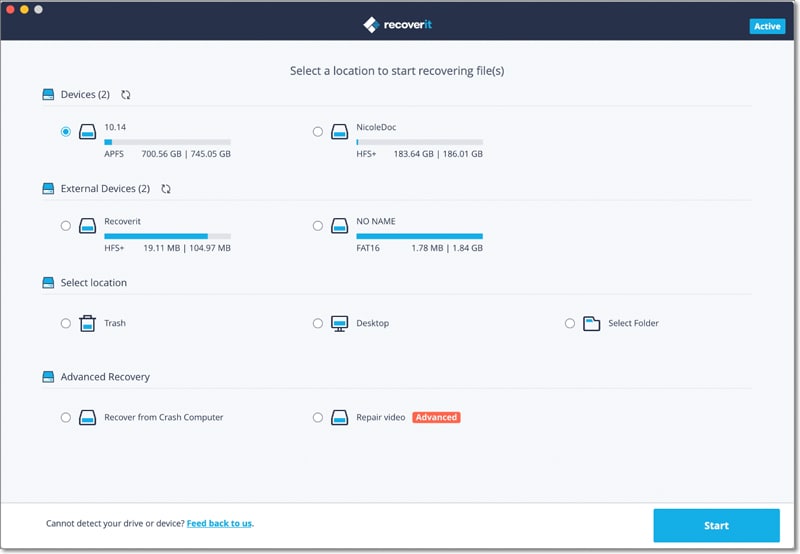 Since the device is corrupted, so the situation is a little bit complicated than before, you can directly use the "All-Around Recovery" option.
Step 2. Connect the corrupted USB flash drive to Mac or PC and make it be recognized by your computer. Then, you can choose your USB flash drive and click "Start" to begin a scanning process.
Step 3. The scanning will be finished within few minutes, and you can preview all recoverable files in the program as you like. Tick you needed data and hit "Recover" button to save them on your computer.
Note: If your target files are not found, you can conduct a Deep Scan on the device again.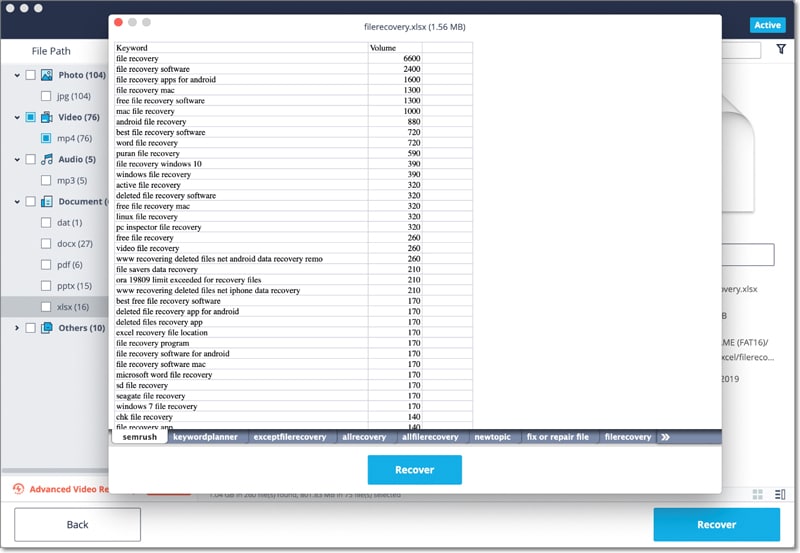 ---
Conclusion
No matter what the issue of your USB flash drive, with the help of Recoverit (IS) for Mac or Recoverit (IS), you'll be able to retrieve data from corrupt, unresponsive USB drive within few clicks. Now, all you need to do is download it to your Mac or Windows computer.