Contents
6. Restore Contacts on Android
If there are items that are important to anyone, it would have to be the contacts saved in phones. We can somehow deal with lost files like images and videos. But contacts are different. They're primary information on how we can get in touch with different people. If we lost them by accident, it could mean not being able to coordinate well with our family, friends and business partners. For business, it's something that should not happen as much as possible. Now, you can get a perfect solution to cope with this situation. I will teach you how to restore contacts on Android to save your important information.
Part 1. The Software for Restoring Contacts on Android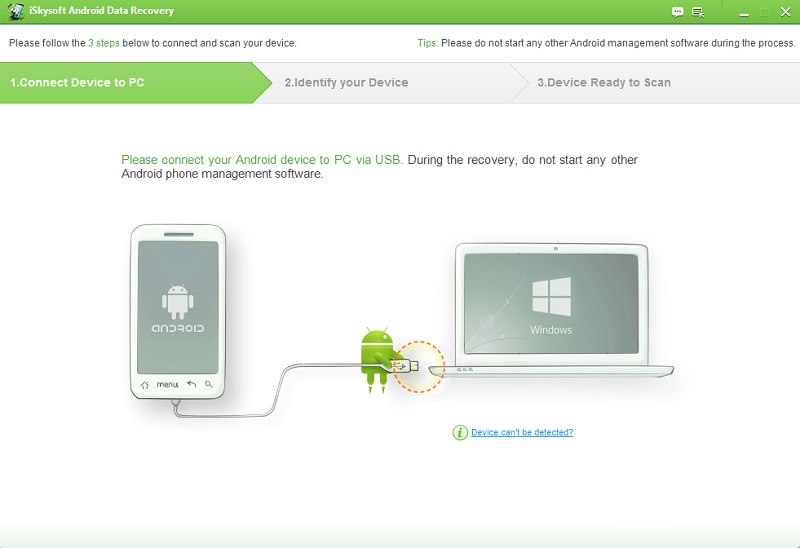 We need our contacts intact. But in case, regardless of how well you take care of them, they still end up getting lost, then better be ready with an efficient tool that you can immediately use to bring them back. It's iSkysoft Android Data Recovery. You don't have to do anything much than to have it installed. As soon as you have it running, you can already proceed with the recovery of different file items. Contacts? No sweat. It's all covered. Images, text messages and videos? No problem. They can all be brought back.
Part 2. How to Restore Contacts to Android
Just be sure to follow closely all the instructions that are given to you as soon as you proceed with the restoration. There is no shortcut. It's all a matter of process. Are you all set up? Yes? Then let's get it started.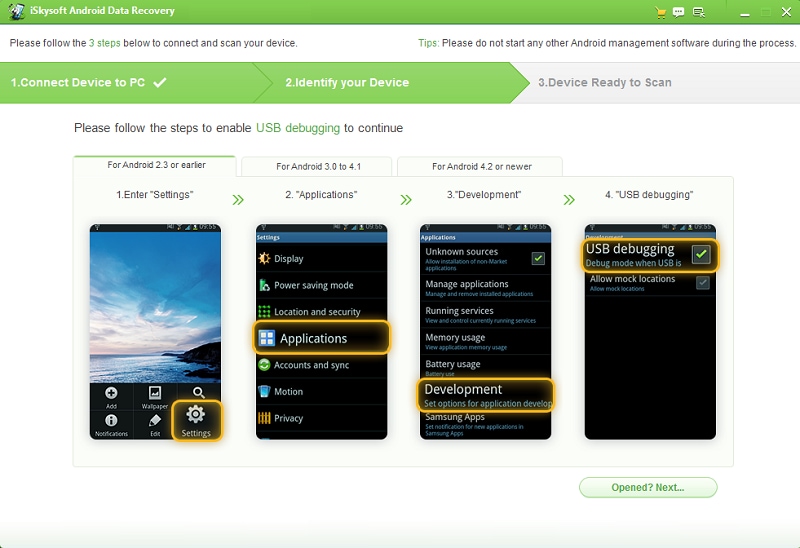 Step 1. Connect your Android Device to a Computer
Launch iSkysoft Android Data Recovery as soon as your device and computer are connected through a USB cable. Enable "USB Debugging" on your Android device. The processes can be different depending on the current android version that you are using. Take a look at the following for reference. You can also find it on the program's interface.
Android 2.3 or earlier versions: Settings > Applications > Development > USB Debugging.
Android 3.0 to 4.1: Settings > Developer Options > USB Debugging.
Android 4.2 and later versions: Settings > About Phone > tap Build Number until you receive the notification, YOU ARE UNDER DEVELOPER MODE > Settings > Developer Options > USB Debugging.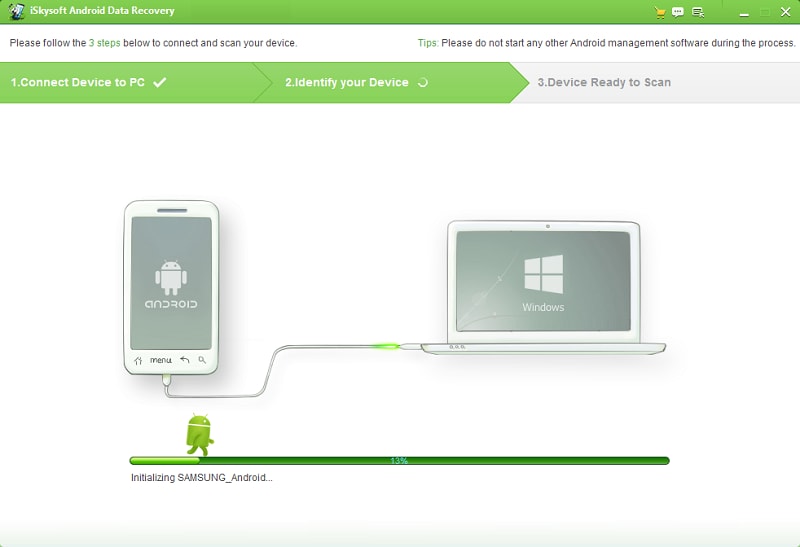 Step 2: Analyze your Android Mobile
You can do this by clicking Next which shall appear as soon as you are done enabling the USB debugging feature. Clicking "Next" will allow the program to start the analysis of the content of your device.
For units that are rooted, you will have to allow the program Superuser Authorization to run in your device. You only need to follow the on-screen instruction and tap "Allow" on your Android phone.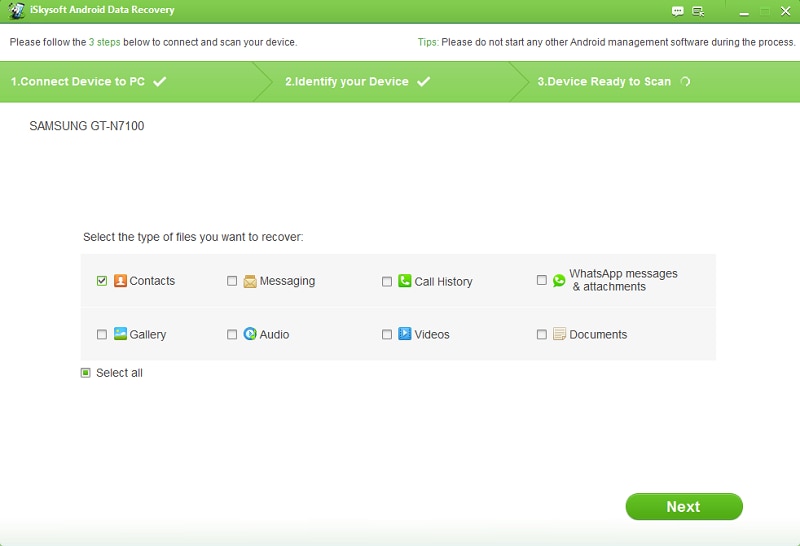 Step 3. Start Scanning Your Contacts
Click the "Contacts" section to specify the file type for scanning. Other file options like the images and text messages will also be there and if you're not up to recovering any files under these categories, then you just have to settle for contacts. Then click "Next".
There are two general types under this. The first one is the "Standard Mode" and the other one's "Advanced Mode". Both are good for the purposes that they serve. For recovering contacts though, the "Standard Mode" is more recommended. After choosing, click "Next" to start scanning.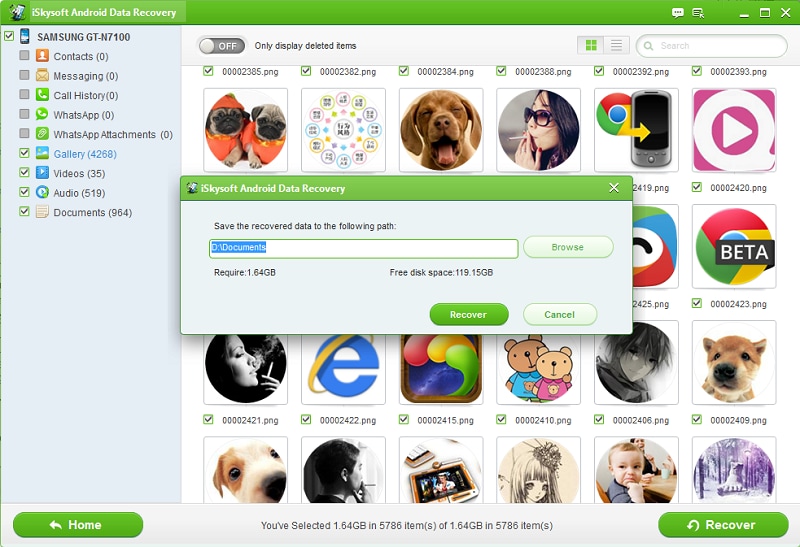 Step 4. Preview and Start Recovering Your Contacts
After the scanning is concluded, the program will display all the names of those whom you have deleted from your list. Choose what you need and then tap "Recover" at the bottom of the program. A new pop up window will then appear. Choose the folder from your computer where you want those contacts to be saved.
There you go! 4 steps on how to get back those lost contacts. Given that you have installed the program correctly and have followed all the instructions we have here, you shouldn't have any problems in getting them.
Part 3. Things to Keep in Mind
Apart from the proper installation of the program and accurate following of steps, you have to understand that the recovery will also rely on the assumption that you have not yet added any significant amount of new data after you have lost the contacts.
As long as you have not been using your phone and adding files on it right after you lost your contacts, then you can recover them with ease. If however new data were added, then there could be a possibility that some of the details, like your contacts for instance, have already been overwritten. Experts recommend to temporarily holding off using your mobile until you restored everything just to be sure.
Also, you have to be reminded that compatibility issues will matter. Different Android versions can have their own specifications on how to do this and that, and you will have to be very keen in following every step that is required from you.