Introduction to Photos
iSkysoft dr.fone has a powerful photo management kit, despite managing the photos in your Camera Roll, you can also enjoy your cherished photos in Photo Library, Photo Stream and Photo Shared in your iDevices. Below are detailed information to distinguish the differences between them.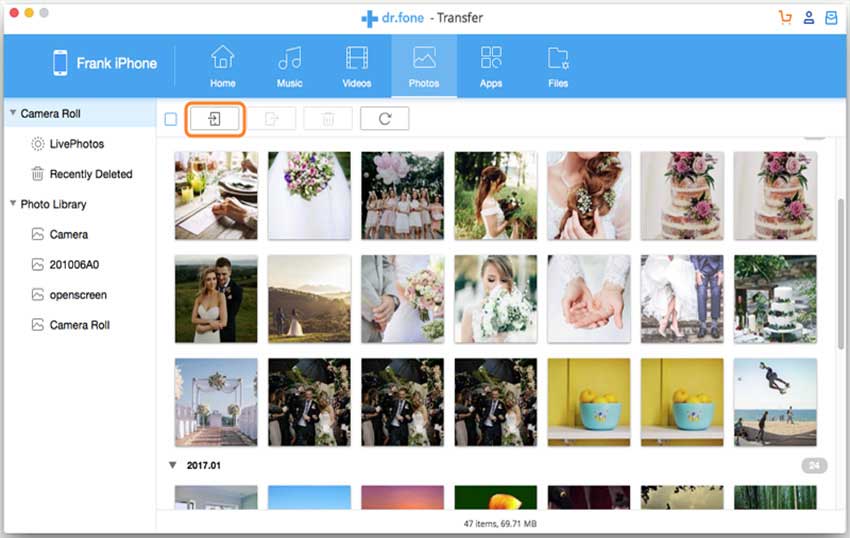 Camera Roll: Camera Roll includes all photos taken by your iPhone/iPad/Android devices's camera; And those you take using 3rd-party apps installed on your devices, including Facebook, Instagram, etc.
You can browse all your albums on dr.fone, including your Favorites, Videos, Panoramas, Recently Deleted, etc. All photos on each album are categorized by date.
Photo Library: Photo Library includes photos that you imported from your PC, and new albums you created on your iPhone/iPad. Photo library allows you to import or export photos and create new albums on your iPhone/iPad.
My Photo Stream: If you've set up your iPhone/iPad's 'My Photo Stream', your new photos will be automatically uploaded and sent to the device with which your iCloud account logged in. dr.fone's My Photo Stream will show your recent 1000 photos or the latest 30 days you've taken on your iPhone/iPad/iPod Touch.
Photo Shared: If you've opened the Photo Shared on your iDevices, you'll be able to create albums to share with others, or subscribe to albums others shared with you. dr.fone enables you to access and manage photos on this album.