Converting Word documents to PDF format has a lot of benefits. Since PDF is a system-wide universal format, you can be able to open the PDF documents on any computer. It the best format to save your files in when you are sharing them with other people online or on a local area network. Another benefit of converting Word documents to PDF format is that the PDF files are much smaller in size. If one of the concerns you have about your computer is storage space, converting Word to PDF format can be a great way to free up more space. Since you cannot convert Word to PDF online with Adobe, you will need to look for the best desktop application for converting your Word documents to PDF format.
The Best Way to Convert Word to PDF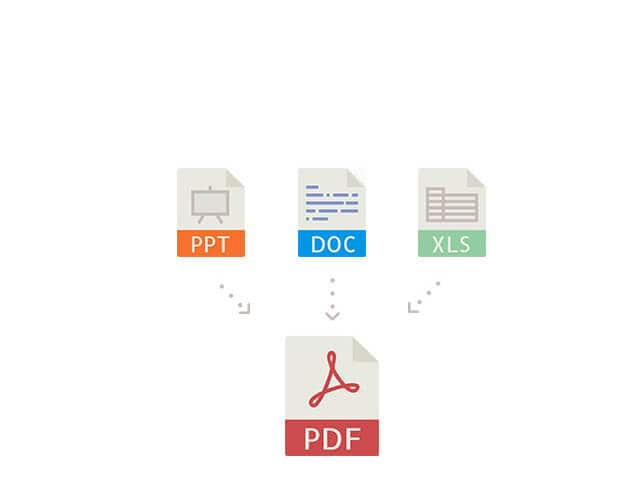 The best online Word to PDF converter Adobe alternative is iSkysoft PDF Creator for Mac (or iSkysoft PDF Creator for Windows). It not only allows you to create PDF from Word, but also from PowerPoint and Excel in a very easy way. You can import multiple Word files to it and create PDF at once in a batch. If you are a business owner or a person with the need to deal with hundreds of documents on a daily basis, you will find it to be very handy. It creates high quality PDFs without changing the original formatting of the source files. The outputs come with a high resolution that is compliant with the ISO PDF standards. Once you have installed this application on your computer, you will not need to pre-install Microsoft Office applications to be able to create PDF.
Key Features of iSkysoft PDF Creator:
It is very easy to convert Word to PDF with it even for novice users. You simply need to drag and drop the files to the program and then convert them.
It creates PDF in high quality and does not interfere with the original formatting of the source file.
It does not limit you when it comes to the size or number of files that can be converted.
The PDF that it creates comes with high resolution that is up to the ISO PDF standards.
It fully supports all Microsoft Office formats, including DOCX, DOC, PPT, PPTX, XLS and XLSX.
Convert Word to PDF with Online Adobe Alternative
Step 1
Download iSkysoft PDF Creator for Mac
First and foremost, you will need to go to the iSkysoft website and then search for "iSkysoft PDF Creator for Mac" from the product page. Download it and then drag the installation file to the Applications folder on your Mac. The installation process will finish in seconds.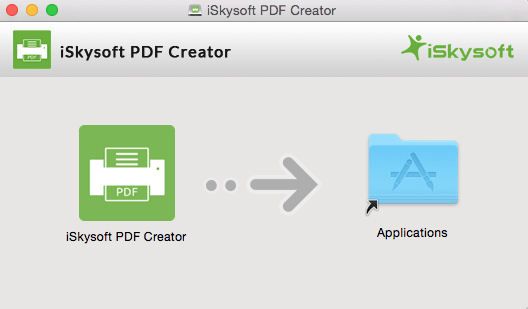 Step 2
Launch the program
Once the installation process is complete, launch the application by double clicking on the program icon to access the main interface.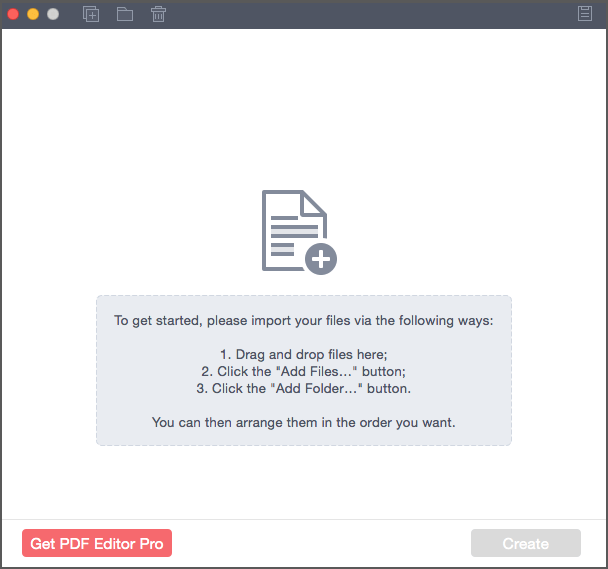 Step 3
Import Word Files for Conversion
In the main interface of the program, you will need to upload the Word files that you want to convert to PDF. It is very simple. You can use any of the following three ways:
a) Locate the Word files on your Mac and directly drag and drop them to the main interface the program.
b) Click on the "Add Files" option in the program window and then choose the Word files to upload to the program.
c) Click on "Add Folder" and then choose the folder that has the files that you would like to convert to PDF.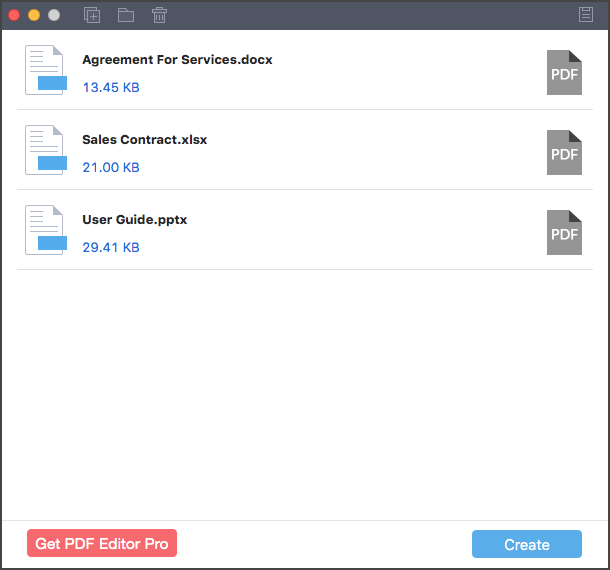 Step 4
Convert Word to PDF without Adobe
After uploading the Word files, you can go ahead to convert them. All you will need to do is click on the "Create" button option and then choose the destination folder to save the output PDF files, and then click on Save.